Our new series, PERSPECTIVES, looks closely at a specific artist's unique thought process and how they arrive at their recent works. It is said that everything comes from something - we invite you to learn about the inspirations and ideas behind the artists and their respective practices.
• • • • •
James Carl is one of Canada's most respected artists, known for his playful use of unconventional materials, such as cardboard and venetian blinds. His work's material choices are rooted in a conceptual framework which ranges from evocative and ironic critiques of globalisation and consumerism, to celebrations of 20th century modern sculpture. Impeccably crafted, his works appear at once foreign and familiar, the common objects of daily life reconfigured and reconsidered.
Carl's first solo exhibition at the gallery this April will include recent works on paper and a new series of marble and stone sculptures.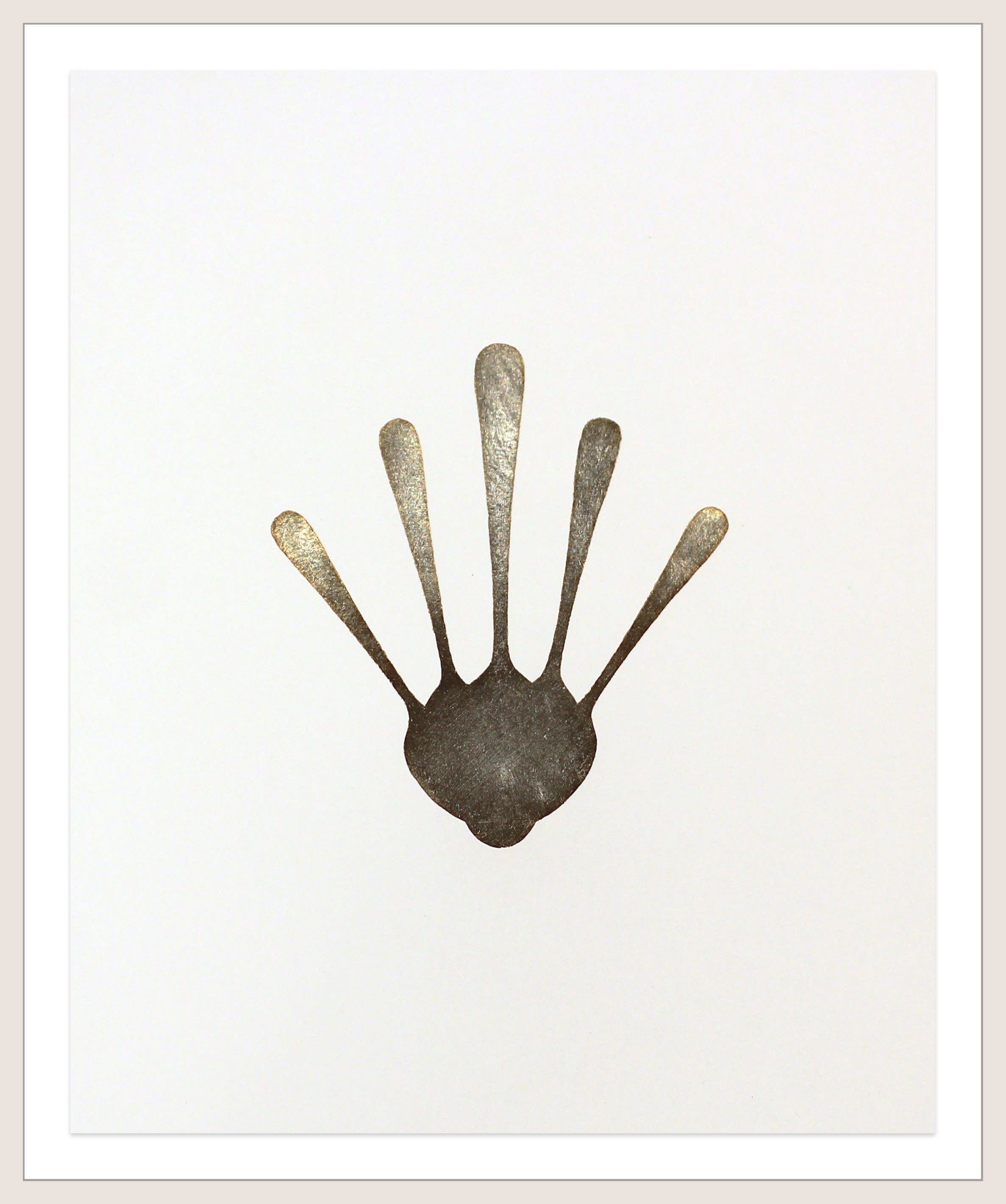 Silver Spoons 2, 2019-2020, silver leaf on paper, 17 x 14 in.
I began "drawing" with silver leaf in 2018. Applying metal leaf requires first of all the application of adhesive sizing, which I do with a fine brush. This, along with the subsequent application of the leaf, creates a sort of unpredictable degradation of the original computer drawings, softening lines, adding uncertainty, while maintaining much of the graphic clarity that I value. The whole process

–

the slowing down, the placement of fluttering silver tissue, the holding of the breath

–

turned out to be just what I'd been looking for, both in the process and in the results.

- JAMES CARL
Spoon Cluster 5, 2019-2020, silver leaf on paper, 10 x 7 in., Spoon Cluster 8, 2019-2020, silver leaf on paper, 10 x 7 in. and Spoon Cluster 4, 2019-2020, silver leaf on paper, 10 x 7 in.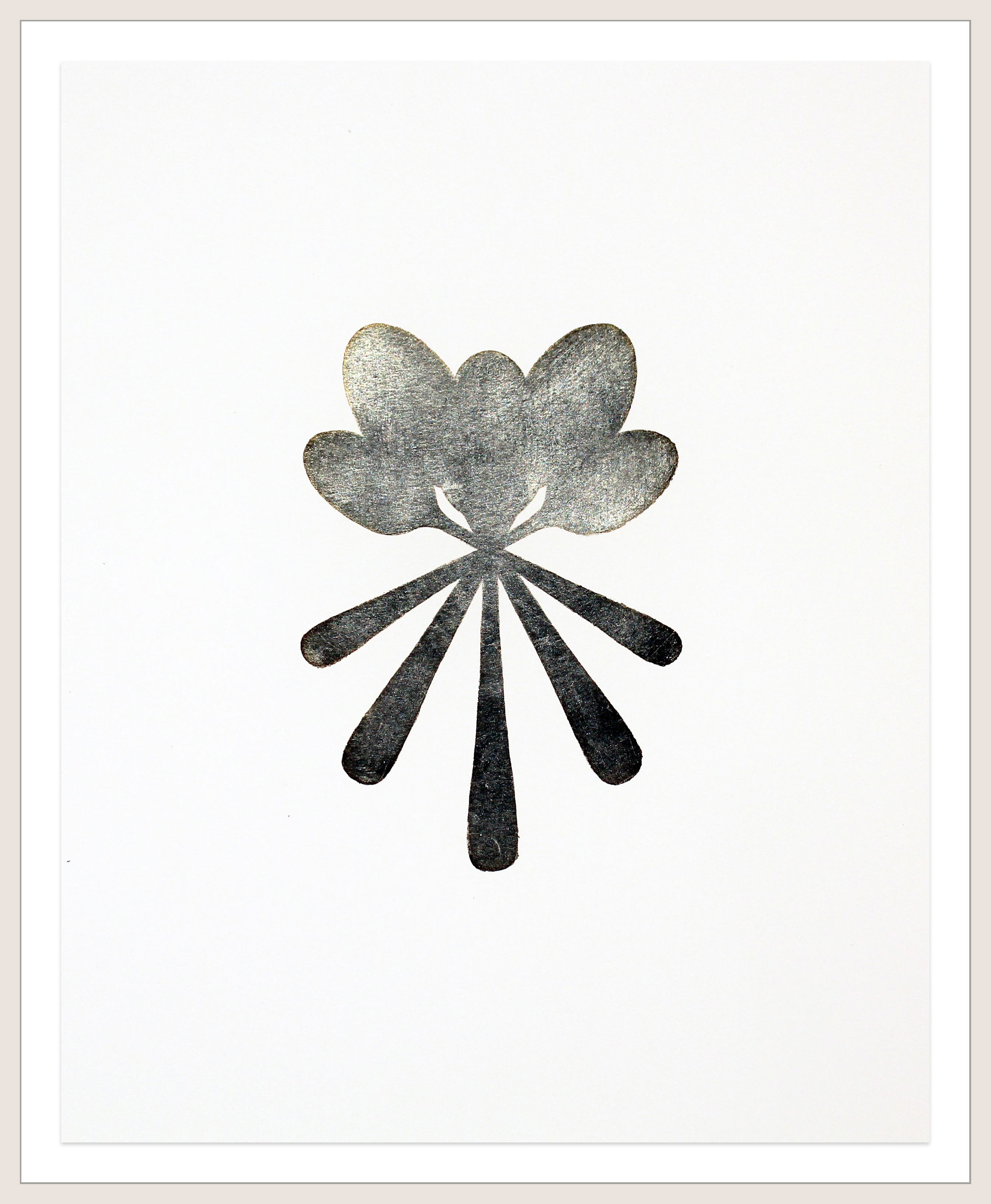 Silver Spoons 1, 2019-2020, silver leaf on paper, 17 x 14 in.
The spoon was the first thing that came to mind when I said "silver" out loud. Subsequent research suggests that that the history of the adage about spoons and mouths is less genteel than hygienic. The initial digital compositional play with the flat schematic outline of a common spoon was bread and butter in the computer environment, where flipping, reflecting and duplicating are basic operations. The QWERTY keyboard played almost like a musical one. The resulting works are reflective, ephemeral, generic, iconic, and stubbornly self-referential.

- JAMES CARL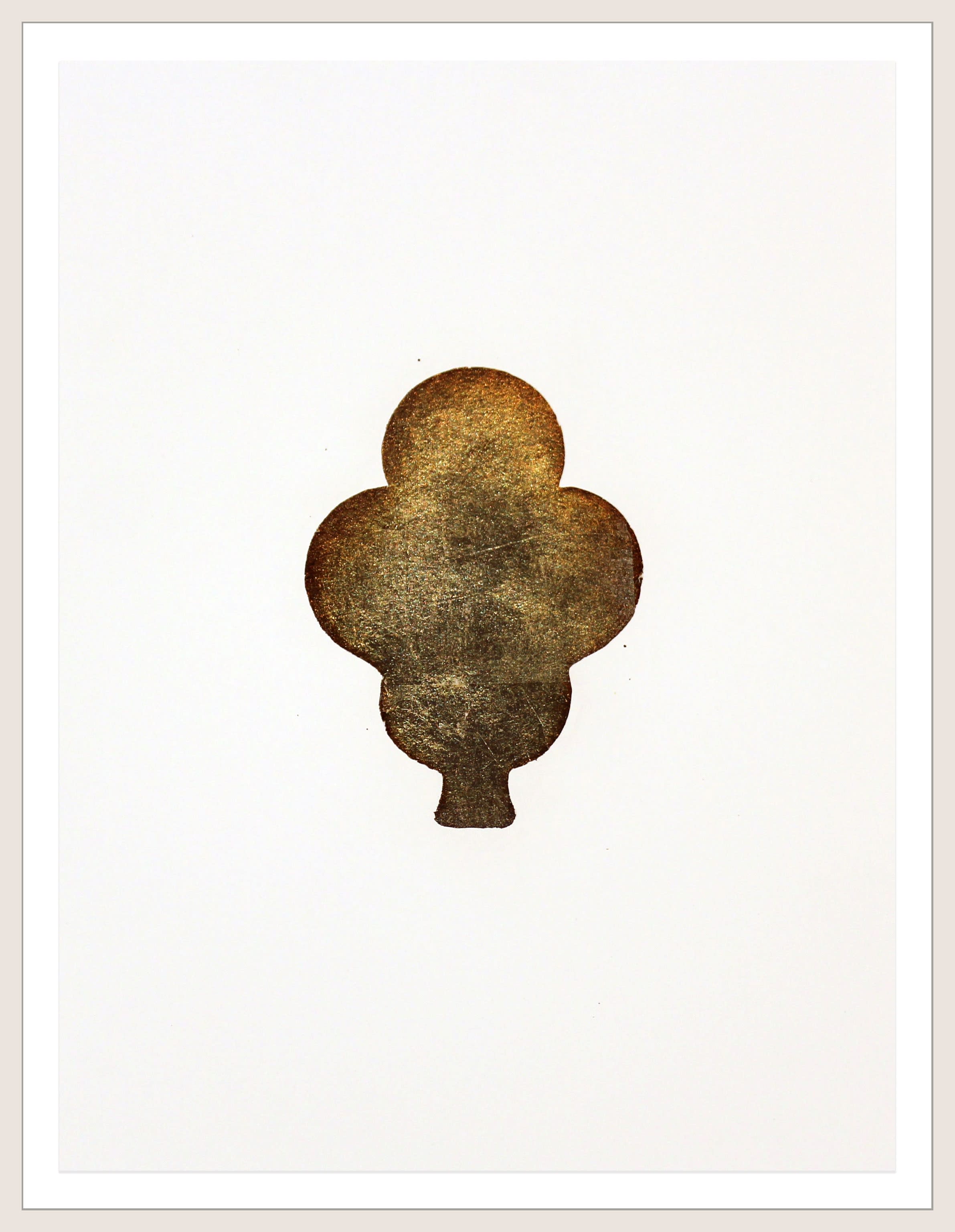 POM Cluster, 2019-2020, silver leaf on paper, 12 x 9 in.
Other objects I have rendered in silver leaf include several landmark forms from popular culture, like the Stratocaster guitar, and various vessels from my ongoing "content" series of common product bottles. The newest member of that family is the Pom juice bottle, whose ergonomic shapeliness brings Brancusi to the fridge.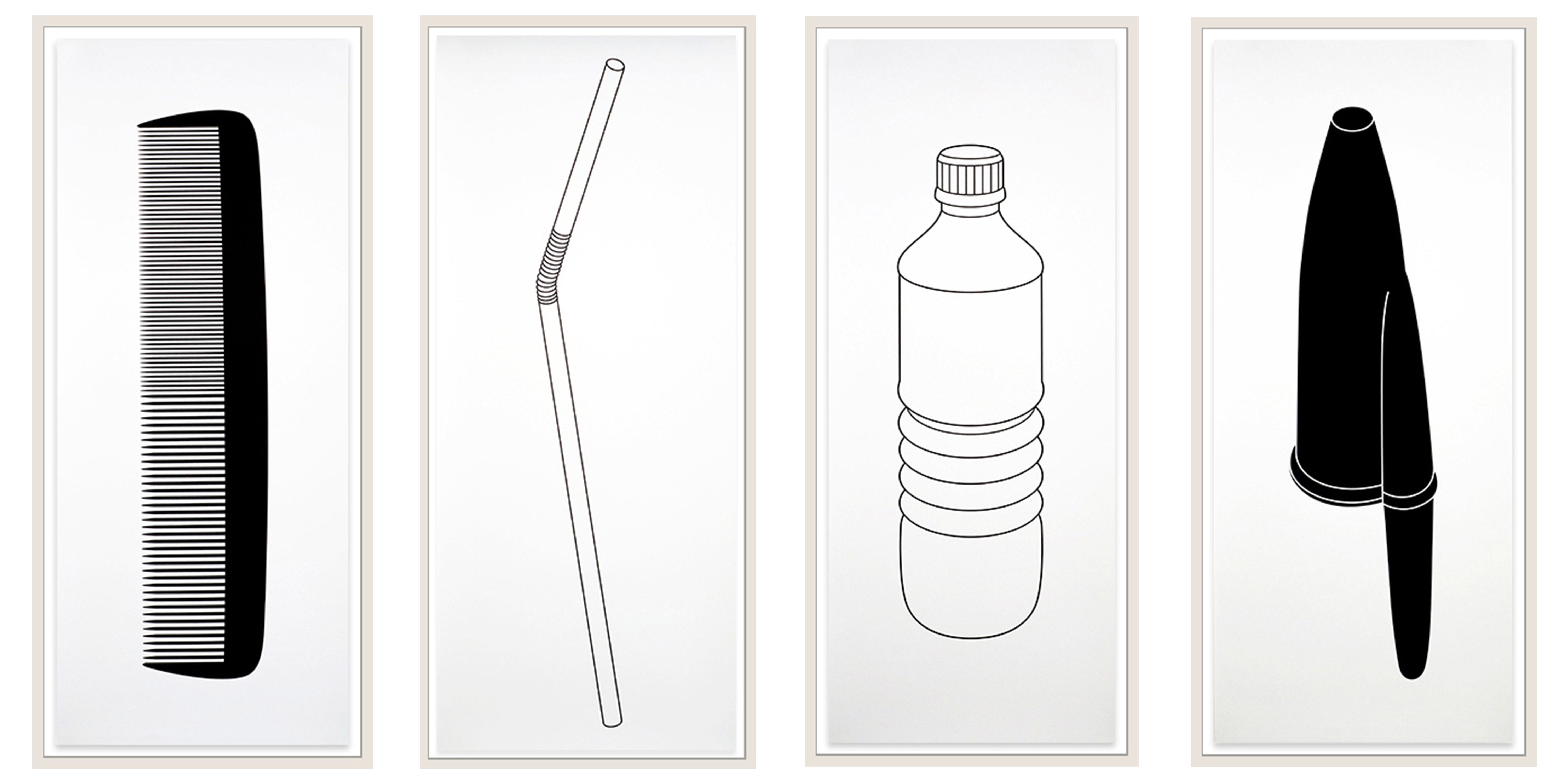 Intellectual Property (comb, straw, bottle and cap), 2017,
archival pigment prints on
Epson Hot Press Natural paper
, 48 x 20 in. each, edition of 5
* works available individually and as a set of four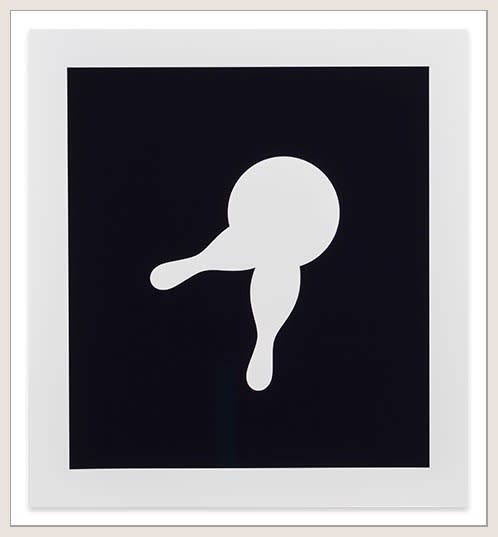 Spare #9 (Knockout), 2018, archival pigment print on Epson Hot Press Natural paper, 12 x 11 in., edition of 5
I began using the computer to draw in the early 1990's when computers, drawing programs and home printers first became widely available. The quality of the line, the precision, and the seemingly infinite possibilities for output all attracted me. I remember seeing a fat matte black line spit from a laser printer and thinking how unknown and beautiful it was. The uniformity was like nothing I'd ever seen.



I'm attracted to common materials and forms: things we share, things we use, things we've made that help us negotiate the world together. When I'm drawing on the computer, I look for common things to draw which align with the tools' capabilities. Repetition and symmetry are difficult for the human hand but fundamental to what a computer does. I think the reciprocity between the tool and the image is somehow evident in the drawing — a part of it.

- JAMES CARL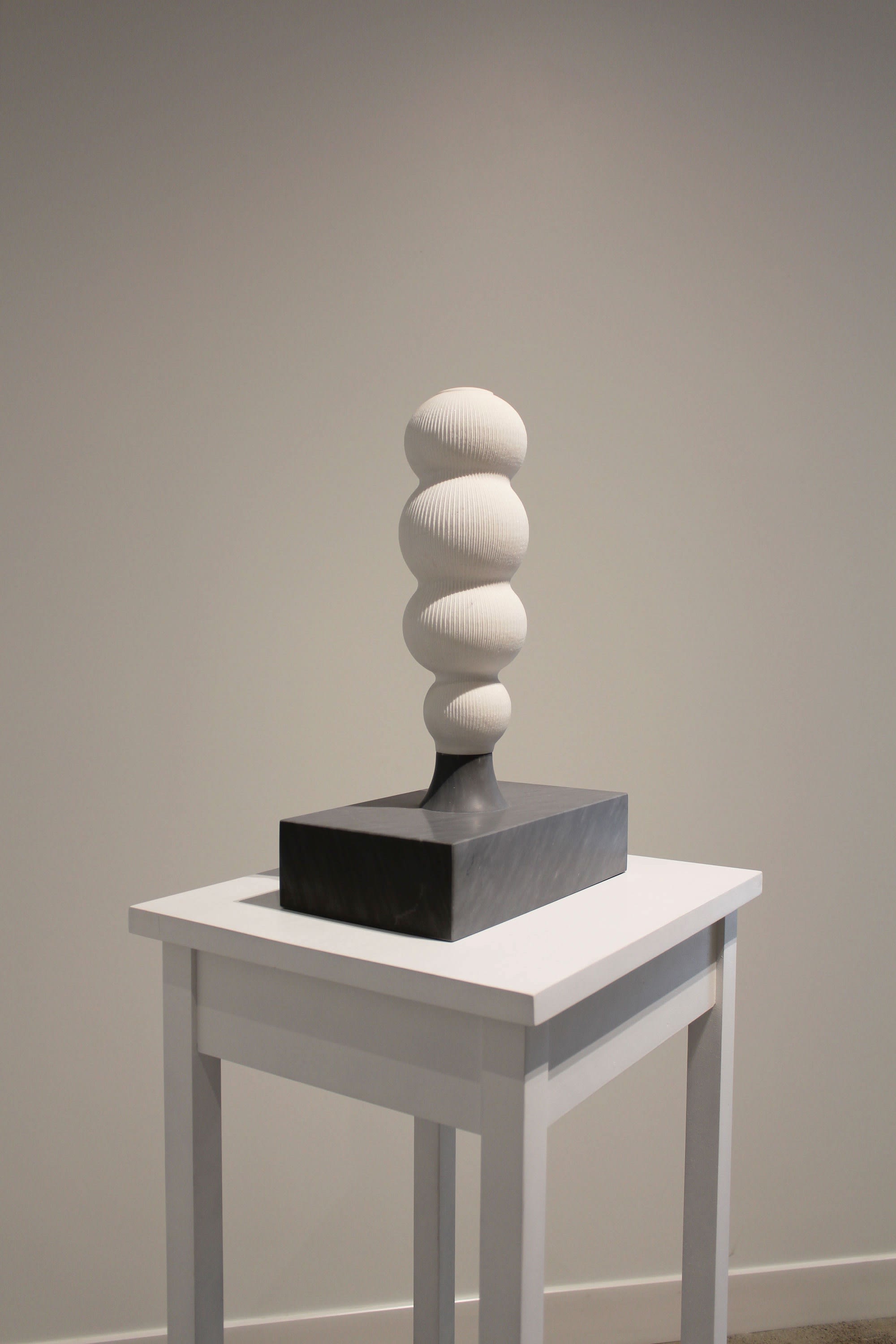 Spindle #2, 2020, Top: White Sivec marble (Greece), Bottom: Bardilglio Imperiale marble (Italy), 18 x 11.75 x 7 in.
The Spindle sculptures were started in the summer of 2018 at studios in Northern Tuscany which specialize in digital stone milling. The works were finished in my studio in Toronto over the intervening two years. Each of them begins as a 3D digital file, which is rough cut by robots and then hand finished. The degree of hand finishing ranges from not much (rare) to obsessive (most of the time). None of the works uses chemical or machine polishing treatments.

The works adopt a few standard sculptural languages and have clear reference points in modernist sculpture and popular culture. The results could be read as trophies for unspecified accomplishments, hommages to the small-scale sculptures of Giacometti, or petrified puffs of geological time.

- JAMES CARL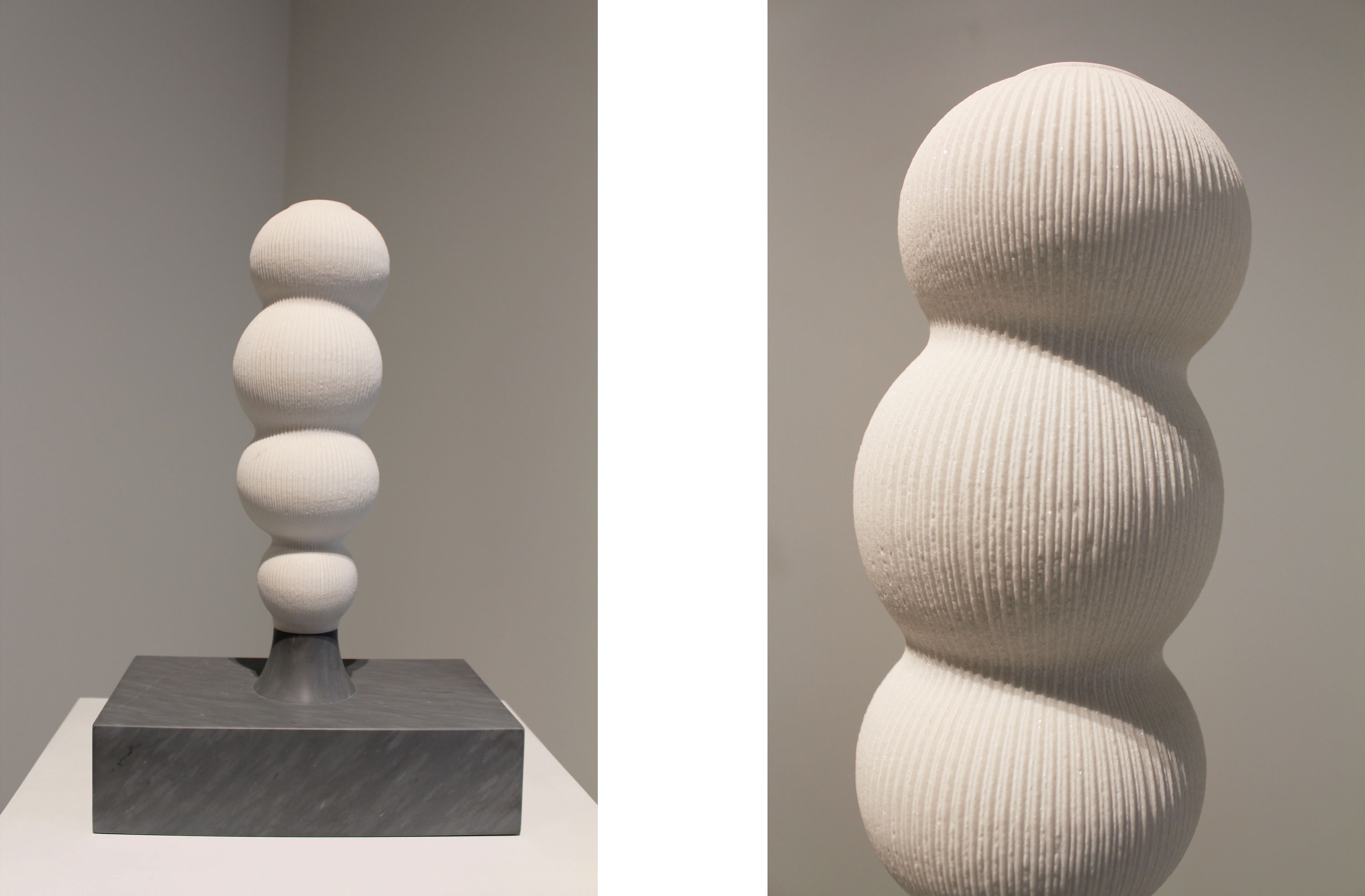 Close up details of
Spindle #2
, 2020
Convoiture #10, 2014, venetian blinds, 36 x 29 x 23 in.
Convoiture #10 is part of Carl's 'jalousie' sculpture series. The original purpose of venetian blinds - to reveal or conceal - is challenged and the material reinvented. Carl weaves the blinds into shapes that, while exuding heft in their classical biomorphic forms, are as close to being weightless as sculpturally possible. Before the trompe l'oeil effect of their materiality takes hold, the forms recall the Modernist works of Henry Moore and Barbara Hepworth. Work from Carl's 'jalousie' series can be found inside the main entrance at the Art Gallery of Ontario in Toronto.
• • • • •
PUBLIC INSTALLATIONS
Thing's End, (Festival Tower), 2012, powder coated cast aluminum, 8 feet x 11 feet x 7 feet. Installed at the TIFF Bell, Lightbox in Toronto, Ontario
Thing's End (Eau Claire – Red & Yellow), 2020, painted steel, 8 feet 8 inches x 10 feet x 9 feet, each. Installed in the lobby of the Oxford Properties Group Eau Claire Tower in Calgary, Alberta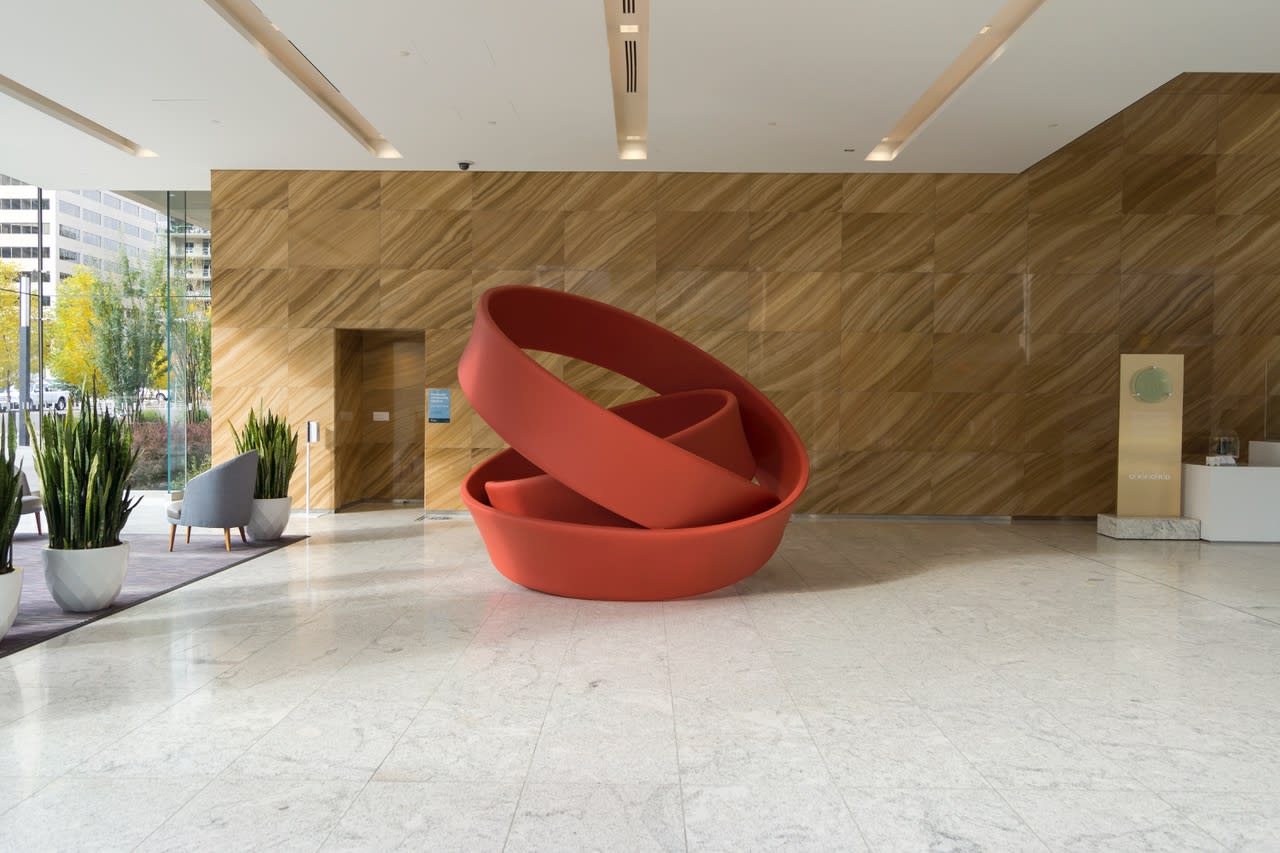 Jalousie (pink), 2009, venetian blinds, 82 x 60 x 64 in. Collection of the Art Gallery of Ontario
James Carl received his MFA from Rutgers University. He holds diplomas from the Central Academy in Beijing, McGill University in Montreal and the University of Victoria. Carl continues to travel across continents for his sculptural practice, dividing his time between Canada, China and Italy. He is currently Professor of Studio Art at the University of Guelph.
COLLECTIONS INCLUDE the national gallery of canada, ottawa; the art gallery of ontario, toronto; the art gallery of guelph, the canada council art bank and additional public and private collections across North America and Europe