While in self-isolation in his Hamilton, Ontario home, Charles Meanwell has turned his attention to the medium of watercolour. Meanwell shares with us what excites him about this new series on the same subject as his current exhibition, Cape Pine.
With the watercolours, the subject of the painting is the medium. The combination of white paper and other colours in various shapes... Poems arrive the same way paintings do: uninvited and unlooked for, they take care of themselves completely. I never think about what I'm going to write, a word or two gets me started. I just write what is suggested.

-Charles Meanwell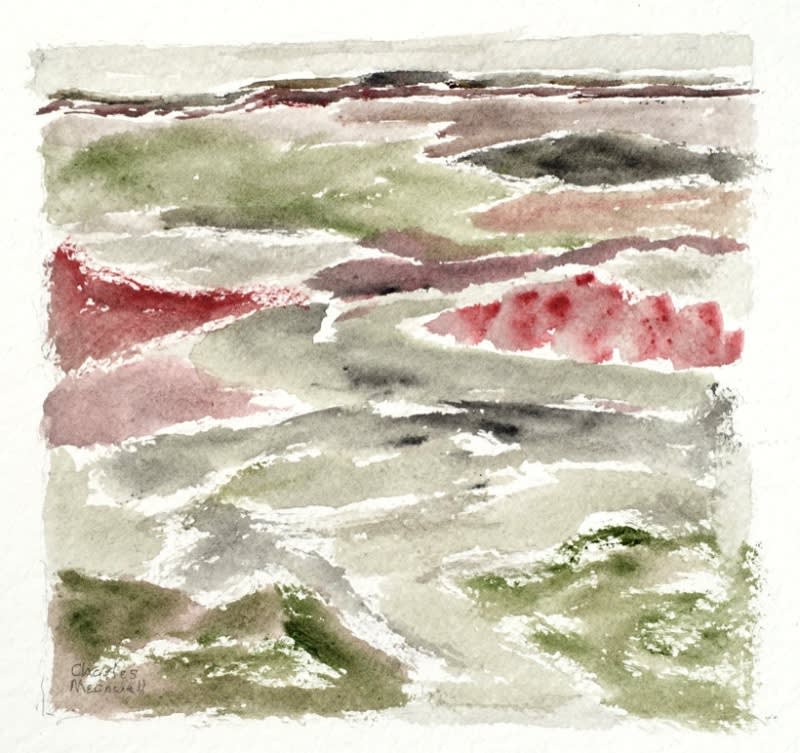 Red Patches, 2020, watercolour on paper, Image size: 7 x 8 in., Paper size: 10 x 11 in.
Blue Field, 2020, watercolour on paper,, Image size: 7 x 8 in., Paper size: 10 x 11 in.
Cape Pine II
A poem by Charles Meanwell

The ancient shapes persist,
Though new to us, who stand and
Watch the colours - crimson, straw,
Brown, jagged black, too many greens
To count, and, oh yes, blue.

We teach our eyes to examine,
Assess, rank, identify, discover
Meaning, but none of these reveals
Experience, which comes before
All words, as do these shapes.

But we who stand and wait,
Expecting nothing from the shape-fed
Mystery, need not perceive,
But yet receive an even strength
Of shapes which seems to draw us
To just here.