Following the opening of his solo exhibition, What Was Not Lost, we asked Charles Bierk a few questions about his latest body of work.
---
---
Tell us about the portraits in What Was Not Lost. Who are your subjects?

The portraits in this show follow in the same path as my previous paintings. The faces belong to friends or friends of friends, who are connected in some way to the creative community in Toronto. For this show, I drew from the many photographs I have taken of people in my studio over the past few years. Most of the paintings (Katie, Amika, Erika, Raven and Sean) came from photographs I took in 2017, the others (Richard and Jalil) are from 2020.

The first painting I made for this show was Remembrance, a group of my personal, small objects. In an attempt not to overpower the intimacy of this subject matter, I decided to make the portraits as compact as possible. The smaller dimensions took some getting used to but ultimately helped the show coalesce and encouraged a dialogue between the portraits and object paintings.
Remembrance, 2018, oil on canvas, 48 x 48 in.
This is not the first time you have painted Jalil. Why do you revisit subjects sometimes?

The first time I painted Jalil was in 2014 and I photographed him again at my studio 6 years later. It's beautiful to see how people have aged and changed and be able to document that. I hope to paint him (and others) again and maybe see all of the paintings in the same room one day, if I'm lucky.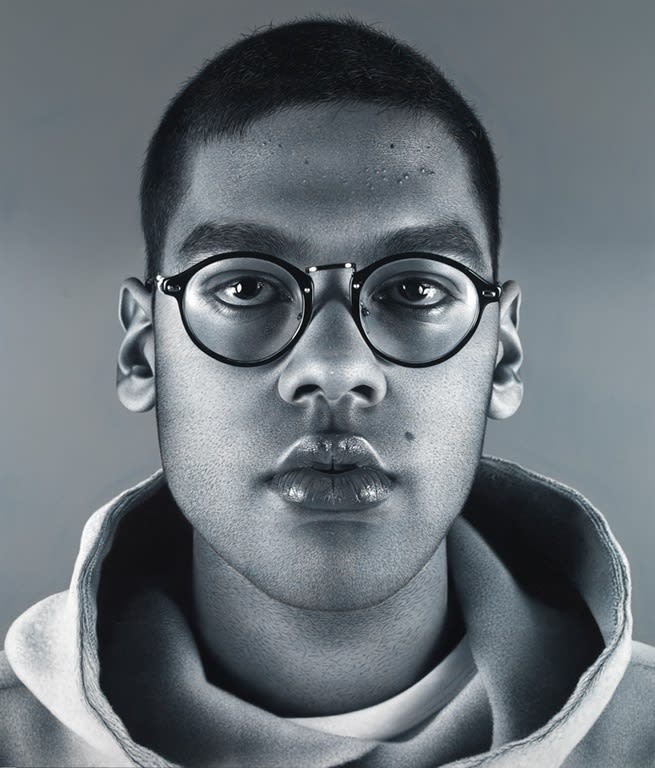 Jalil, 2014, oil on canvas, 70 x 60 in. Jalil, 2020, oil on canvas, 40 x 36 in.
The objects in one of the paintings are owned by Katie, whose portrait is also included in the show. Can you tell us about Remembrance #3 and Katie's objects?

After I had made the first object painting which consisted of my own collection, I had an urge to give up some of the curation I had over the new work. After explaining the project to a few friends and family, I invited them to loan me objects of their own to paint. I liked the idea of losing some control over the outcome of the paintings. People shared really touching stories with me about the objects and everyone's collection was a bit different. My brother Jeff's selections were more impulsive and based on form, which made for a really interesting composition of identifiable and non-identifiable things. Katie's objects on the other hand were more nostalgic. Each one had a story, mostly tied to a family member, that connected it to her. I was nervous knowing I was temporarily responsible for some of their most sentimental keepsakes.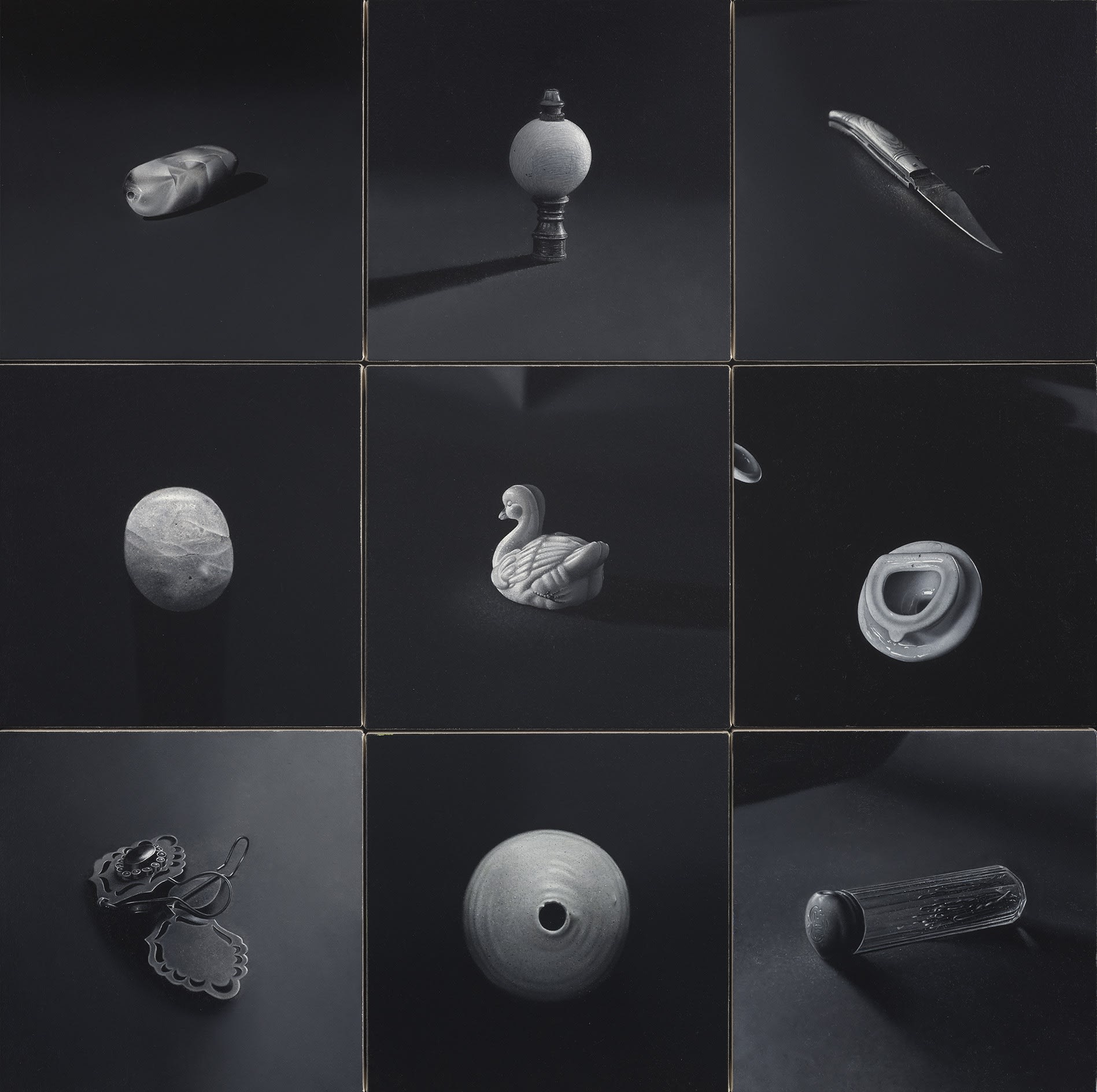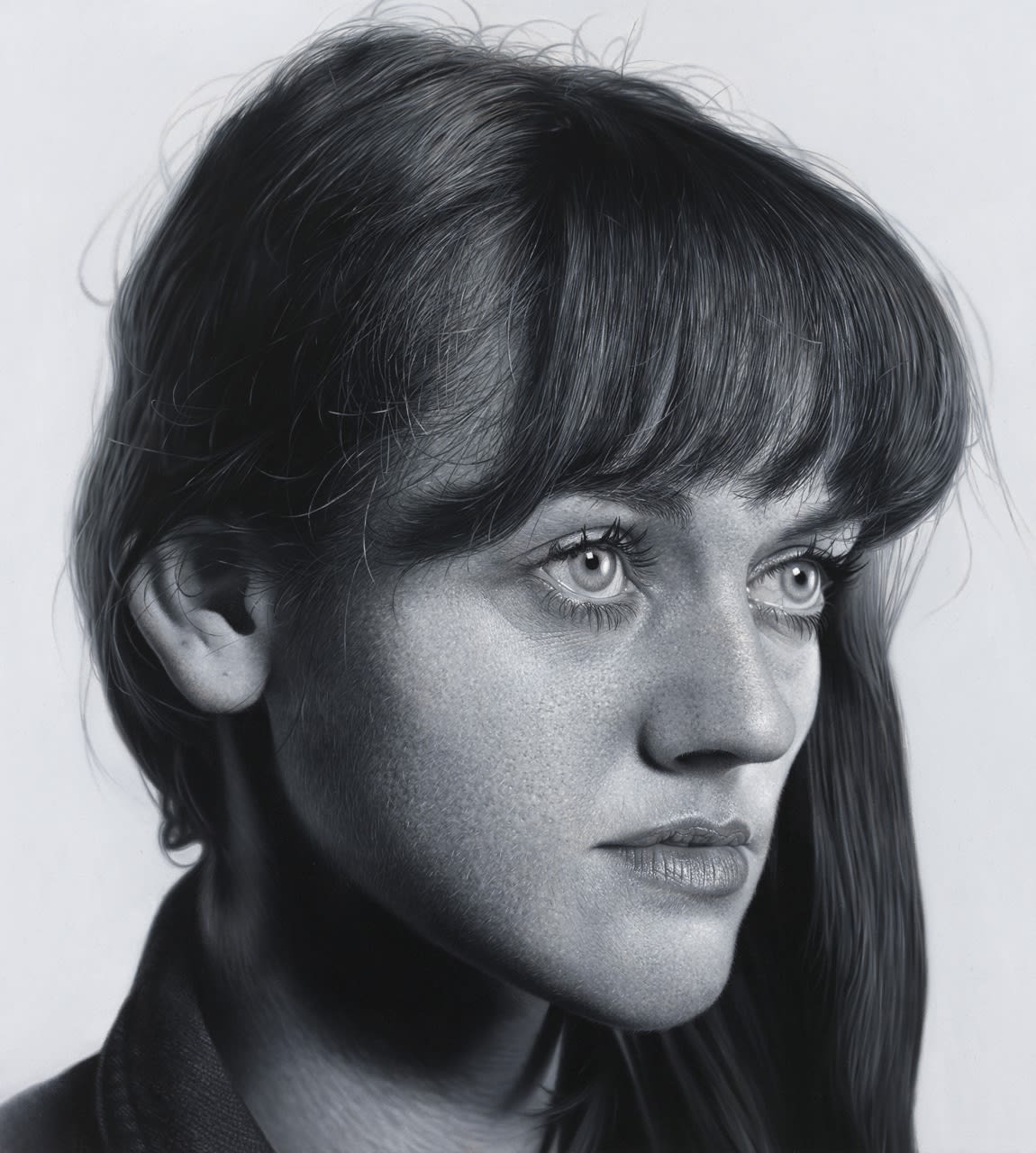 Remembrance #3, 2020, oil on canvas, 36 x 36 in. Katie, 2019, oil on canvas, 40 x 36 in.
What does a day at the studio look like while you're developing a solo show?

I am fortunate to have a beautiful studio so close to my home. It has a gigantic south facing window which allows some plants to live and fresh air to come in during the summer. I am normally in my studio by 9. As the light streams in and passes over my easel, I write emails while I listen to the radio. By 10, the light has moved past my easel and I can start painting for the rest of the day until around 5. I was able to work on some of the individual 12 x 12" panels for the object paintings outside when I was up north last summer.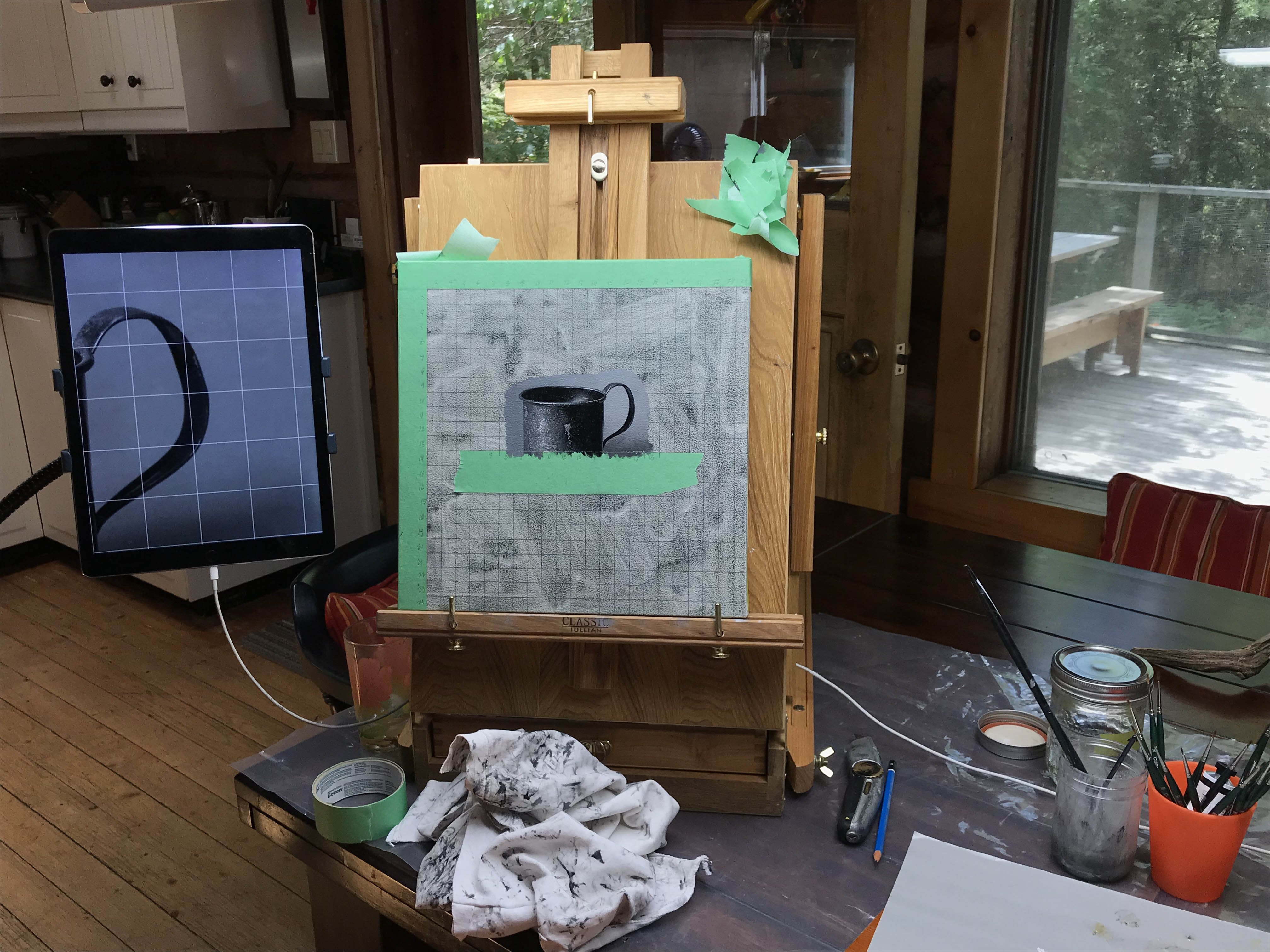 Process shot of a panel for What Was Not Lost at Bierk's cottage studio during summer 2019
The works are very intense and intimate. What do you hope people take away from your exhibition?

This is a difficult question to answer as I made this show for myself. These paintings, specifically the objects, are a window into the familial stories we tell and how these stories are embedded in the physical things we carry with us throughout our lives. Spending time examining and paying homage to these objects and the memories attached to them was cathartic. It is as though the objects themselves now seem trivial. The paintings are deeply personal and I hope that viewers can sense that and are able to find their own connections to that feeling.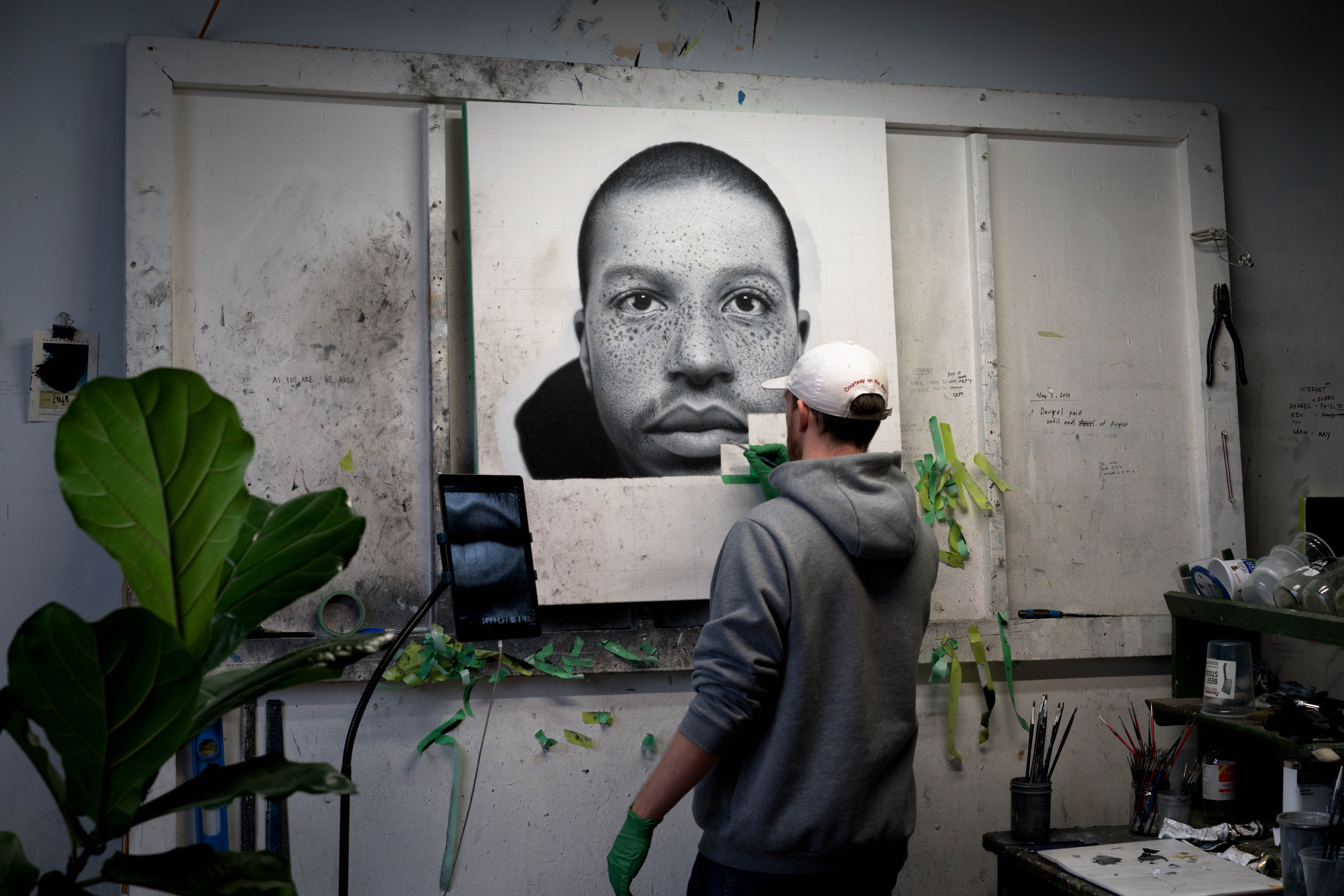 Charles Bierk working on Sean in his Toronto studio