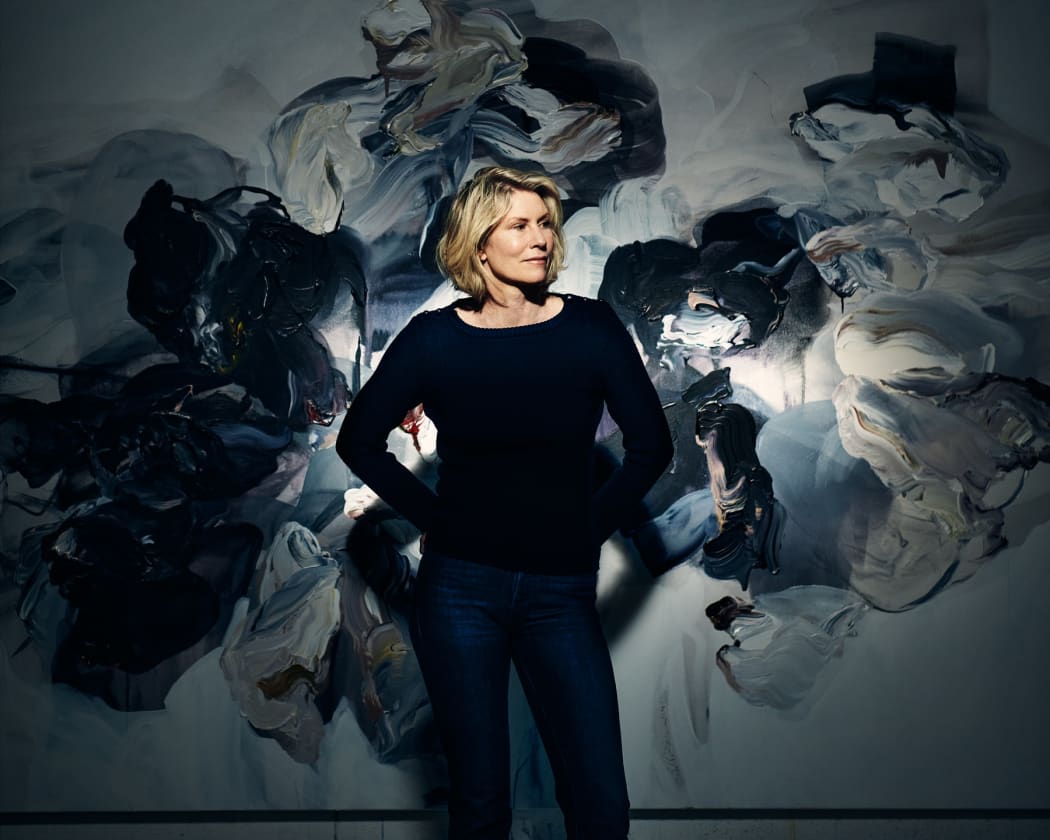 In advance of her solo exhibition at Nicholas Metivier Gallery this March,
Float Like A Butterfly, Sting Like A Bee, we asked Bobbie Burgers a few questions about the inspiration behind her latest body of work.
---
The appearance of your work is dramatically different in recent years in terms of its level of abstraction. What prompted this transition and how has it changed your relationship to the subject?

Moving away from portraying my subject in the literal sense has been a long road with the aim to capture the feeling and less so the reality. My father once asked me, why do flowers have to be in a vase? and then the next question, why do they have to have stems? and so on until they were stripped away to their essence. This was a difficult problem to solve, but I realized that flowers were constantly moving and changing even in their short life in the studio. Light was swinging around, moods and feelings added another layer - I began to try and incorporate the past, present and future of what I was seeing, so it didn't make sense to have them caught in stillness, they really have their own evolution. I no longer paint on a regular basis from actual flowers but absorb what I see and concentrate on the emotions attached.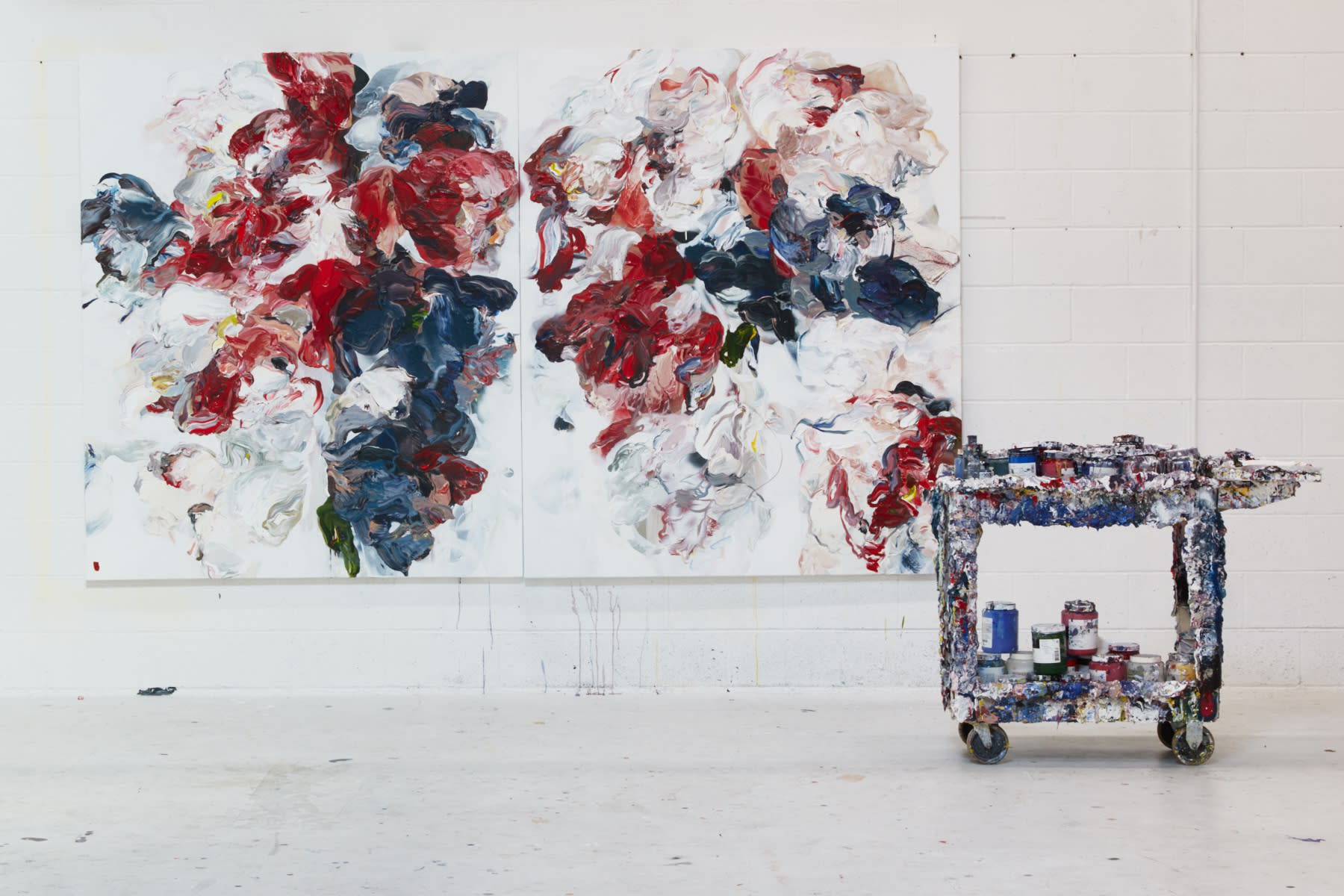 Bobbie Burgers' studio with Untying the Knot #2, 2019, acrylic on canvas, diptych, 72 x 120 in.
© Kyrani Kanavaros
Walk us through your process. How do you begin a painting and what techniques and materials have you experimented with to develop your latest body of work?

Having a studio that is substantially bigger than ones I have had in the past allows me to work on several projects and materials simultaneously. I can lay out forty feet of drawing paper and let my lines and washes wander along, or move over to wall sculptures that give me a different awareness of layering, all while painting on canvas. All of these elements end up referencing each other. My paintings contain elements of drawing, my drawings are layered and sculptural, and my sculptures have giant painted pieces of canvas in them.

I usually start my paintings with large washes using different viscosities of acrylic, some normal acrylic watered down and some denser pigmented fluid acrylic. As the two meet and overlap, they create their own magic. They dry and new crystallized colours emerge, so a yellow may become an ochre or pinks start to show their blues. I slowly continue this layering process, trying to retain the natural movements of the paint to show that my hand was there and in motion. Some works feel more ephemeral whereas others are dense and storm ridden - both are dependant on the ebb and flow of emotion.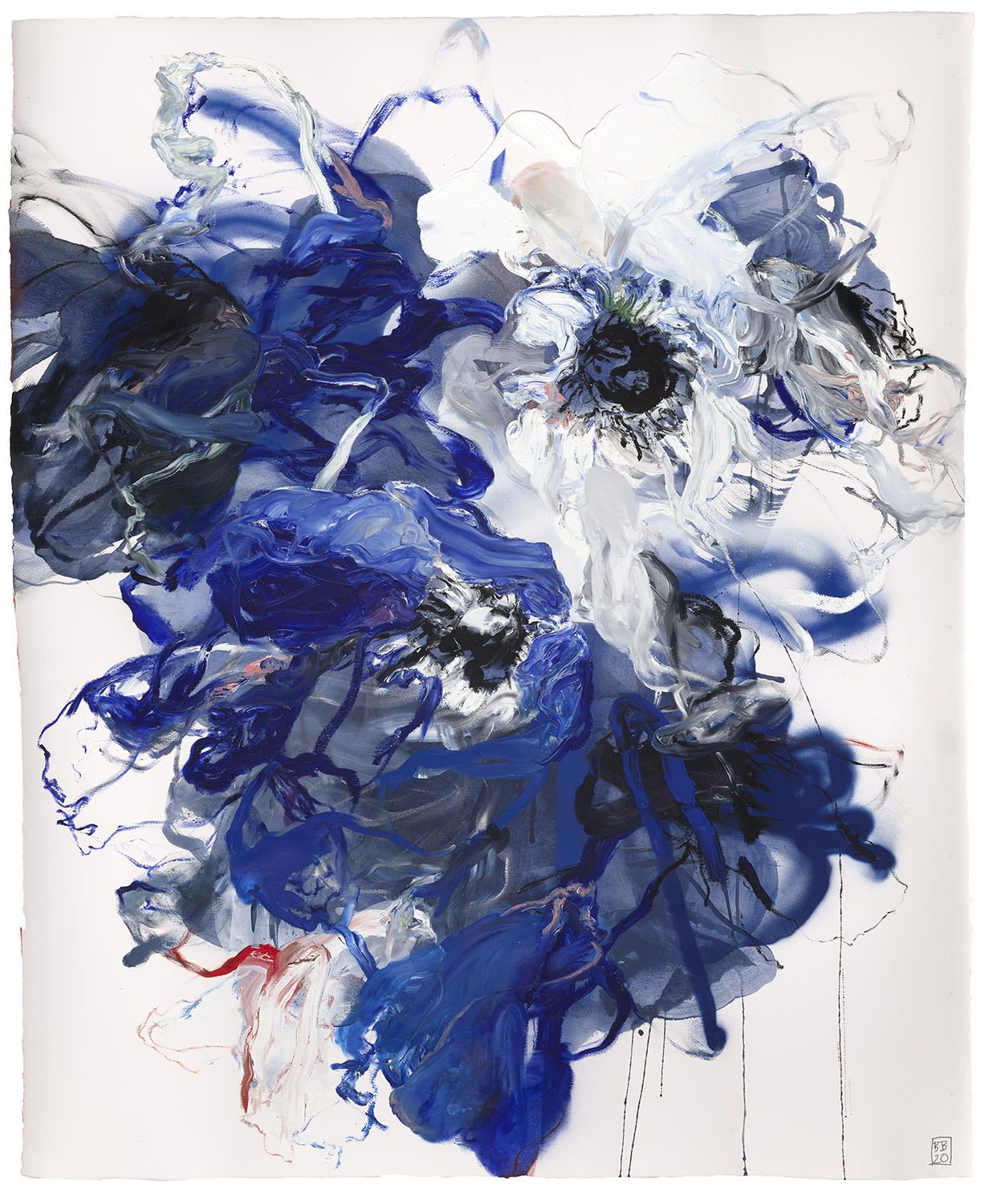 Float Like a Butterfly, Study #3, 2020, mixed media on Arches oil paper, 51 x 42 in.
Who are your greatest influences?

Helen Frankenthaler for her giant scale and enormous colour.

Joan Mitchell for her interpretation of nature in what appears as simple strong brush work but is in fact extremely varied and complex and keeps the viewer endlessly finding new areas to fall into.

Pat Steir for allowing the movement of paint to do the talking while seemingly not influencing its path as it creates waterfalls on the canvas. For me, it encapsulates the idea of active painting.

Willem de Kooning for slowly breaking down his subject until it no longer reads as the female form, but one still feels the sensuality of the nude.

Georgia O'Keeffe for the subtle sexuality she brought to her florals, turning them from tame to erotic.

Niki de Saint Phalle for her playfulness and the way her work feels crafted, imperfect and made with a human touch.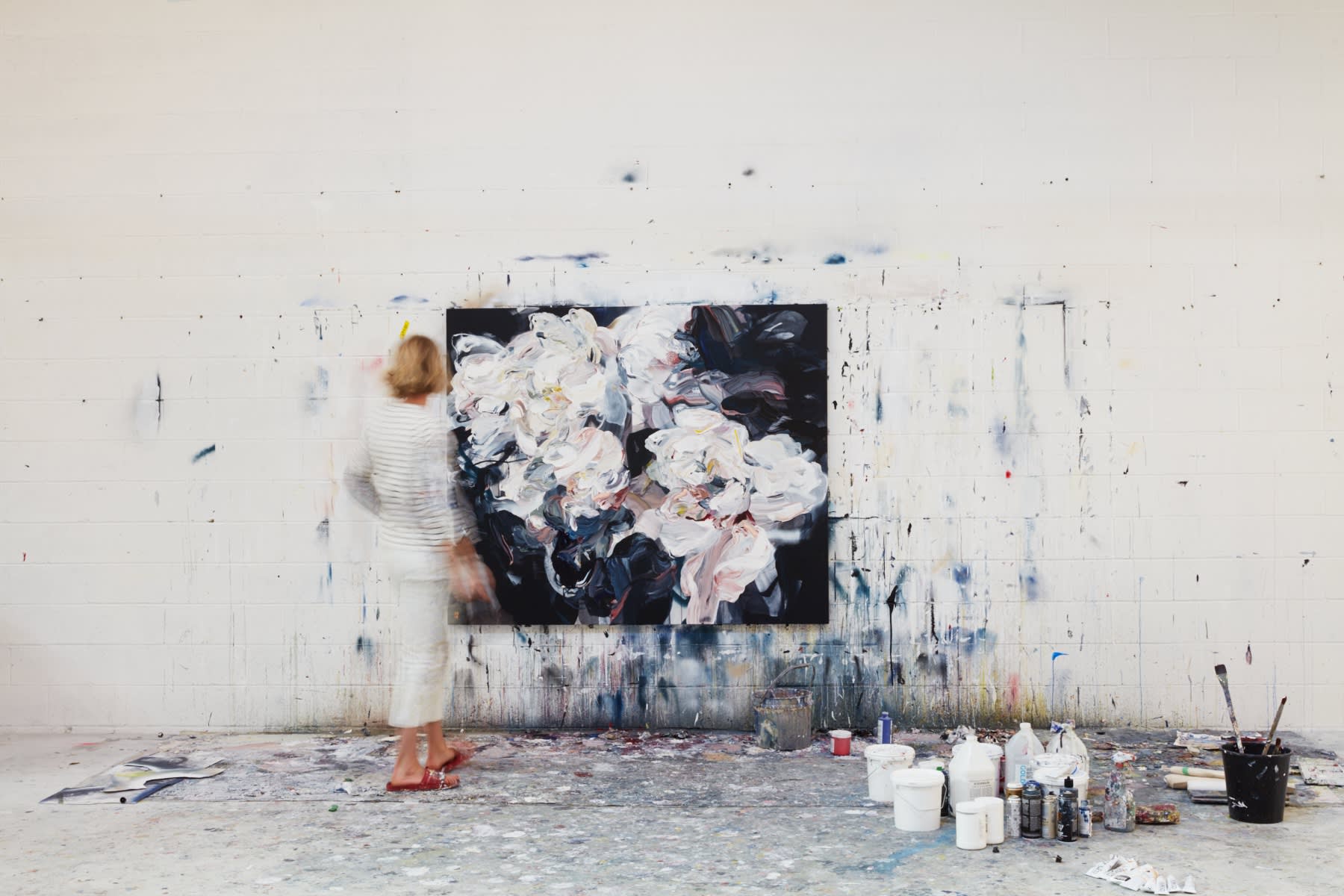 Bobbie Burgers in her studio
© Kyrani Kanavaros
Is Float Like A Butterfly, Sting Like A Bee, the title of this exhibition, a good description of what you are trying to do in all of your work or is there a particular gesture or approach that aligns the phrase with this particular body of work?

It is a good description of where my work sits now and where I would like it to go. I have been trying for several years to remove the saccharine from my florals and the idea of flowers being sweet in general, as I see flowers as being more resilient than romantic. I am trying to redefine what a floral can be through scale and energy. There are areas that seem dark and rebellious as if I have graffitied my own work, a form of disobedience. There are areas where the paint is so thick it starts to tumble and peel away, as if breaking free. And then there are moments of delicacy, small pastel lines, or soft washes. I feel like these elements make up my personality, the strong and the sensitive parts.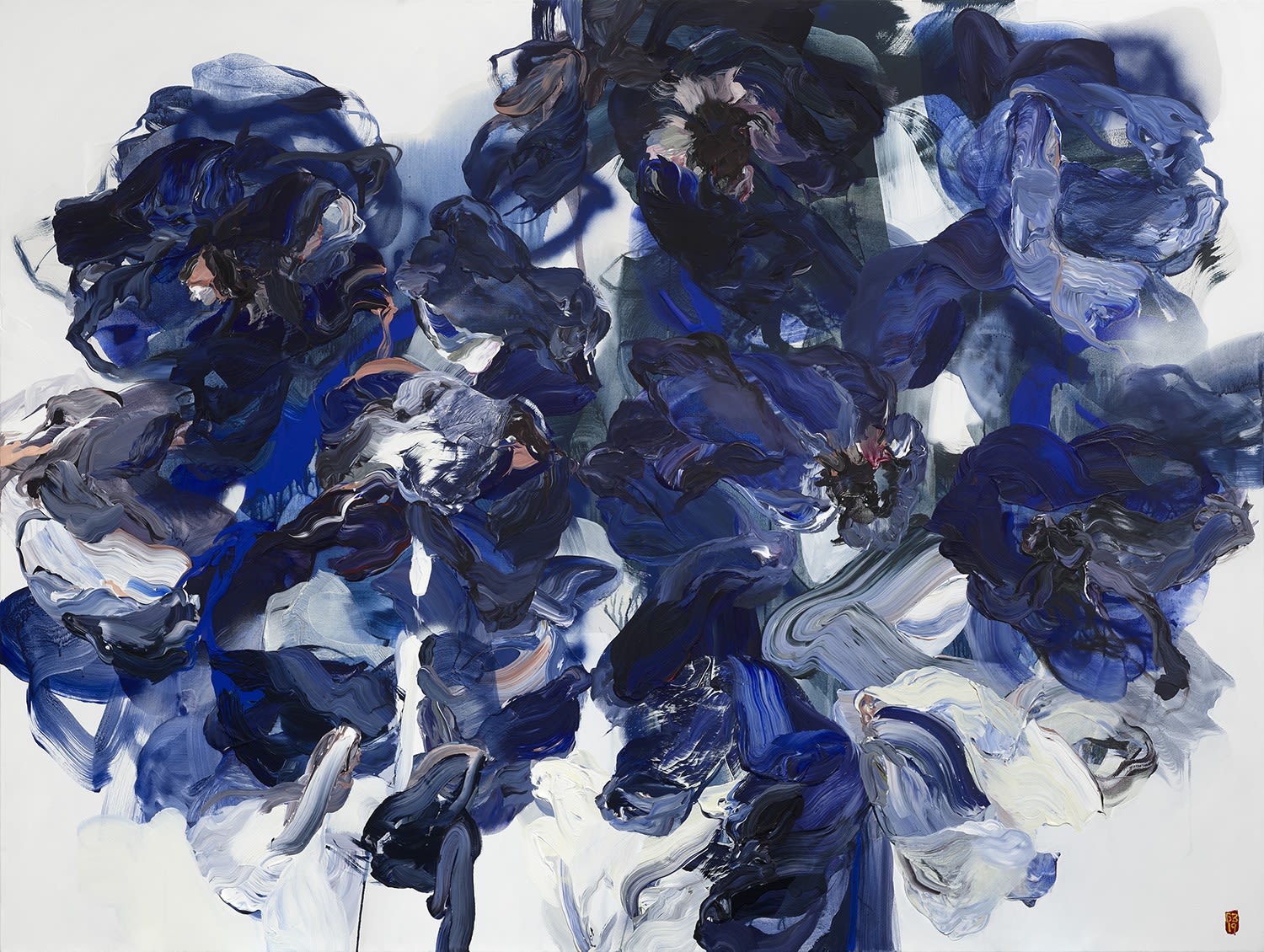 Float Like a Butterfly #1, 2019, acrylic on canvas, 60 x 80 in.
A highly respected Toronto gallerist remarked after seeing your work for the first time, "I usually dislike floral paintings, however, these have just the perfect amount of nastiness!" How would you respond to this comment?!

I thoroughly enjoy this compliment and will accept it wholeheartedly. I have always tried to be a pleaser and these new works show the different complexities of my personality, my darker and more rebellious side as well as my vulnerability and happiness, so I am glad that these works can reflect a more realistic version of myself.
Bobbie Burgers: Float Like A Butterfly, Sting Like A Bee will be on view at the gallery from March 5 - 28, 2020.
For more information on the exhibition, click here.