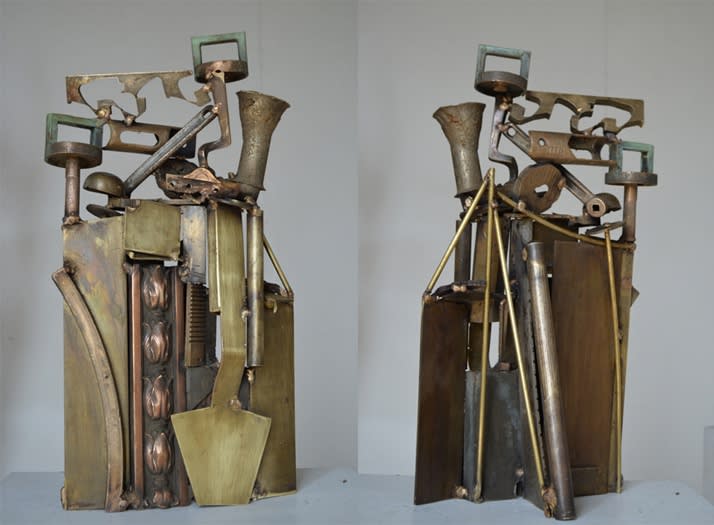 In advance of his first solo exhibition at Nicholas Metivier Gallery this October, Still Life, here are 5 things you should know about Douglas Bentham.
#1.
Saskatoon-based sculptor, Douglas Bentham, is among the distinguished alumni of the Emma Lake Artist's Workshops. Held each summer at Emma Lake in northern Saskatchewan, the workshops were led by critics and artists of international repute, such as Clement Greenberg, Donald Judd, Frank Stella, Barnett Newman and Anthony Caro. Bentham worked alongside Caro during this formative time in his career.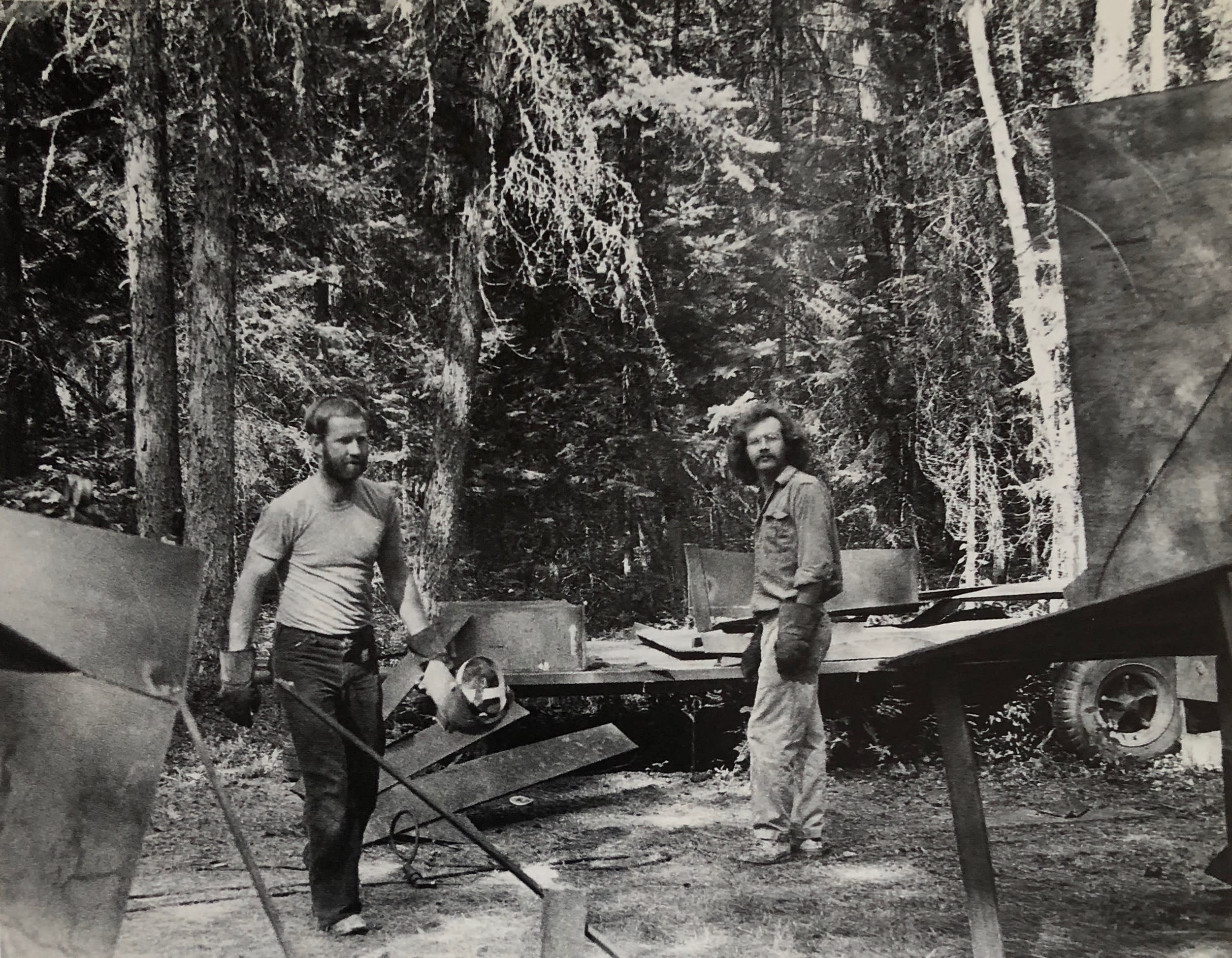 Douglas Bentham (left) with Greg Hardy (right), assisting Bentham with a sculpture at Emma Lake in 1979
#2.
Douglas Bentham has completed several public commissions, including for the Rogers Place Arena in Edmonton, AB; the University of Western Ontario in London, ON; and for the city of Saskatoon.
Skater's Arc, Bentham's commission for the Rogers Arena, is inspired by the curved cuts of skate blades on ice. "I've got a kind of mantra", Bentham says, "Public art must meaningfully engage the setting if it's to become truly public." The 19 ½ foot high Skater's Arc, can be found facing 102nd Street and 105th Avenue northeast of the rink.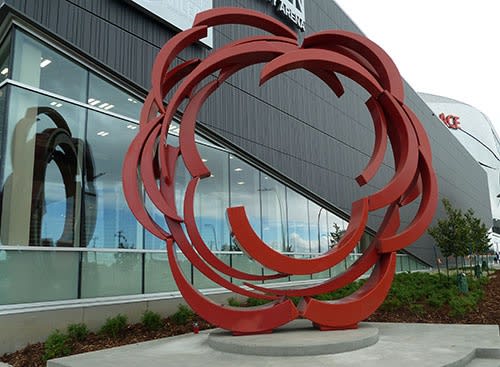 Skater's Arc outside of the Rogers Place Arena in Edmonton, AB
#3.
"So was I once myself a swinger of birches.
And so I dream of going back to be."
-Robert Frost
Literature and poetry are some of Douglas Bentham's primary influences. Swinger of Birches (after Robert Frost), was inspired by the iconic poem by the author. Frost imagines the birches bent, not by ice storms and age, but by the swinging of a boy among the trees "to get away from earth awhile". In Bentham's sculpture motion, use of space, and line all allude to the action of the poem.
Douglas Bentham, Swinger of Birches (after Robert Frost), 2007, burnished stainless steel, 105 x 54 x 30 in.
#4.
Bentham primarily works from found materials. His Still Life series is composed entirely of salvaged pieces ornamental and utilitarian brass and bronze. Bentham credits his father, who worked as a mechanic, as one of the driving forces behinds his interest in sculpting with metal.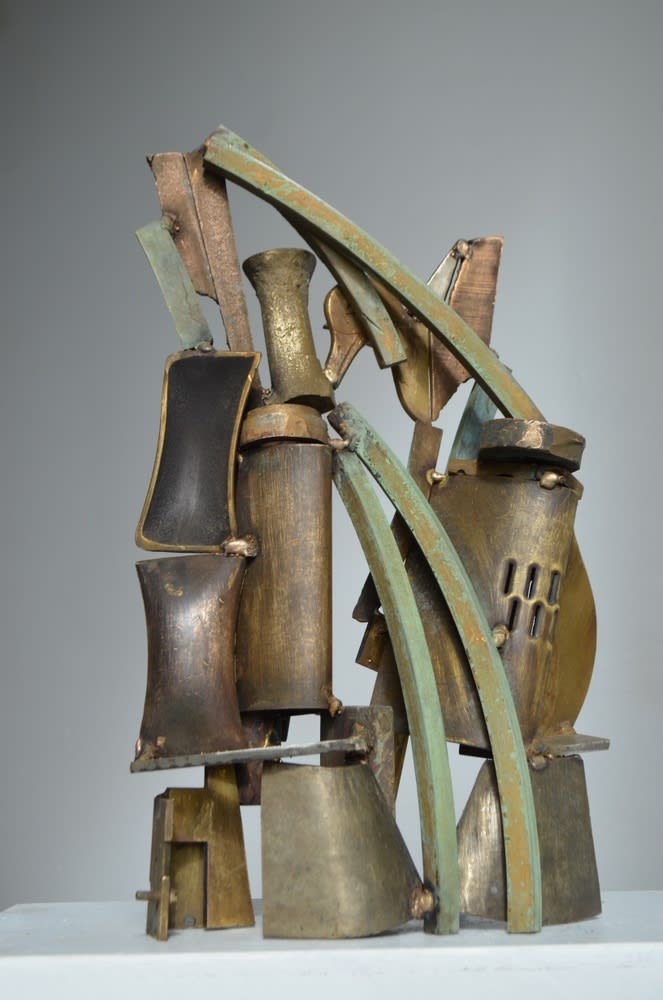 Douglas Bentham,
Still Life lX - After Laurens
, 2019, brass and bronze, 20 x 12 x 7 in.
#5.
A fun fact about Douglas Bentham - he collects Airstream trailers! There are several trailers on his property, just outside of Saskatoon, amongst his sculptures. Airstream trailers are known for their rounded shape and "aircraft grade" aluminum body. They tend to be passed down from generation to generation, sentimentally more similar to artwork than a motor vehicle.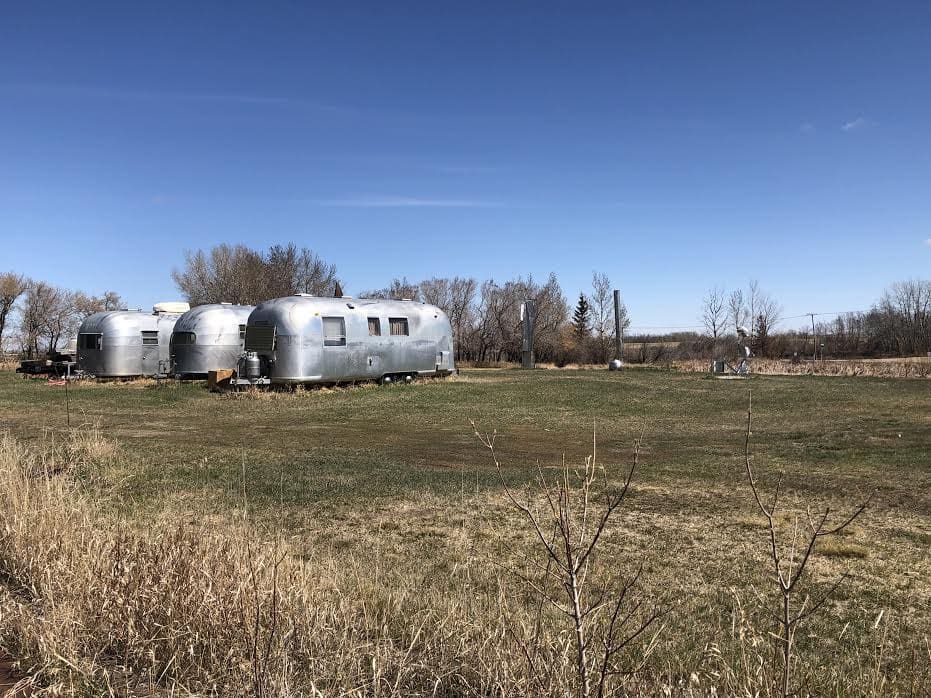 Bentham's Airstream trailers parked on his property