In advance of her exhibition at Nicholas Metivier Gallery this September, In A Silent Way, we asked Mara Korkola a few questions about the inspiration for her latest body of work.
---
The title of your show In A Silent Way, comes from a Miles Davis album. What is this reference about?

I've been thinking a lot about motivation at this point in my painting life, and I thought about Miles Davis and his need to keep changing. I relate to his attitude toward his art a lot - for example he didn't practice a lot, his playing was practice. When I'm preparing for a painting, I don't sketch it and plan it out too much. The emphasis is on discovering what can happen in the making.

In terms of A Silent Way, I experience a real stillness, a real quiet, in these works. They're dense and full, but there's a hush about them. I guess it's how I feel when I'm in that spot viewing that particular place; it's the silencing of everything peripheral and the focus on that one place in that one moment. It's the idea of being present, making the effort to truly experience something and not be distracted or only partially present.
Mara Korkola, No Place 451, 2019, oil on panel, diptych, 10 x 8 in. (each)
This is the first time you have painted the landscape at sunrise. How does this time of day compare to night in terms of its challenges and what you are trying to capture?

They might be my first sunrises, but I've painted a lot of sunsets. The earliest of the No Place series were sunset highways, and one of my first painting sales was a watercolour sunset sketch off a beach in Sicily.

The sunrises felt very different when I first started working on them for this body of work, but as I continued, I realized that they actually weren't that different (not formally anyway). Instead of the light being streetlights through foliage, it's the sun through foliage (or clouds). I think our reading of the places makes them feel different, probably because the sunrises and sunsets aren't urban places. The non-urban paintings feel a bit more intimate to me.
What do you look for when editing your photographs into interesting diptych and triptych combinations?

That has changed over time. In the beginning I wanted to draw attention to the uniqueness of mundane places. By showing one such place, you're just showing a mundane place, but by showing two, all of a sudden each becomes more unique, and more again with the addition of another.

I've employed a more cinematic kind of time sequence as well. And now I'm more interested in the formal effects between panels - how they might play off each other in terms of composition, shape, and line.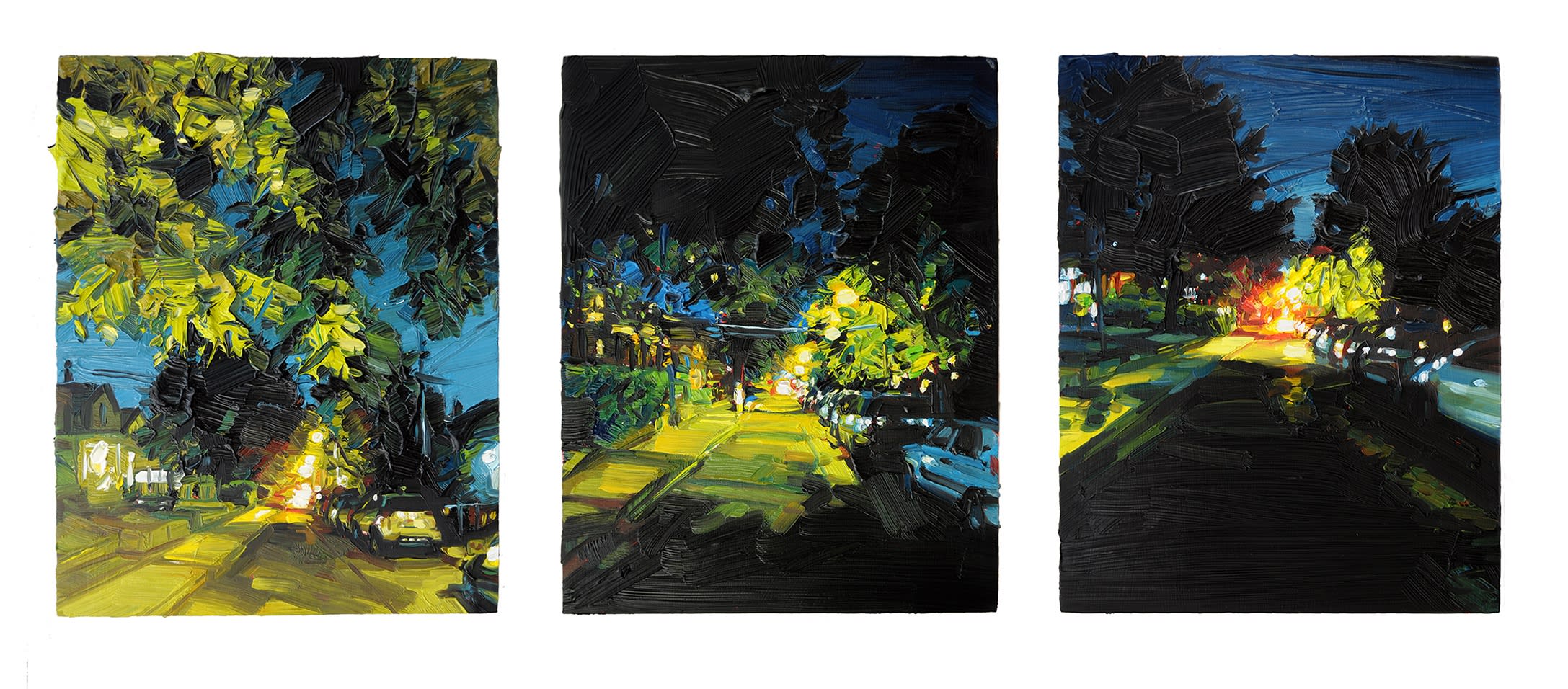 Mara Korkola, No Place 440, 2018, oil on panel, triptych, 10 x 8 in. (each)
You have lived most of your life in cities yet thrive in the wilderness. Can you describe your connection to both places?

That is such an interesting question because it was a shock to read it, but it's clearly true. My formative years, up to the age of 18 when I moved to Toronto, were spent north of Superior in northwestern Ontario (which is quite a remote area) and so I feel like that is who I am. Nature is home. (It is to all of us of course, but in this case I mean my short history.) But my work comes from how I live my life, where I spend my days, so of course the city plays into it. I walk and ride my bicycle a lot, and I naturally seek out the streets with tree coverage and parks as my routes. I respond to these places and they become the subjects for my work.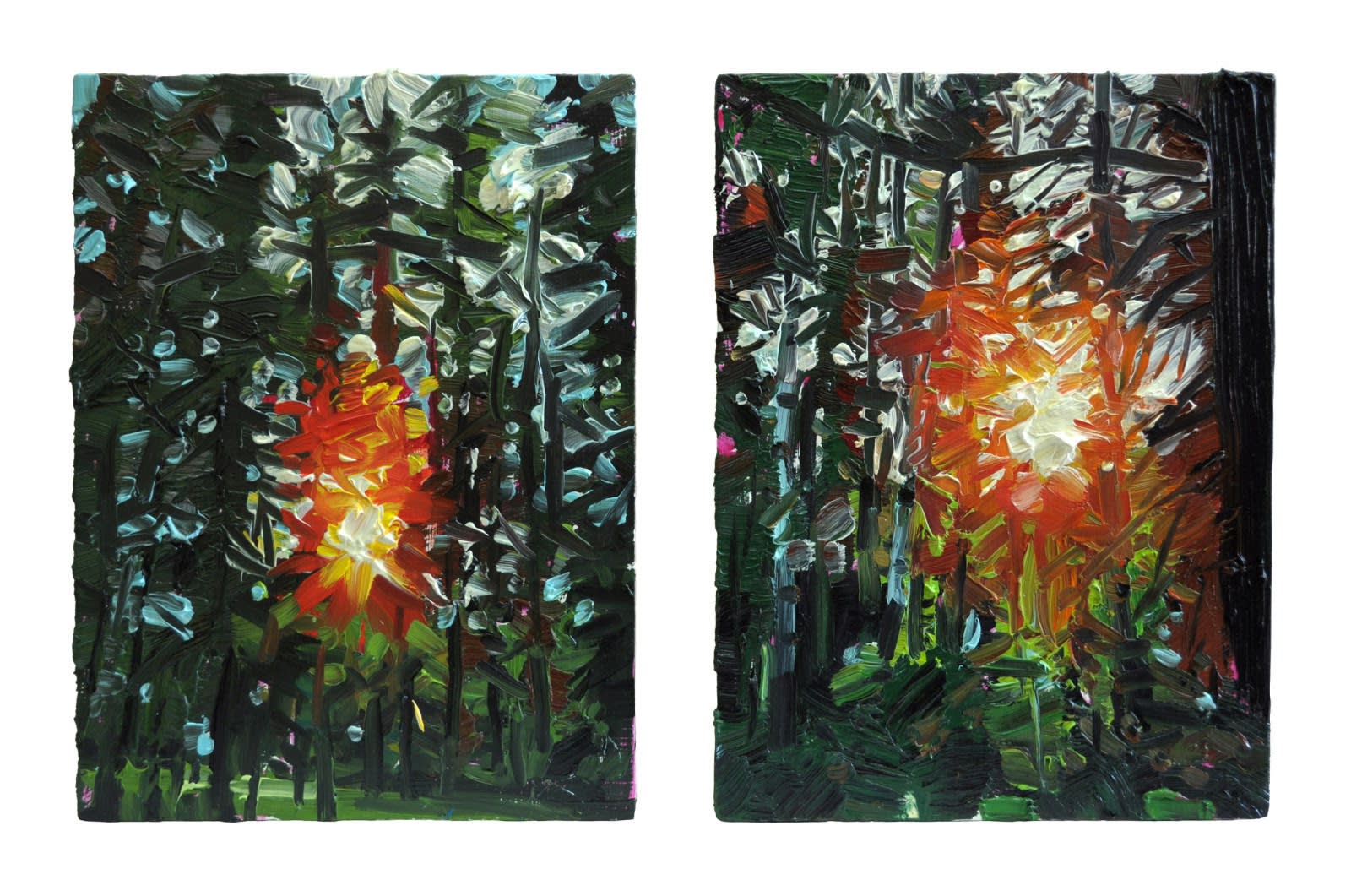 Mara Korkola, No Place 452, 2019, oil on panel, diptych, 8 x 6 in. (each)
Your paintings compress a world of information into small panels, creating tension and drawing the viewer in. Once engaged, what do you hope they discover?

I view my work like poems. They're not short stories or novels, they're more like poems in being a distilled feeling. I'm not creating these for the viewer but for myself, I'm trying to capture the intensity of the feeling of being moved by a place. The resulting paintings are about discovering the unexpected in ordinary, overlooked spots that can, as Seamus Heaney wrote, "catch the heart off guard and blow it open."
Mara Korkola's Toronto studio