Ahead of her first solo exhibition at Nicholas Metivier Gallery, we asked Linda Martinello to provide insight into her process and her latest body of work.
---
NMG: Your Mexican/ Italian heritage has influenced your current practice in an inverse sort of way. Can you elaborate?
LM: My personal experience with memory and history is something that I have investigated for many years. I grew up in the Toronto suburbs with no other relatives in Canada and knew little about my Mexican mother's and Italian father's families. When I was 19, I visited my father's hometown just outside of Venice for the first time to attend my grandmother's funeral. At my grandmother's house, I saw many photographs of my three brothers and me, framed and preserved in a glass cabinet that was prominently placed in her home. I was immediately filled with feelings of yearning and ambiguity. It was a surreal experience – meeting a family I could hardly communicate with, visiting a foreign cemetery filled with ancestors' graves, and experiencing a land in stark contrast to my upbringing. It was here in this unfortunate, yet exhilarating, circumstance that I had my first encounter with what I would call the sublime. It was also the moment I became aware of the intersections between identity, history, and myth. Since then, I have researched and created bodies of work based on locations in Italy and Mexico. Connecting the personal with the public is my way of playing with history and its paradoxes. The landscapes that I construct read as archives of fragments, and this is the central theme of my work.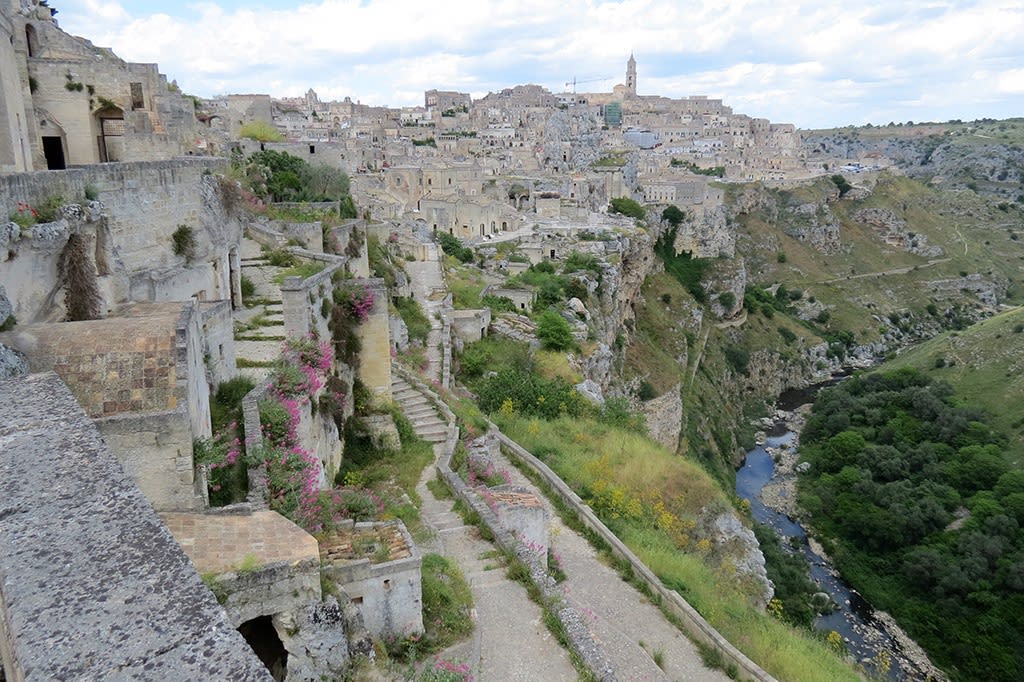 NMG: What attracted you to Matera as a city to base your new series on?
LM: In 2015, I was appointed Assistant Professor and Florence Program Coordinator for OCAD University's international campus in Italy and was preparing to live and work there for six months. Travel is an integral part of my practice and I researched archaeological sites on the Southern Italy UNESCO World Heritage List. One of the first sites I considered was Matera, an ancient city carved out of stone, located in the remote southern Italian region of Basilicata. It is the third oldest, continually inhabited settlement in the world. When I arrived in April 2016, I was immediately taken with the city's extraordinary and haunting beauty. The site is carved out of limestone creating cave-dwelling districts connected by layers of passageways, stairs, and exterior corridors. Matera was known at one time as "the shame of Italy" for its dismal poverty. In the 1950s, an ill-conceived government program relocated the entire population of roughly 16,000 people to new housing projects leaving it an empty shell. In 1993, the city was declared a UNESCO world heritage site and most recently, it was awarded European Capital of Culture for 2019. Former and new residents have been granted permission to move back into the abandoned city but they face problems of future mass tourism and exploitation. With its extraordinary origins and recent rebirth, I found Matera incredibly rich in both its human and geological history.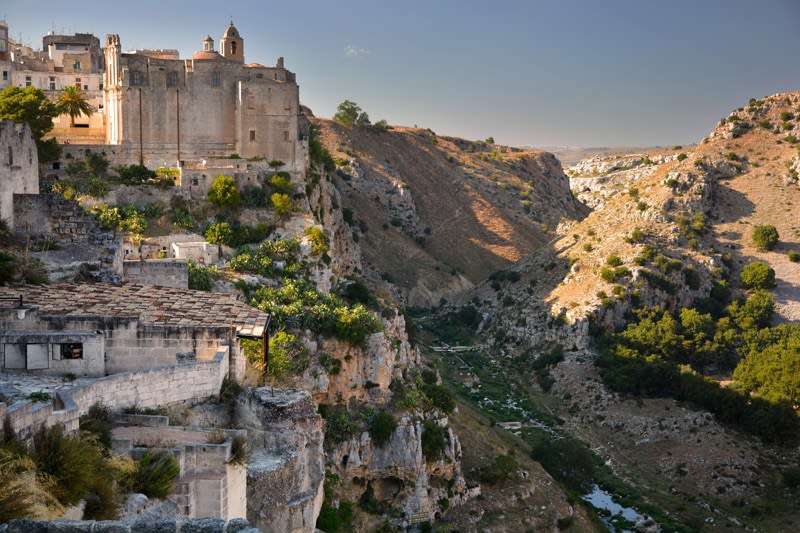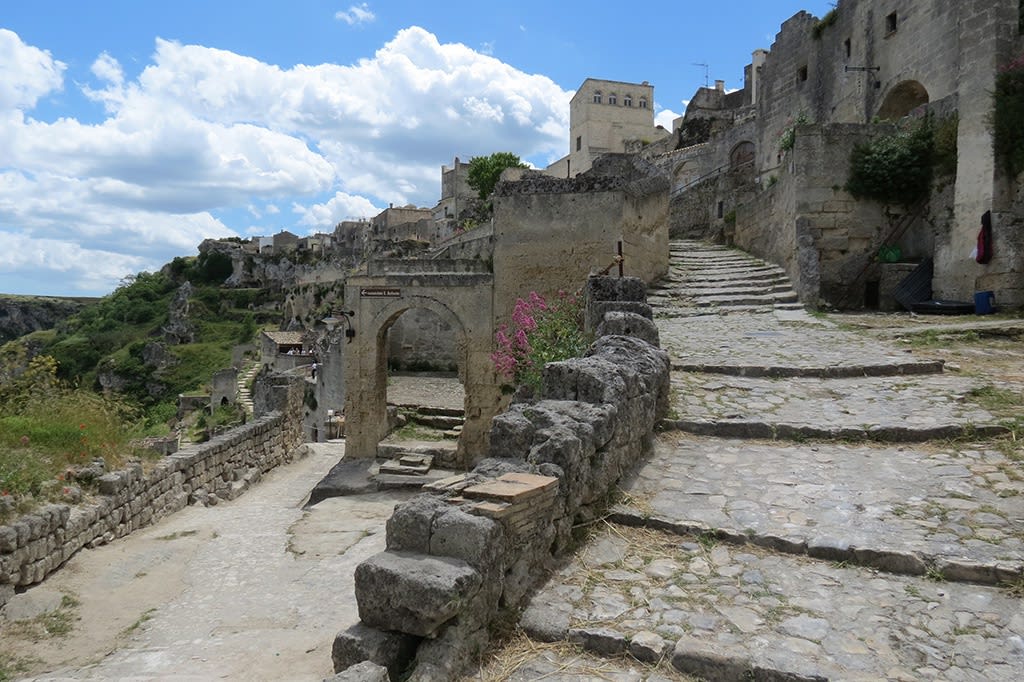 NMG: Can you walk us through your studio process? Where do you begin and end after a trip like Matera?
LM: My practice is process-driven, based on meticulous data gathering and recollections of places visited. It is during my travels that the first phase of the process begins – gathering physical, digital, and experimental source material. My elaborate gathering activity stems from a personal desire to preserve information out of fear of forgetting it. When I return from my travels, I begin by organizing the documentation and source materials, dating in order of experience, and filing it into a personal archive. I then surround myself with source materials in the form of post-it notes, maps, sketches, journals, digital images and videos, which function as triggers to activate my perceptual awareness and heighten powers of recollection. When I begin drawing and painting, a multidimensional studio environment is necessary so that I can shift between the sensory and the intellectual. Part of this involves projecting videos on my studio wall, enabling me to revisit sites and create new observational studies while working. This method encourages memories where I can retrace the sights and sounds of the land. My large-scale works are assembled on the floor where it is possible to physically step in and outside of the works.

NMG: Who are your greatest influences?
LM: I was recently reminded of the influence of American Abstract Expressionist painter, Joan Mitchell, after seeing her extraordinary paintings in the Mitchell / Riopelle: Nothing in Moderation show at the Art Gallery of Ontario this past winter. I have always admired her balance of structured composition and improvisation. She avoids a single approach and retains figure and ground in a way that evokes the impression of a landscape.
The artist who has had the greatest influence and impact on my thinking and practice is Trinidadian-Canadian, New York-based painter Denyse Thomasos. She is known for her large abstract paintings in which dynamic use of line and colour conflate themes of postmodern architecture and urbanism with slavery, confinement and the story of African and Asian diaspora. I was extremely fortunate to work as her studio assistant during my MFA at the University of Waterloo and the following year after graduating. Thomasos passed away in 2012 but her powerful mentorship affects me profoundly to this day.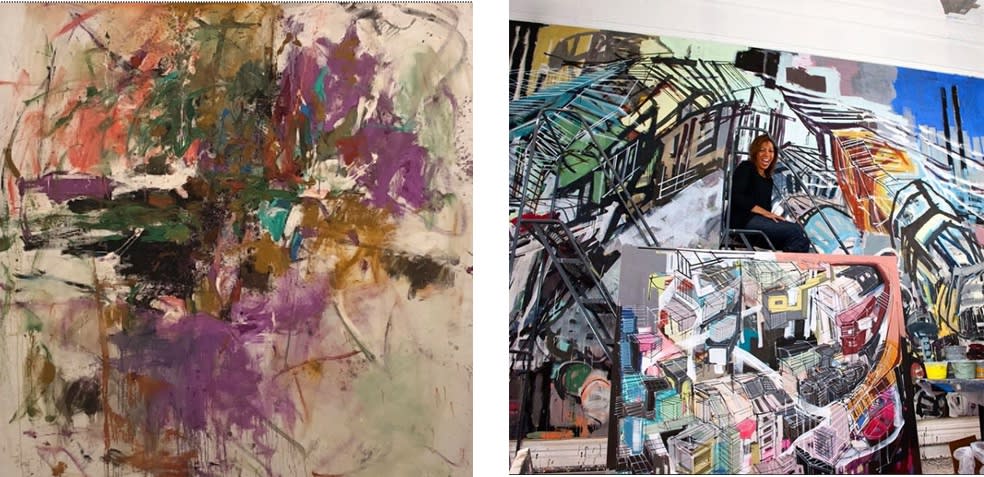 NMG: What do you hope the viewer experiences, when standing in front of one of your works?
LM: The landscapes I create are composites of my recollections and observations of the geographical and geological details I encounter in my travels. I attempt to include focal points to instill a sense of familiarity in the viewer. As cues, the stairways, caves, and valleys, pull the viewer into recognizable and tempting openings. These signs of familiarity never quite resolve as a whole, always staying out of reach of the recognizable. My intention is to activate the perception and feeling of the viewer and it is my hope that the work encourages engagement in the immediate moment. It is the potential to inspire interpretation that is the paramount force in my work.