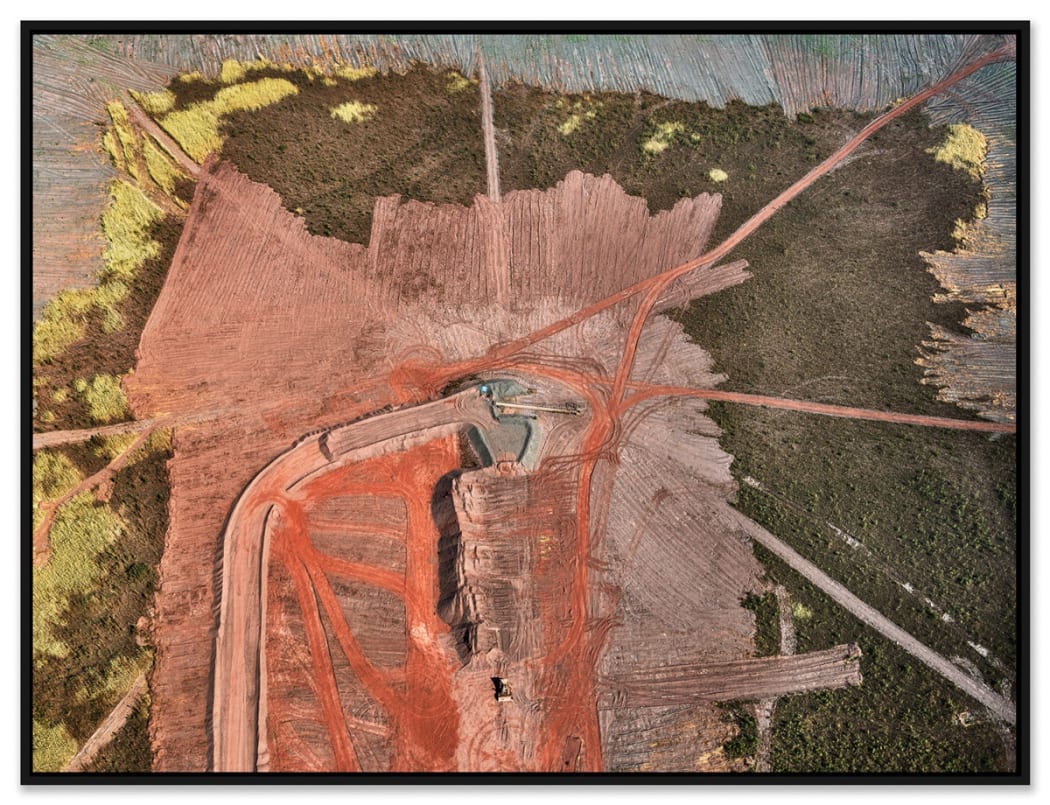 Edward Burtynsky, Sishen Iron Ore Mine #5, Tailings, Kathu, South Africa, 2018
Edward Burtynsky's latest series on Africa emphasizes his long-standing interest in painting, specifically Abstract Expressionism. Earlier examples of this include his Dryland Farming series in Spain in 2010 where he was astounded by the likeness of the man-made agricultural patterns in the landscape to works by Picasso and Dubuffet. More recently in 2016 in India, Salt Pans, he related the earthly toned rectangular patterns from harvesting salt to the paintings of Paul Klee.

In Africa, Burtynsky found new painterly relationships while in the air and channeled notions of formalist painting to create tension, structure and abstraction in his photographs.
One of my Father's hobbies was painting, and his favourite subject was the landscape. When I was seven years old I also began painting, and was attracted to landscapes as he was. I remember we worked side-by-side, using oil paints. I enjoyed it and the process of seeing, mixing paint, and trying to be faithful to the subject in front of my eyes; but it always seemed to take a very long time to create a decent painting. Naturally, as boy I also yearned to be outside, playing with my friends and just doing what seven-year-old boys do. Several years passed, then at the age of eleven my dad bought me my first camera. A whole new world of picture making opened up. I loved the immediacy of looking through the viewfinder, framing up shots and taking the pictures; and then, the magic of seeing those images appear like ghosts emerging from a watery darkroom tray. In a fraction of a second I could compose and capture a complete image, then enjoy the process of developing the negatives and printing the images. I became obsessed with taking pictures, and not just of landscapes, but of anything and everything that attracted my eye — just to see how they appeared as images.

In the following years and into my post-secondary education, I was always interested in looking at art and studying artists. I loved that mid-20th century period of abstract expressionism; the textured expanses of field painting, the flattening of space across the picture plane; and the sometimes bold, and other times subtle gestures of the painter's hand. The canvases of people like Jackson Pollock, Richard Diebenkorn, Jean Dubuffet, Joan Mitchell, and early Phillip Guston - to name just a few - amazed me. They took me places.

In the development of my photographic eye, as a way to better understand these aesthetic imperatives, I began by looking at nature, the landscape again, working with the formative ideas I'd gleaned from my art studies, and then expanded the natural landscape to include human alteration. There may have been something too in that exploration; of looking for the ready-made — something that already existed and seemed unintentionally attractive in the landscape — as a visual subject.

Large format photography always represented the ultimate "realist" tool, with the greatest capability to render nuances of graphic detail and colour, like those ultra fine threads painted into a garment, or the uncanny realism of those still lives, painted by great Flemish masters. My journey as a photographer began with film, with understanding the basic process, and an appreciation for a quality of light and the rigour of composed visualization.

Now, with the evolution of digital photography I am using the highest quality critical resolution digital cameras. I have come full circle in a way, still looking at and rendering the landscape as I did so long ago, painting alongside my father, but in the end not a belaboured canvas, but a large-scale photographic print. The process of crafting a fine print has also gone hand-in-hand with my growth as an artist and photographer. It been a necessary, and passionate preoccupation in what I strive to achieve. It is in this approach that so much of my work, and now the African Studies project, has come to be.

- Edward Burtynsky
Edward Burtynsky, Coal Tailings #1, SASOL Synfuels, Secunda, Mpumalanga, South Africa, 2018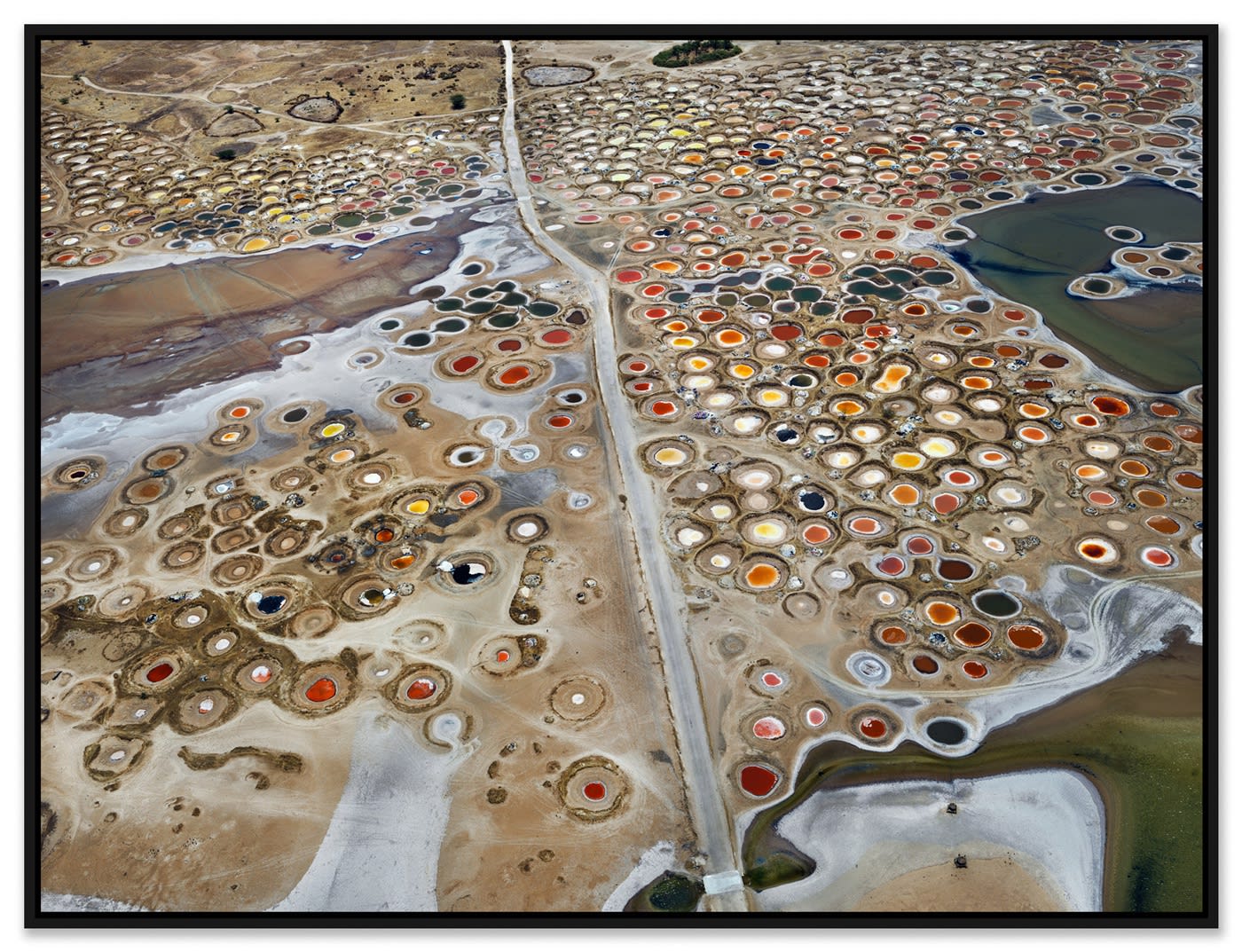 Edward Burtynsky, Salt Ponds #4, Near Naglou Sam Sam, Senegal, 2019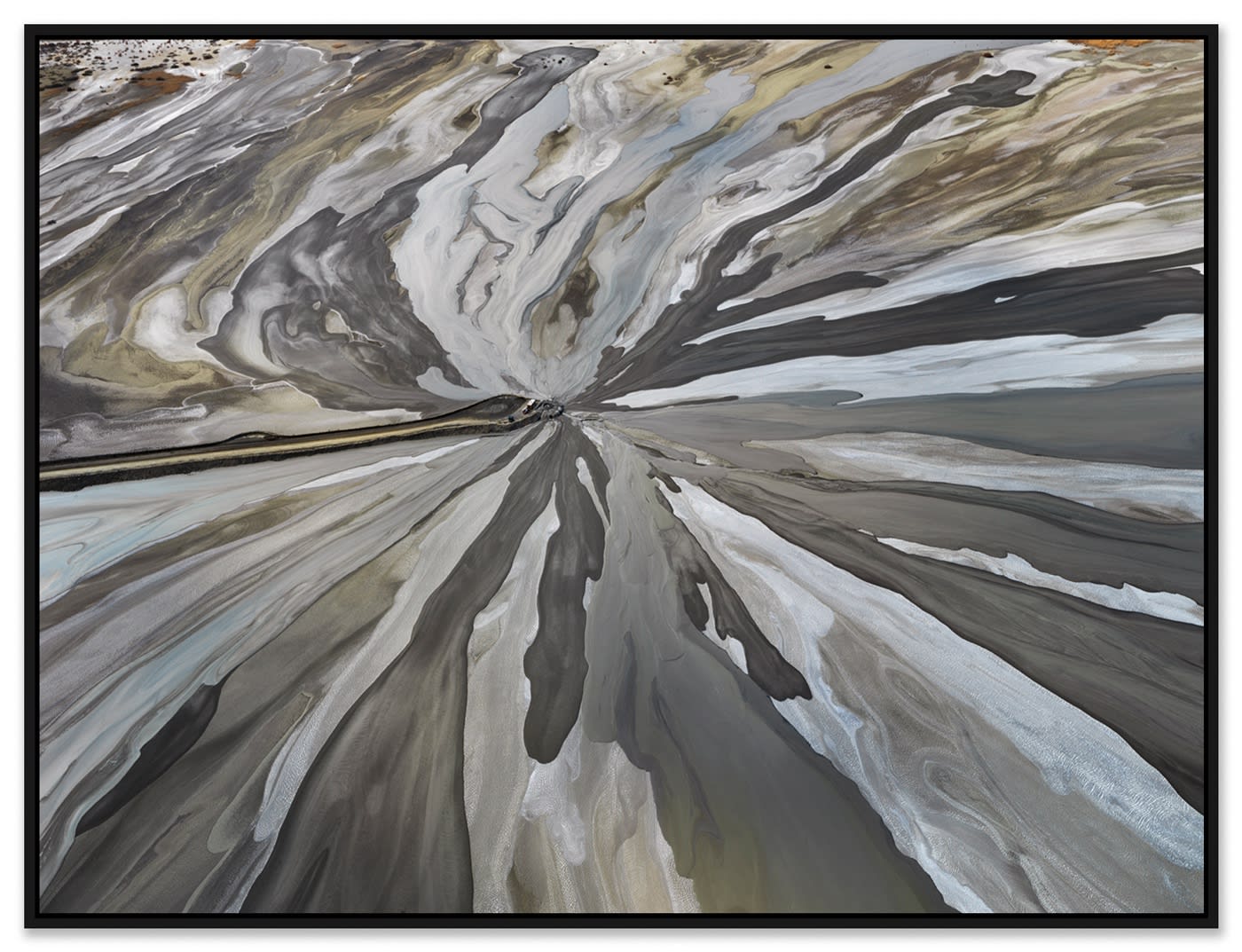 Edward Burtynsky, Tailings Pond #1, Wesselton Diamond Mine, Kimberley, Northern Cape, South Africa, 2018
For more information on Edward Burtynsky: Africa, click here.