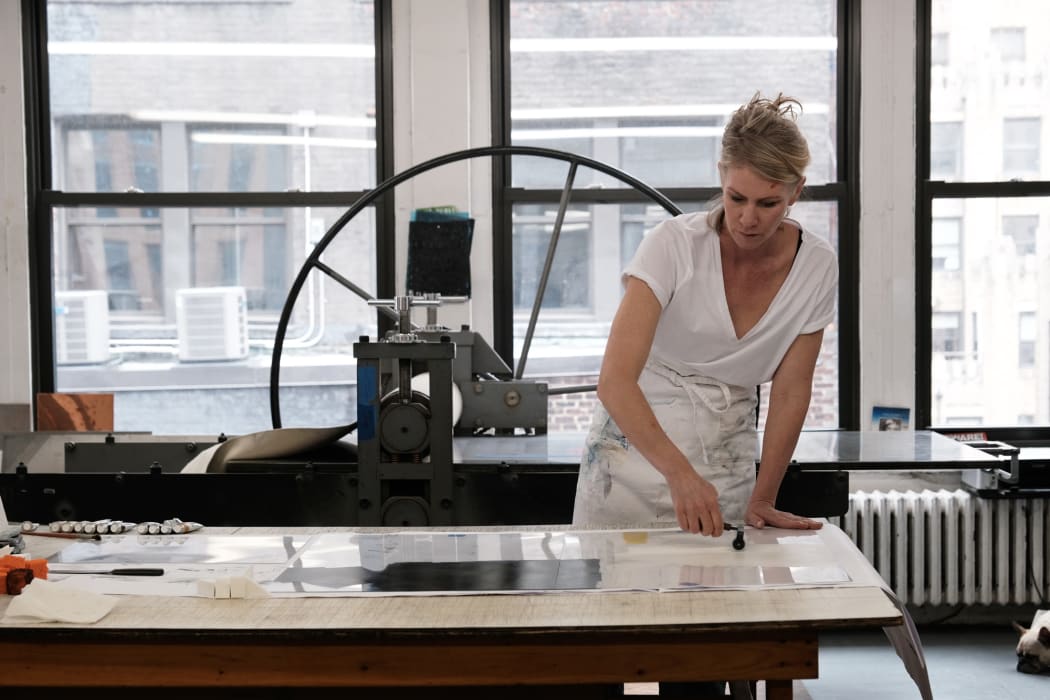 The monotype printing process was invented in the 17th century and since has been used by artists like Edgar Degas, Paul Gauguin and contemporary artists such as Nicole Eisenman and Elizabeth Joy Peyton.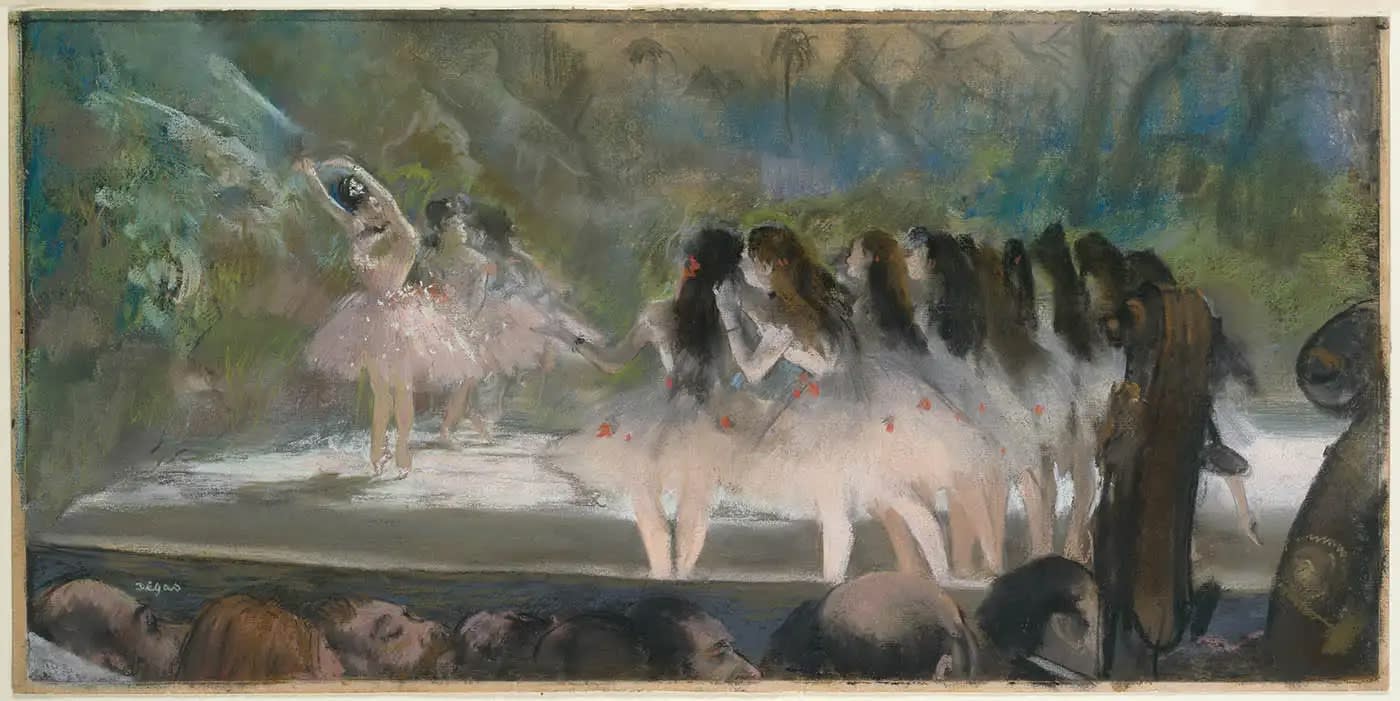 Edgar Degas,
Ballet at the Paris Opéra
, pastel over monotype on cream laid paper, 1877, via The Art Institute of Chicago
WHAT IS A MONOTYPE AND HOW IS IT DIFFERENT THAN OTHER PRINTING METHODS?

A monotype is created by drawing an image directly onto a smooth surface or "plate" with printer's ink or paint. The plate is then run through a press, similarly to an etching, and the image is transferred onto a damp piece of paper.

Unlike other forms of printmaking, a monotype is only produced once and is entirely unique.

Artists chose this method because of the freedom it allows them through the immediacy of drawing directly onto the plate. When the plate is glass or plexiglass, a guide image can be placed underneath to give them a starting point. A monotype can also be layered on top of with multiple plates. This can be achieved by taping the edge of the paper to the printing plate before it goes through the press and then reworking the plate before running it through additional times.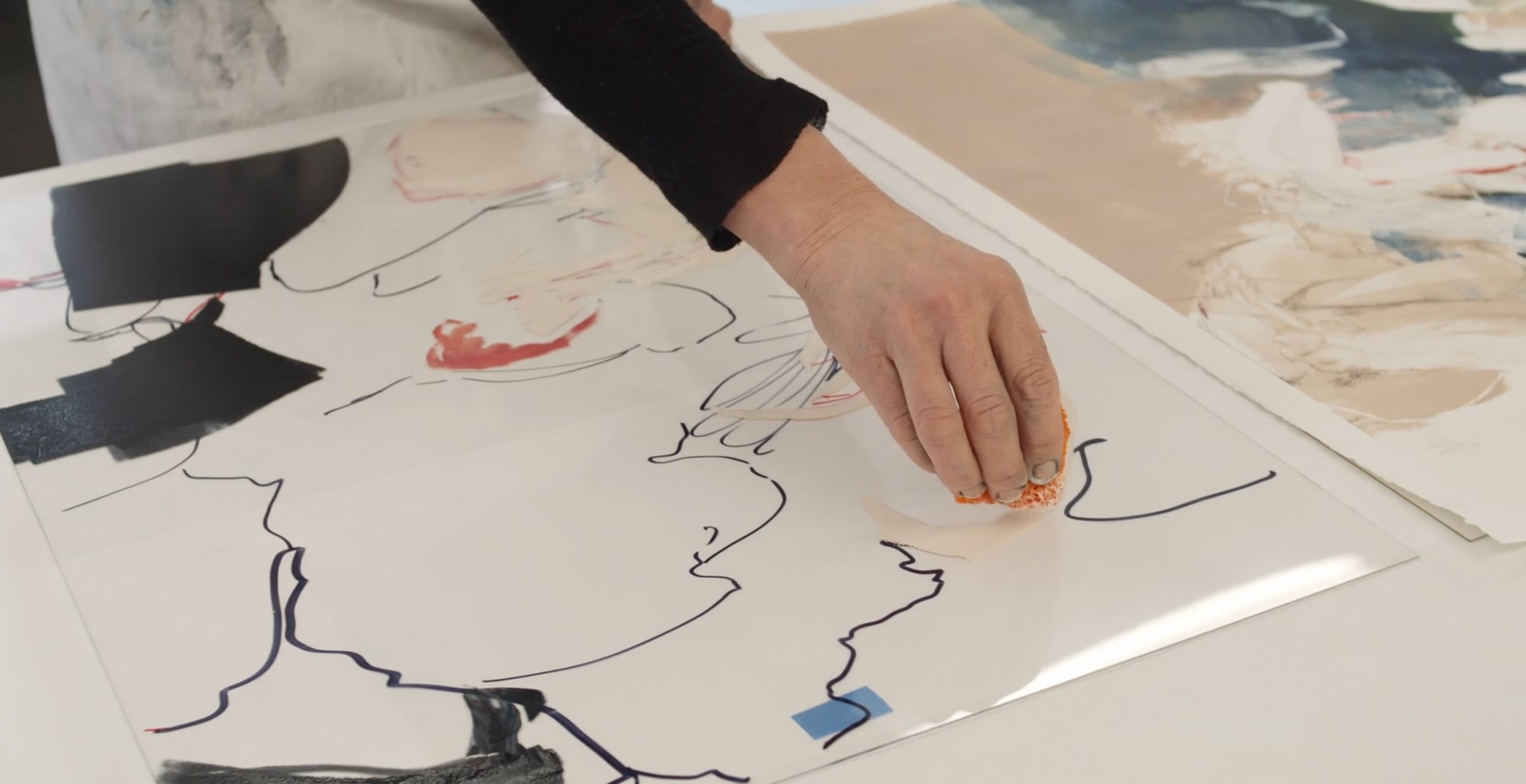 Burgers works on a second plate, which will be printed overtop of the image on the right

Another key aspect of monoprinting is the ability to add and remove ink from the plate. In the "light-field" technique, ink or paint is often applied to a clean plate with a brush or other painting utensils. The other approach, which is referred to as a "dark-field" technique begins with covering the entire plate with ink (often with a roller) and then using a variety of tools to remove areas that become the image. These techniques can also be combined in tandem with one another.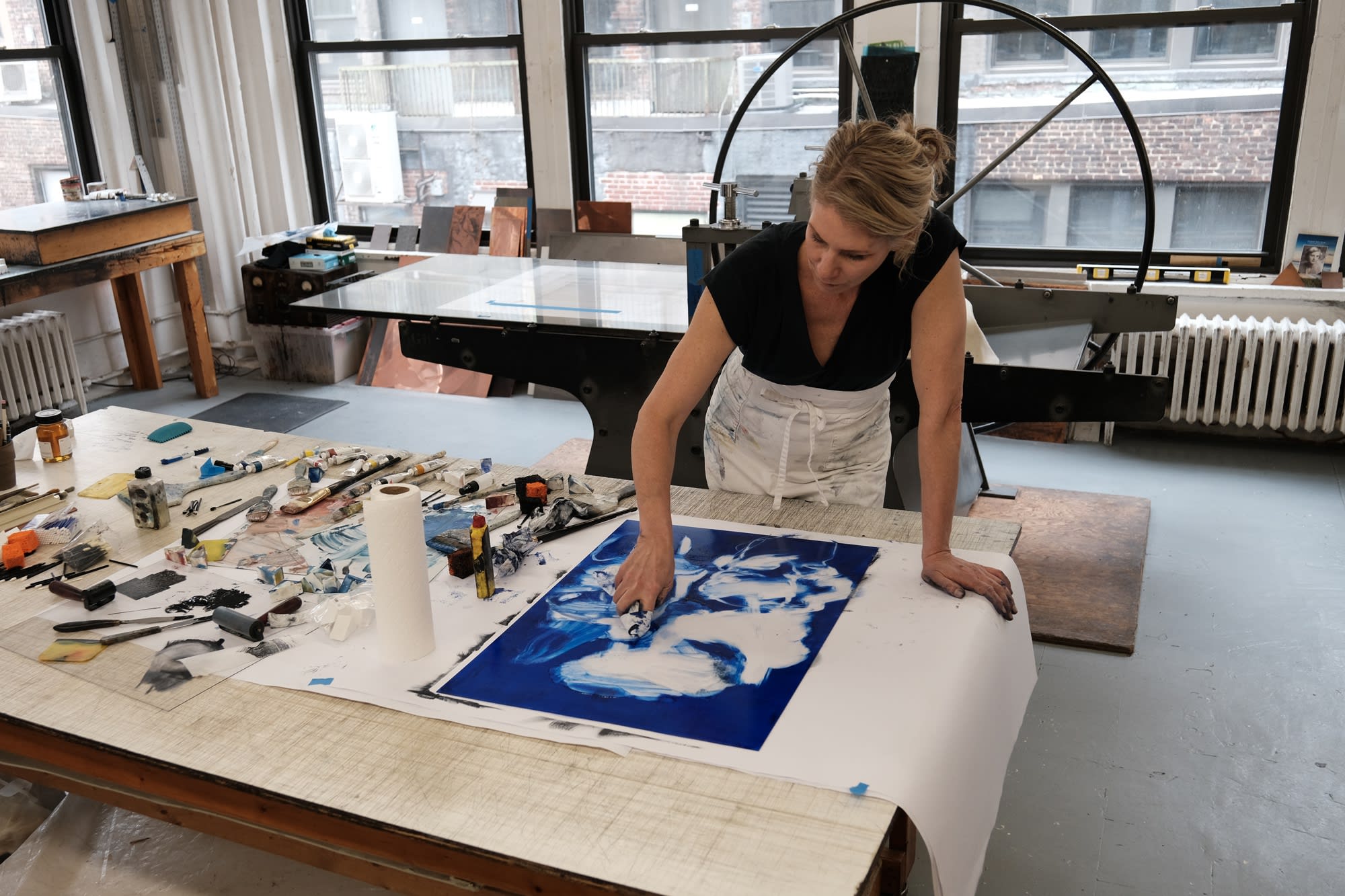 Burgers using the "dark-field" approach by wiping off ink that covers her plexiglass plate
BOBBIE BURGERS: MONOTYPES
PRINTED WITH BURNET EDITIONS, NEW YORK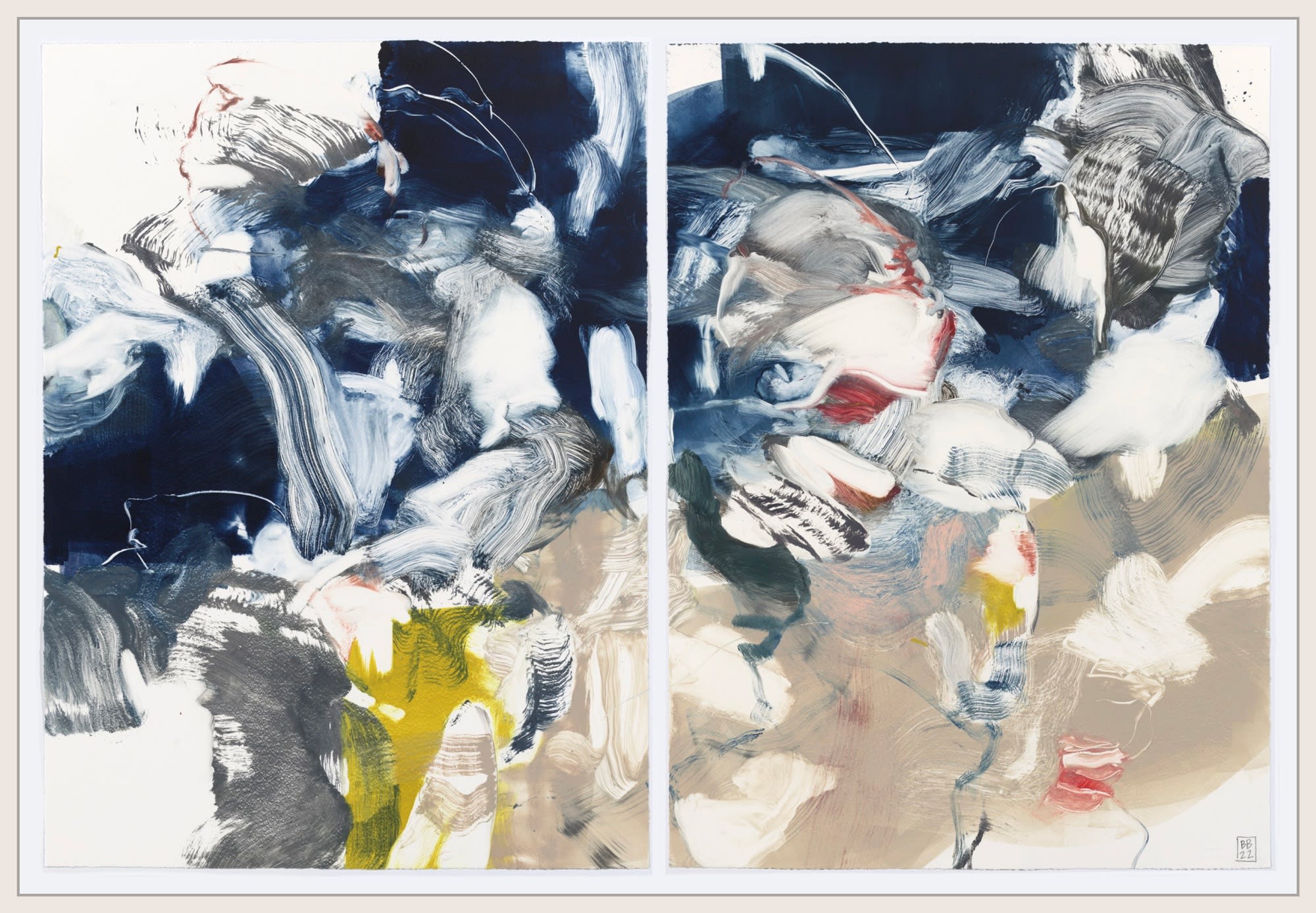 Bobbie Burgers, Regeneration in the Breath of Decay #6, 2022, monotype with etching ink and oil on Arches paper, diptych, 28 x 40 in.
Bobbie Burgers, Regeneration #5, 2022, monotype with etching ink and oil on Arches paper, 28 x 20 in.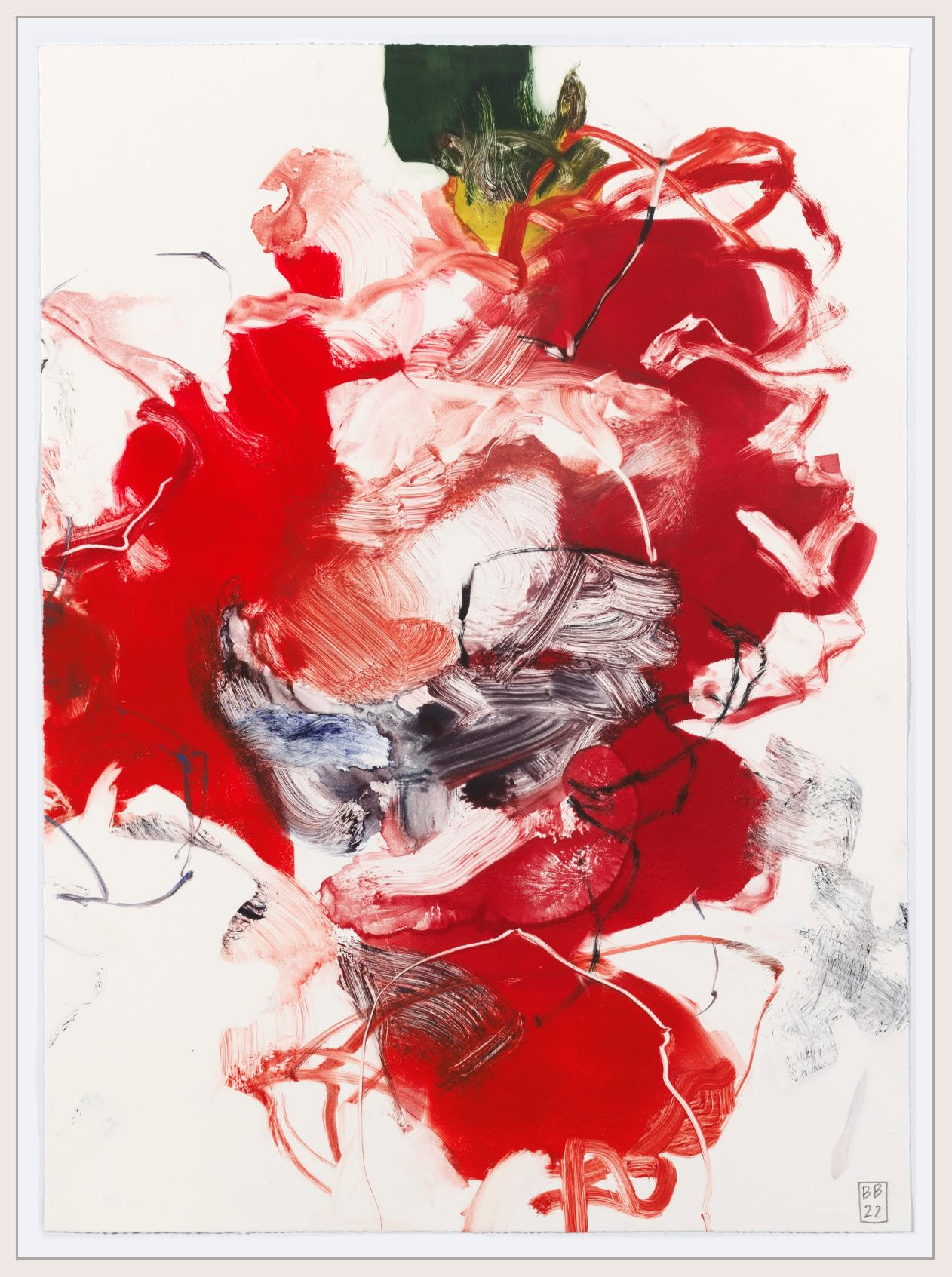 Bobbie Burgers, Tilting Point #3, 2022, monotype with etching ink and oil on Arches paper, 28 x 20 in.


A SHORT FILM ON THE MAKING OF BOBBIE BURGERS' MONOTYPES


Directed by David Hartman, produced by Nicholas Metivier Gallery

For more information on Bobbie Burgers' exhibition, Between Always and Never, click here.

All studio images: © David Hartman, Hayfire