Steve Driscoll, In slow motion, 2019, oil pigments and urethane on composite panel, 94 x 107 in.
#1. Steve Driscoll's artistic influences include painters Paterson Ewen, Tom Thomson and Jackson Pollock.

Steve Driscoll looked to the work of the legendary Canadian artists Paterson Ewen and Tom Thomson during the formative years of his practice.

Known for his experimental techniques with carving and abstraction, Driscoll was drawn to Ewen's ability to push boundaries through his unconventional working methods and unique take on the tradition of Canadian landscape painting.

The historical landscape painter Tom Thomson has also had a huge impact on Driscoll's career, especially as he shifted to representational work. Thomson's iconic compositions as well as his depiction of colour and light are infused but reinvented in Driscoll's paintings, which take inspiration from his experiences hiking, canoeing and camping.

Abstract Expressionist Jackson Pollock is another artist whose practice has impacted Driscoll with the concept of action painting. Driscoll works on the floor of his studio using industrial style brushes attached to long poles. This unique method allows him to embrace elements of chance, including drips.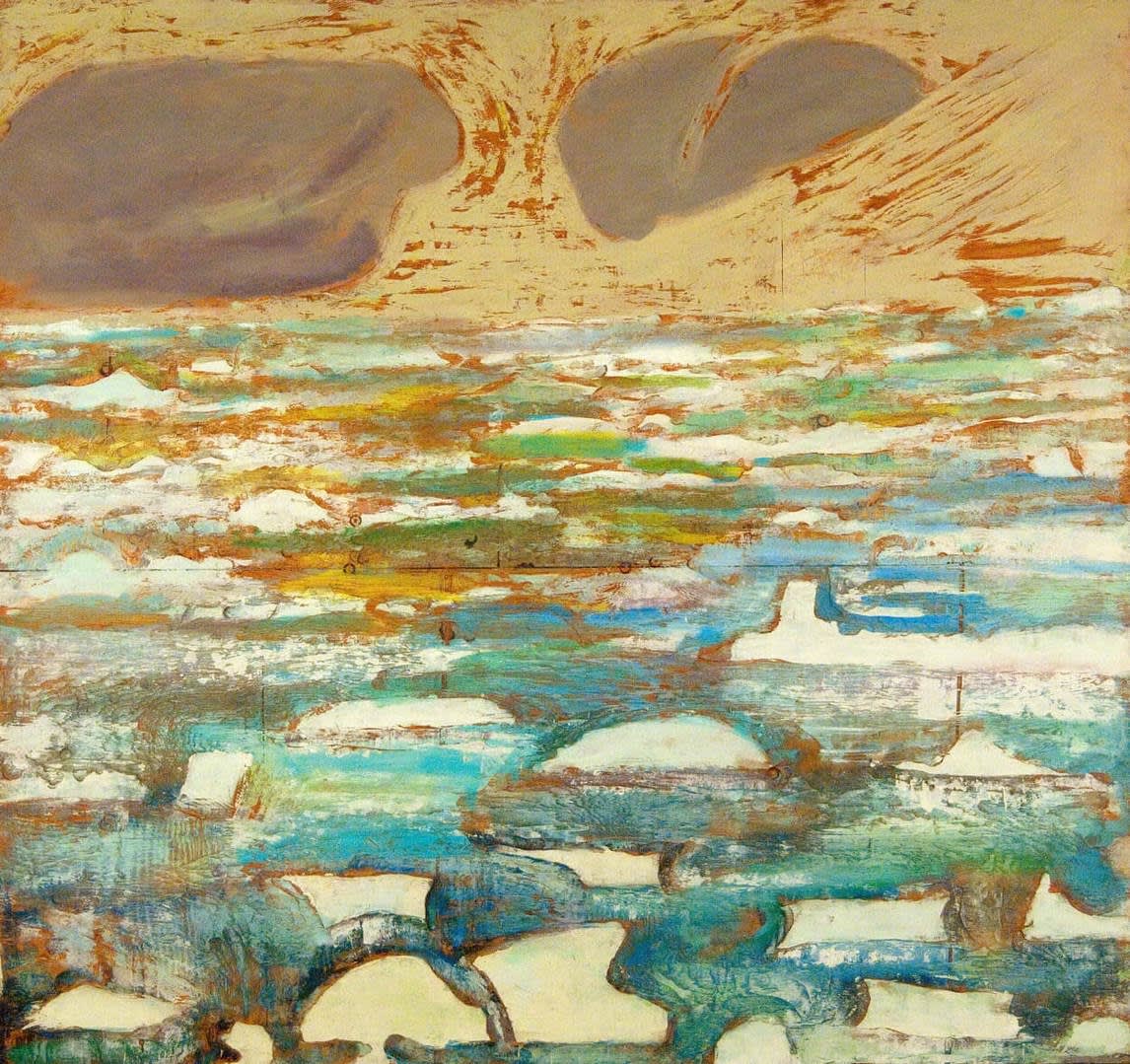 Paterson Ewen, Ice Floes at Resolute Bay, 1983, acrylic on gouged plywood, 228.6 x 243.8 cm, McIntosh Gallery, London
#2. Driscoll's use of GoPro cameras in his painting practice.

Steve Driscoll's River Rising series began in 2017 when he became interested in capturing the motion of waterfalls and rapids. Securing waterproof GoPro cameras to inflatable pillows, Driscoll's photographic reference images came back with no preconceived notion of composition or control. This allowed him to work outside of his comfort zone and push the boundaries of traditional landscape painting.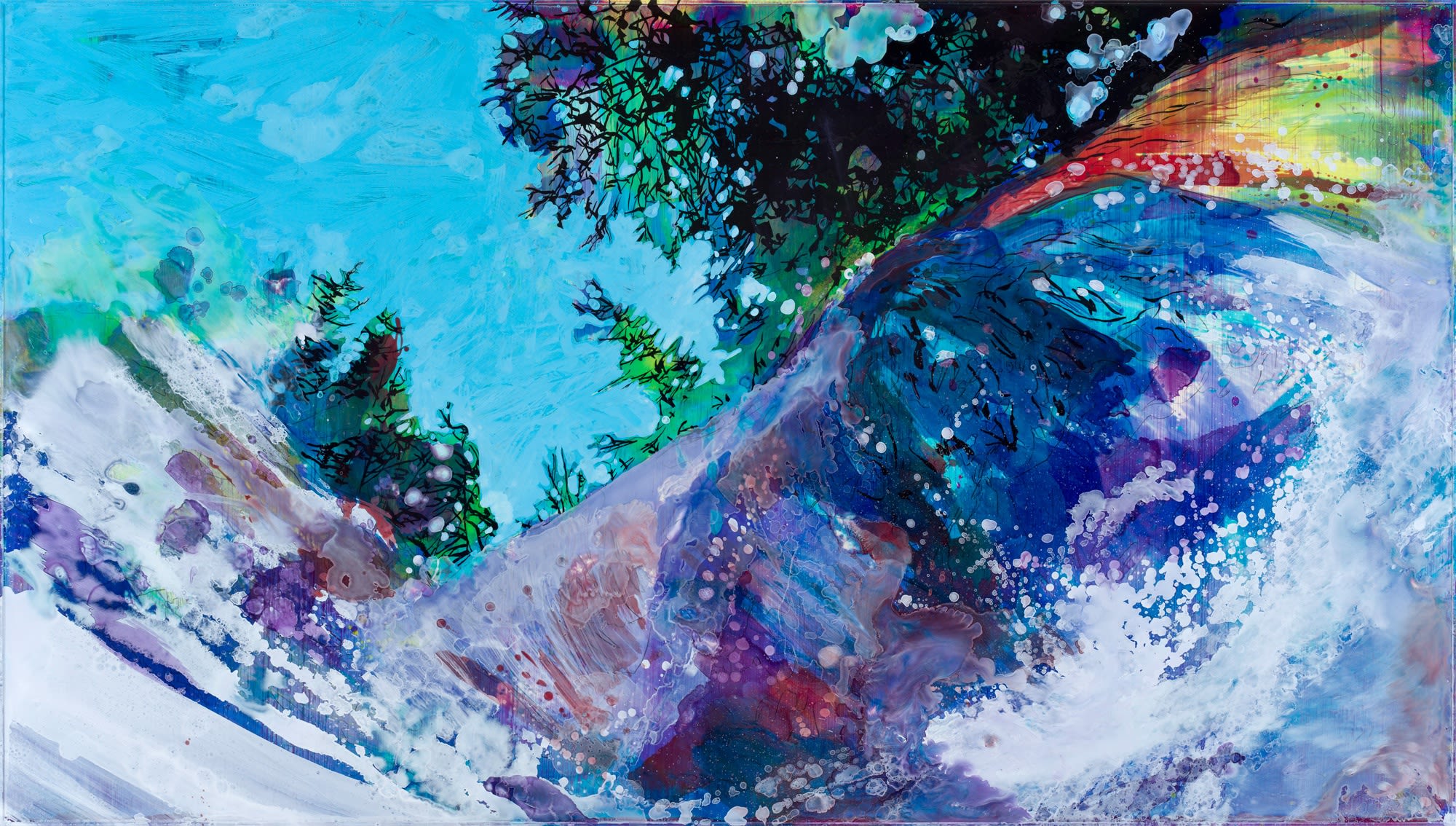 Steve Driscoll, Yet to discover, 2021, oil pigments and urethane on composite panel, 48 x 85 in.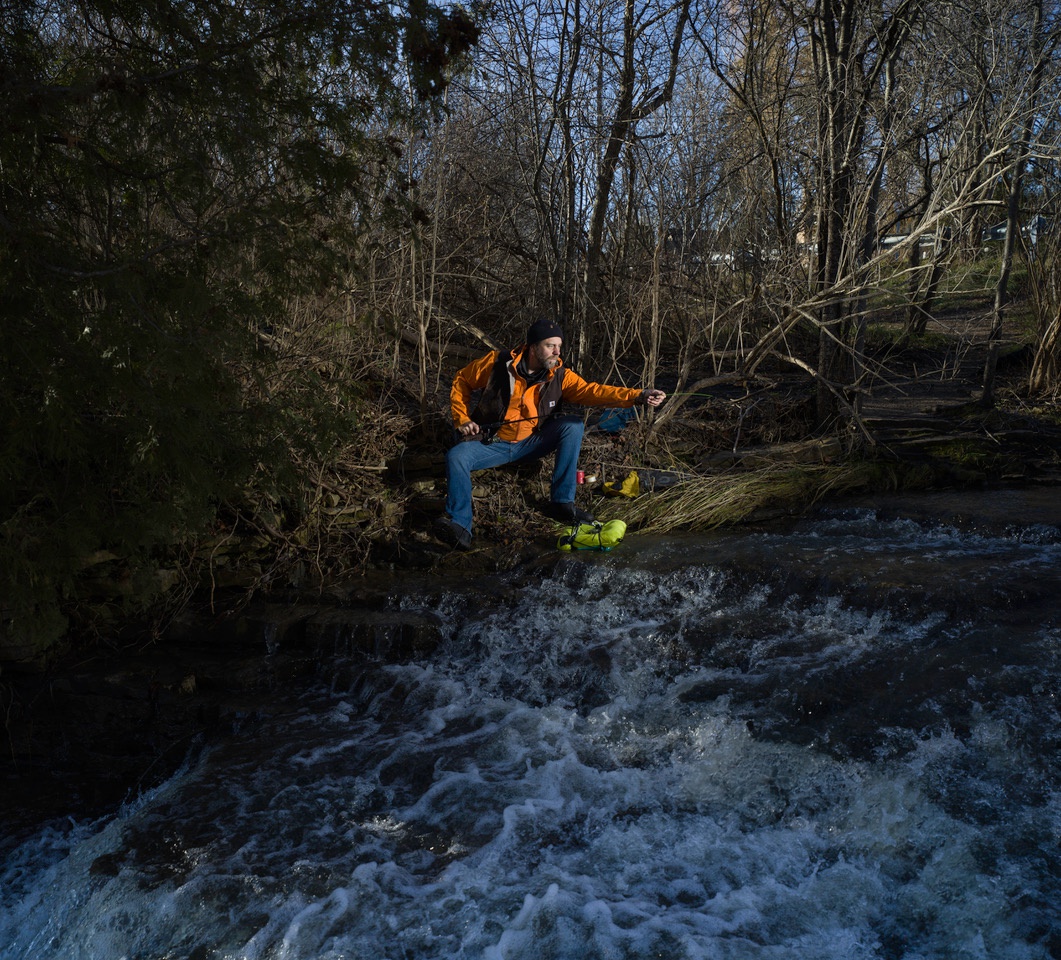 Driscoll and one of his GoPro flotation devices used to shoot reference images for his River Rising series
#3. Researching and implementing industrial materials is a key component in Driscoll's paintings.

Steve Driscoll has a background in construction and days on job sites working with industrial materials heavily influenced his artistic focus. He incorporates urethane, resin and LEDs to intensify the light, colour and subjects of his work.

Driscoll spent five years completing extensive research on LEDs for his commission, A light stolen from the sun, for CIBC SQUARE. This piqued his interest in creating hand-painted light boxes that glow from within.
Steve Driscoll, The other side of the ridge, 2022, oil pigment and resin on backlit plexiglass, 26 x 20 in.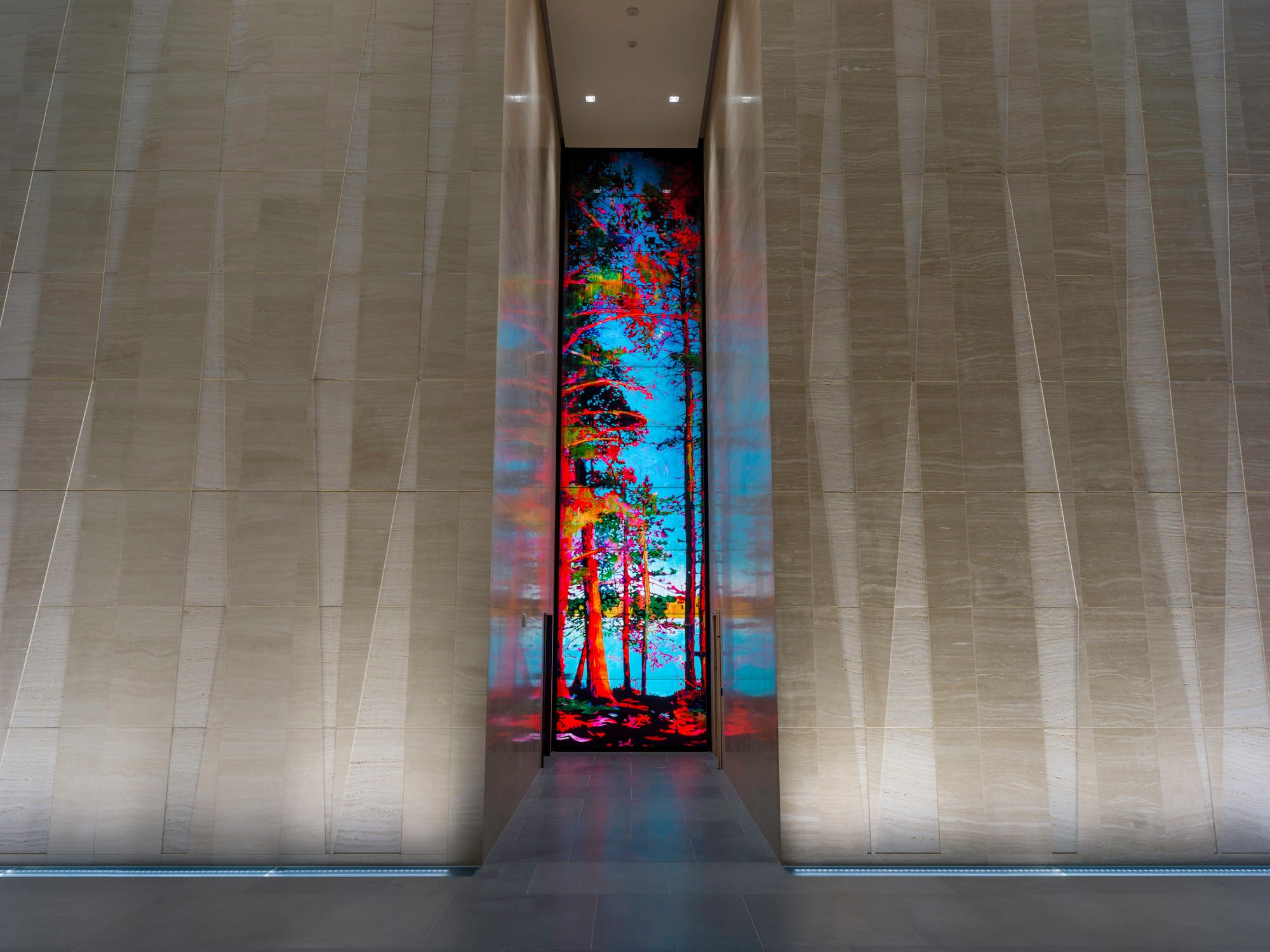 Steve Driscoll, 'A light stolen from the sun', 2021, CIBC SQUARE, Digital print on laminated glass, one 36'h x 9'w panel, Image courtesy of Driscoll studios
#4. Urethane is the main medium Driscoll uses to paint.

While working at Canadian Tire as a student at OCAD, Driscoll discovered the material urethane and started mixing it with oil paint. He initially used urethane as a way to create abstract colour field paintings. Over the course of 10 years, he developed an approach that enabled him to depict imagery with the unruly medium.

Driscoll continues to learn how to manipulate urethane and more recently, resin, whose fluidity and temperamental drying time do not act the same as regular painting materials. It is this experimentation with non-traditional, yet archival materials, that make the work so engaging and unique.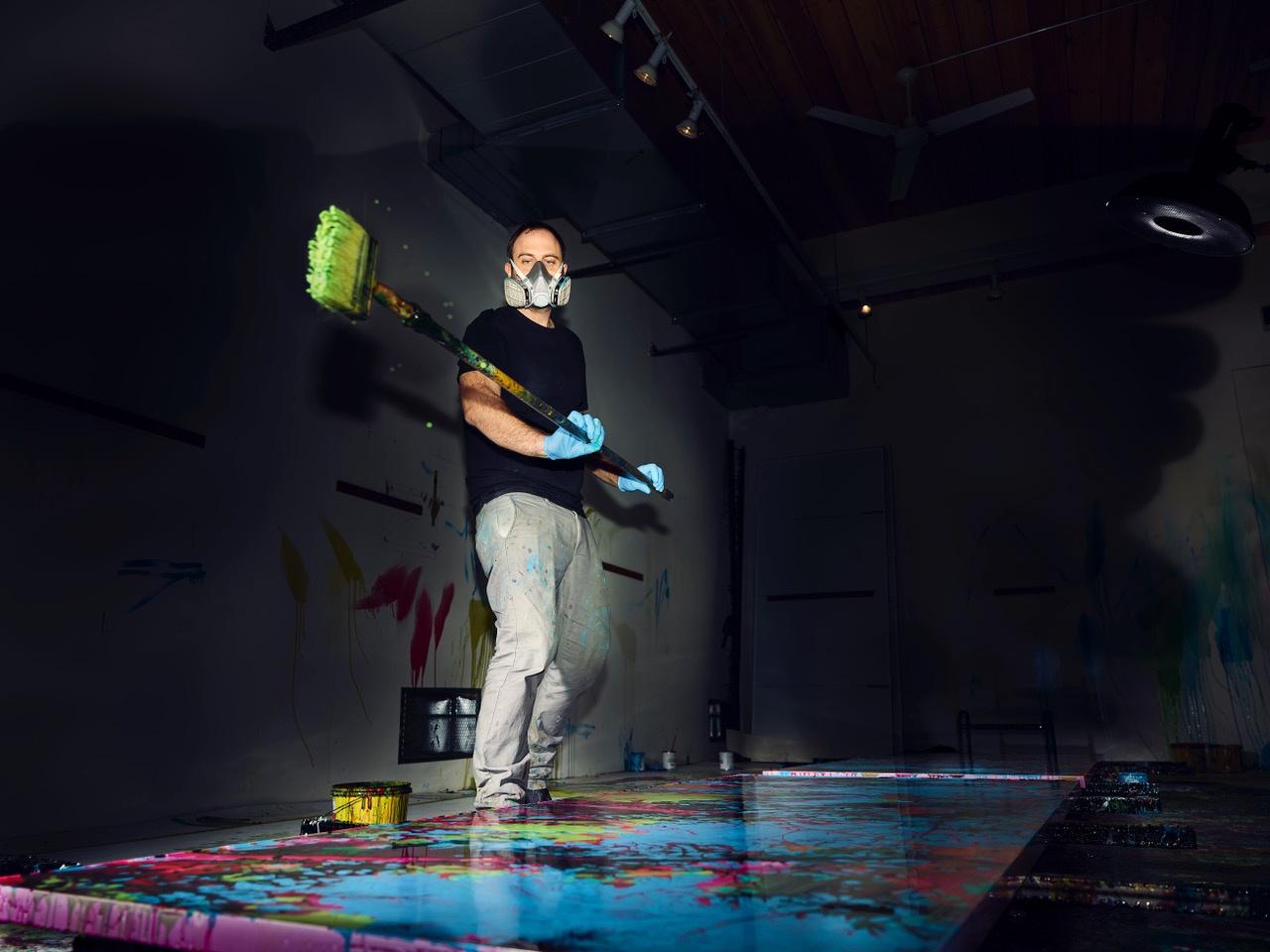 Steve Driscoll working on a painting in his Toronto studio
#5. If you want to run into Steve Driscoll on a hike, here is where you can find him.

Driscoll loves to hike, canoe and camp in Ontario and British Columbia. He frequently visits Algonquin Park, Killarney, Temagami and the Bruce Trail, as well as areas of British Columbia. He has thousands of images in a personal database from his experiences, which he uses as starting points for his paintings.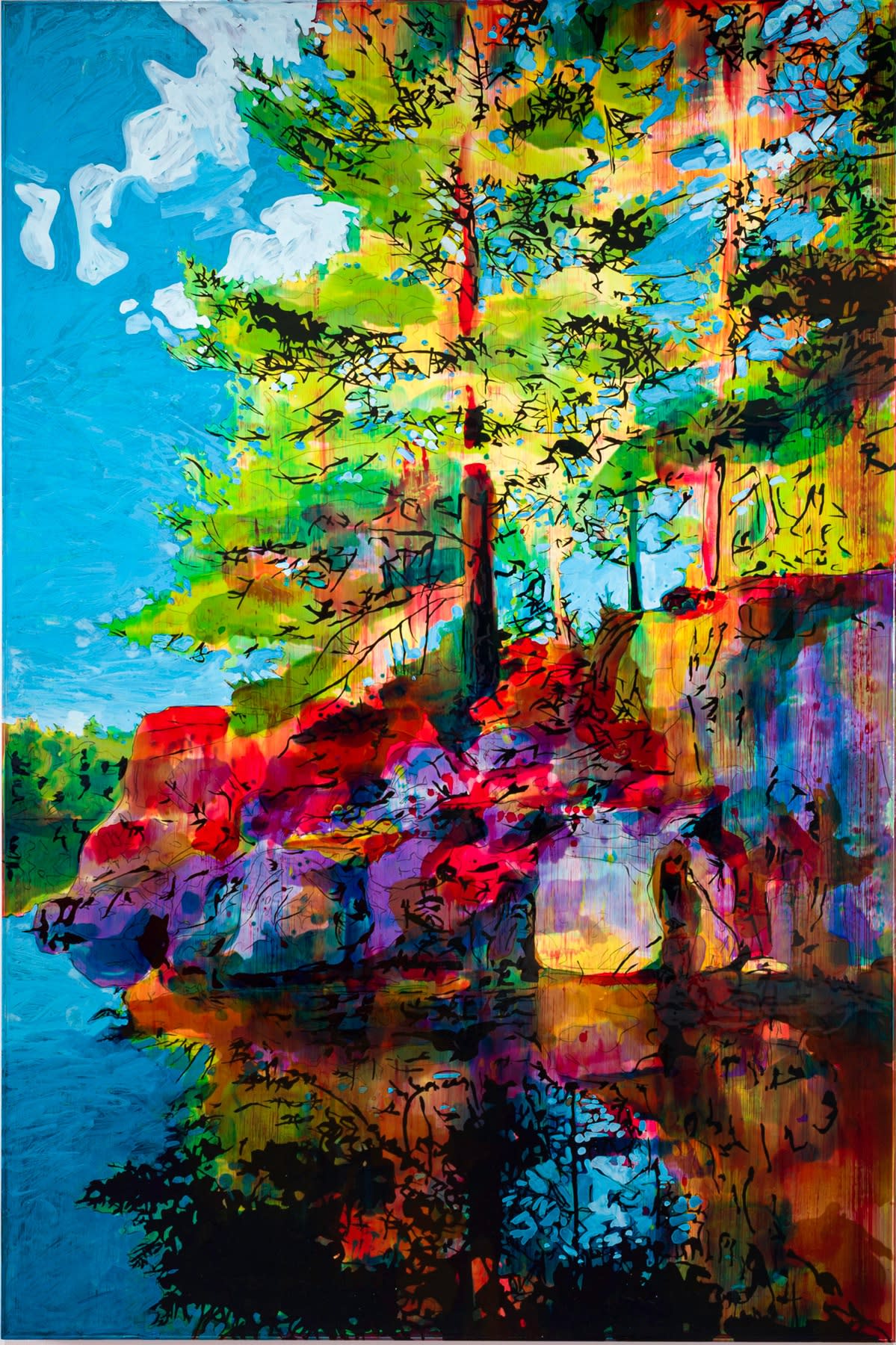 Steve Driscoll, Through the low clouds, 2022, oil pigments and urethane on composite panel, 90 x 60 in.
Steve Driscoll: What should have been familiar is on view at the gallery through April 30, 2022.