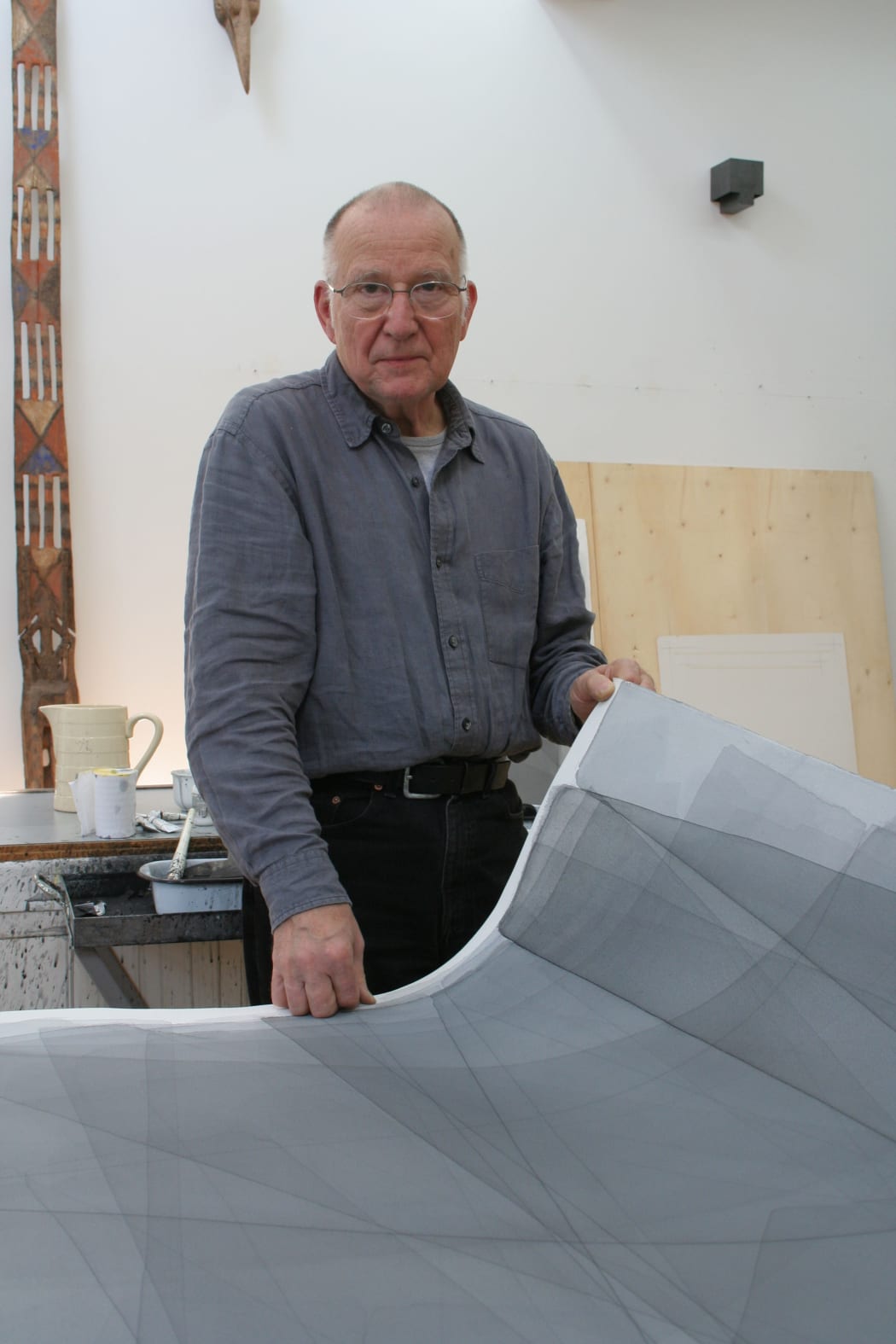 This month, we are pleased to present our third solo exhibition with renowned German sculptor and painter Joachim Bandau, Black and Yellow Watercolours.

Born in Cologne, Germany in 1936, Joachim Bandau currently lives and works between Aachen, Germany and Staefa, Switzerland.

Bandau belongs to an important and well-respected generation of German artists, including Anselm Kiefer, Gerhard Richter, Joseph Beuys and Hilla Becher, who studied at the Kunstakademie Düsseldorf in the 1960s. Today, Bandau is celebrated internationally for his sculptures and watercolours. Notable collections include the Kunsthalle Basel, Switzerland; Le Centre Pompidou, Paris; De Young Museum, San Francisco, Jewish Museum, Berlin; and Museum Ludwig, Cologne.
Joachim Bandau, GS XXXV, 2005, watercolour on Fabriano paper, 30 x 22 1/2 in.
Early sculptures and drawings
Bandau began his career as an artist within the context of postwar Germany. His early sculptures, created from 1967 to 1974, were imposing anthropomorphic polyester structures, which addressed contemporary concerns relating to technology, the body, and the atrocities of war.

Bandau's early sculptures were the subject of a 2021 solo exhibition at the Kunsthalle Basel, Unbecoming Forms: Works 1967-1974, curated by Elena Filipovic. One of Bandau's early sculptures, Der Späher (The Spy), was recently acquired for the permanent collection of the Centre Pompidou in Paris.

From 1976 to 1978, Bandau briefly retired from sculpture and decided to change aesthetic course. Paul Virilio's book Bunker Archeology (1975) was a decisive turning point for Bandau during this period and he began to devote his practice to the creation of large black and white pencil drawings depicting geometric, rectilinear bunkers. This new visual language eventually evolved into a new series of lead sculptures.
Installation view of Joachim Bandau: Die Nichtschönen (Unbecoming Forms). Werke 1967-1974 at the Kunsthalle Basel from March 02, 2021 – June 06, 2021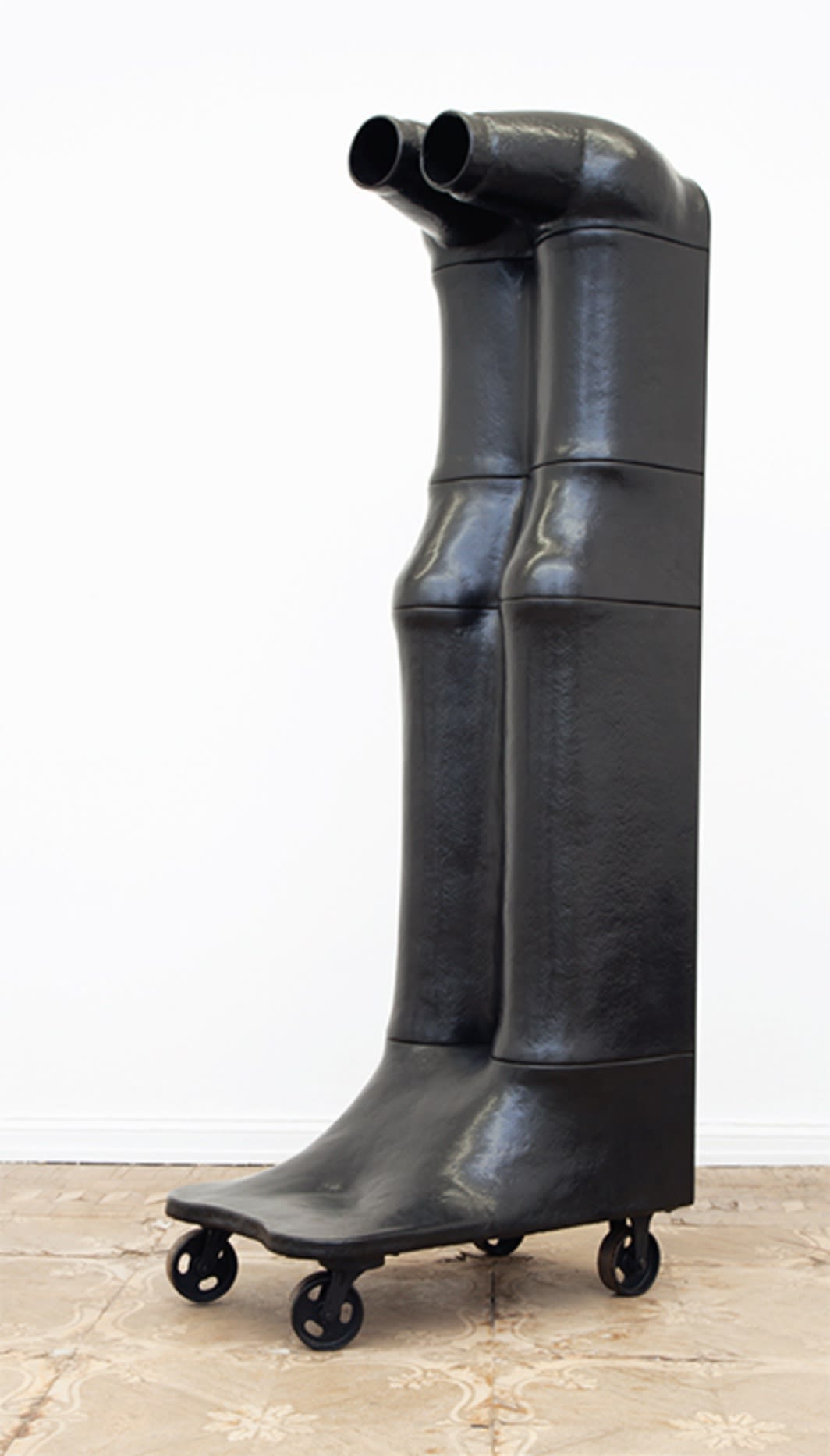 Joachim Bandau, Der Späher (The Spy), 1974, glass-fiber-reinforced polyester, lacquer, anodized aluminum, iron wheels, 87 3/4 × 21 3/4 × 33 1/2 in., Collection of the Centre Pompidou
Joachim Bandau, 'Bunker - Siedlung', 2, 1978, pencil, tea and milk on paper, 100 x 175 cm
WATERCOLOURS
In 1983, Joachim Bandau began creating large watercolours as an alternative to the drawings. Using large custom Japanese watercolour brushes and black watercolour paint, Bandau applies layer after layer of watercolour in single uniform brushstrokes, each one adding a greater illusion of depth and horizontal or vertical movement.

Music, specifically classical and the motets of Johann Sebastian Bach, is Bandau's primary influence for his minimalist watercolour series. Like musical arrangements, each component is made to be clearly distinguishable as an independent part, while together creating a rich and harmonious whole.
[The watercolours] are based on polyphonic structures. Each individual surface is permitted the greatest possible autonomy. Each new surface is the response to the previous one... The individual layers document the history of the work.
- Joachim Bandau
While the majority of Bandau's watercolours have been in painted in black, he made a series of pure cadmium yellow watercolours for a short period between 2004 to 2006. This exhibition marks the first time they have been shown in Canada. Whereas the black watercolours appear to absorb light creating an indefinite deep space, the yellow watercolours have a distinctive quality in that they embrace the inherent luminosity of the cadmium yellow.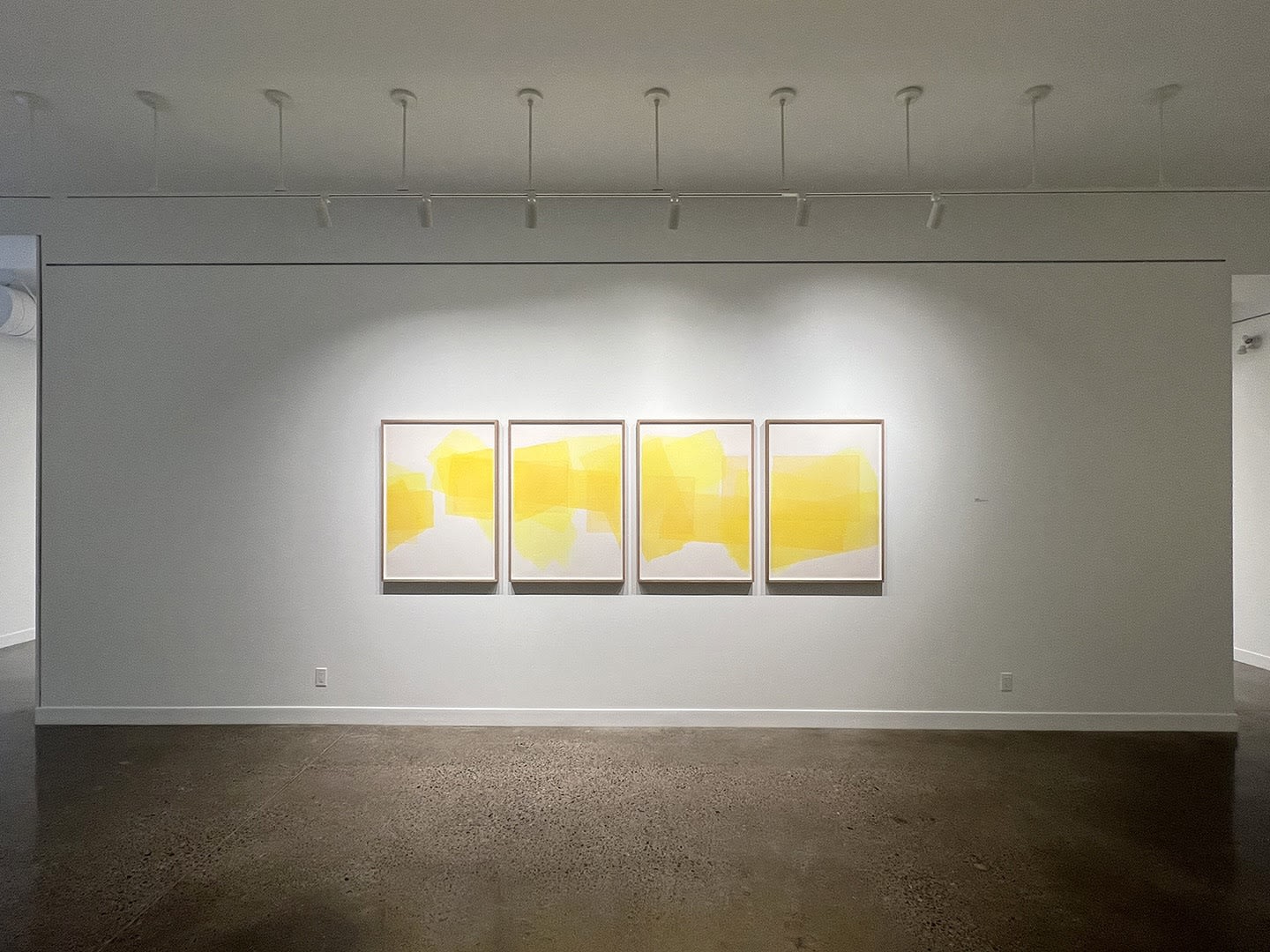 Installation view of Joachim Bandau, Untitled, 2006, watercolour on Arches Aquarelle paper, polyptych, 39 1/4 x 27 1/2 in. (each)
For more information on our exhibtion, Joachim Bandau: Black and Yellow Watercolours, click here.