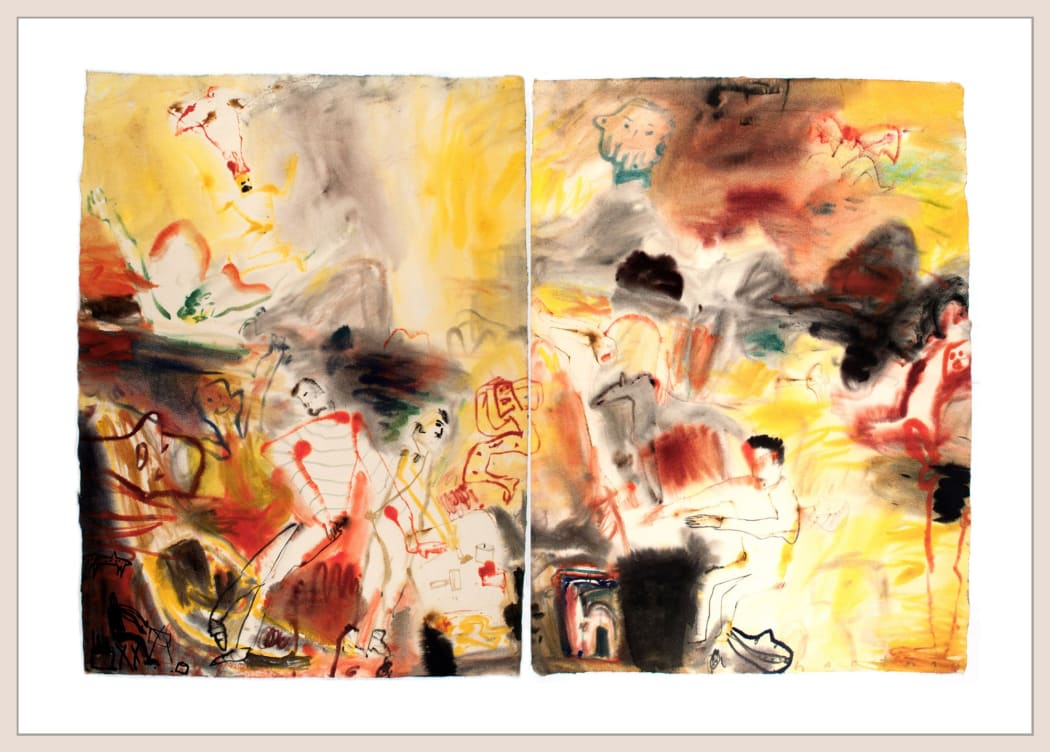 John Hartman, Simon Tookoome drawing, Kavavau Munamee dreaming, 1990, watercolour on Barcham Green Camber Sand paper (diptych), 31 1/4 x 22 3/4 in. (each)
In November 1989, John Hartman travelled to Cape Dorset for a month-long residency at the Kinngait Studios. Hartman worked alongside artists including Simon Tookoome and Kavavau Munamee in the workshops, later creating prints, drawings and paintings of his experiences there.
This diptych is an excellent example of Hartman's ability to capture the feeling of a place and time, while being open to elements of chance.

David Milne (Canadian, b. 1882 - 1953) and Emil Nolde (German, b. 1867 - 1956) were both painters, watercolourists and printmakers, whose subjects were often based on religious storytelling and landscape. Their influence on Hartman can be seen in this diptych, as well as works throughout his career.
Both Milne and Nolde often used a wet on wet watercolour technique. To achieve a unified composition, the artists had to paint quickly. The wet areas were completed first to create a bleeding effect, while sharper lines were added near the end.
The two artists were also well-known for their use of colour. Milne typically depicted the ground with darker browns, using lighter colours, like yellow, to illustrate the sky and water. Nolde's used colour in a more expressive way in his landscapes.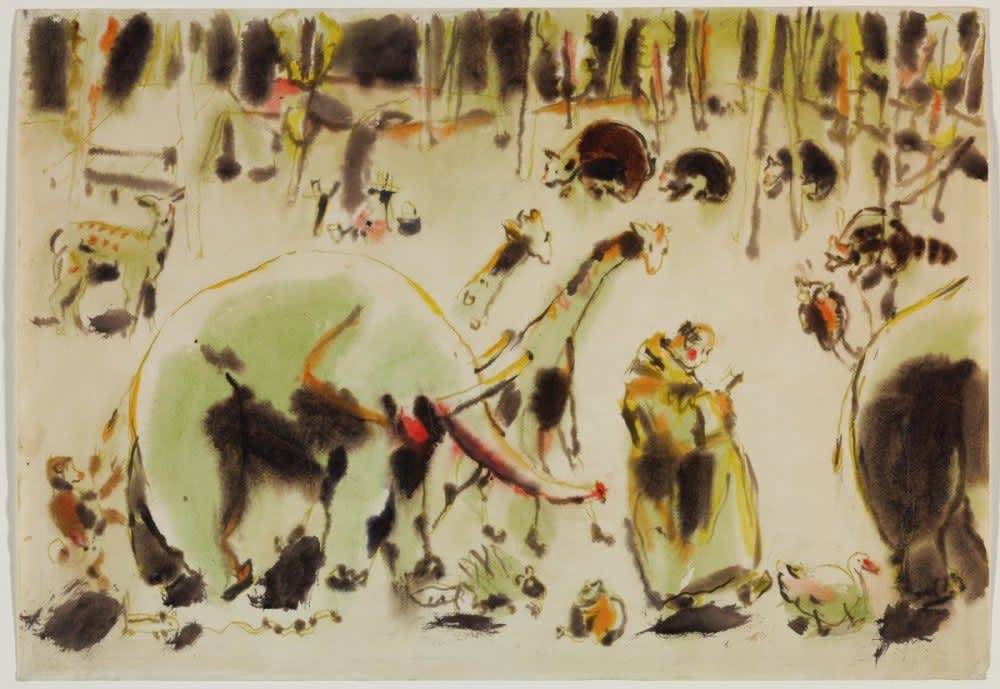 David Milne, The Saint IV, June - September 1942, watercolour over graphite on wove paper, 38.3 x 55.2 cm
Collection of the National Gallery of Canada, Ottawa
Emil Nolde,
Stormy Sea,
1930, watercolour on paper, 1930, 34 x 45 cm
Collection of Sprengel Museum, Hannover, Germany

Part of Hartman's process to create this diptych was borrowed from Nolde and Milne but he also employed new techniques. To begin, Hartman drew the figures in with the back end of a brush, dipped in watercolour paint. He then painted in washes of colour from the lightest areas to the darkest. The sharpest lines, such as the figure of Hartman in the lower left corner, were added after the paper surface had dried. The result of this layering gives a hallucinogenic effect, similar to that of memory.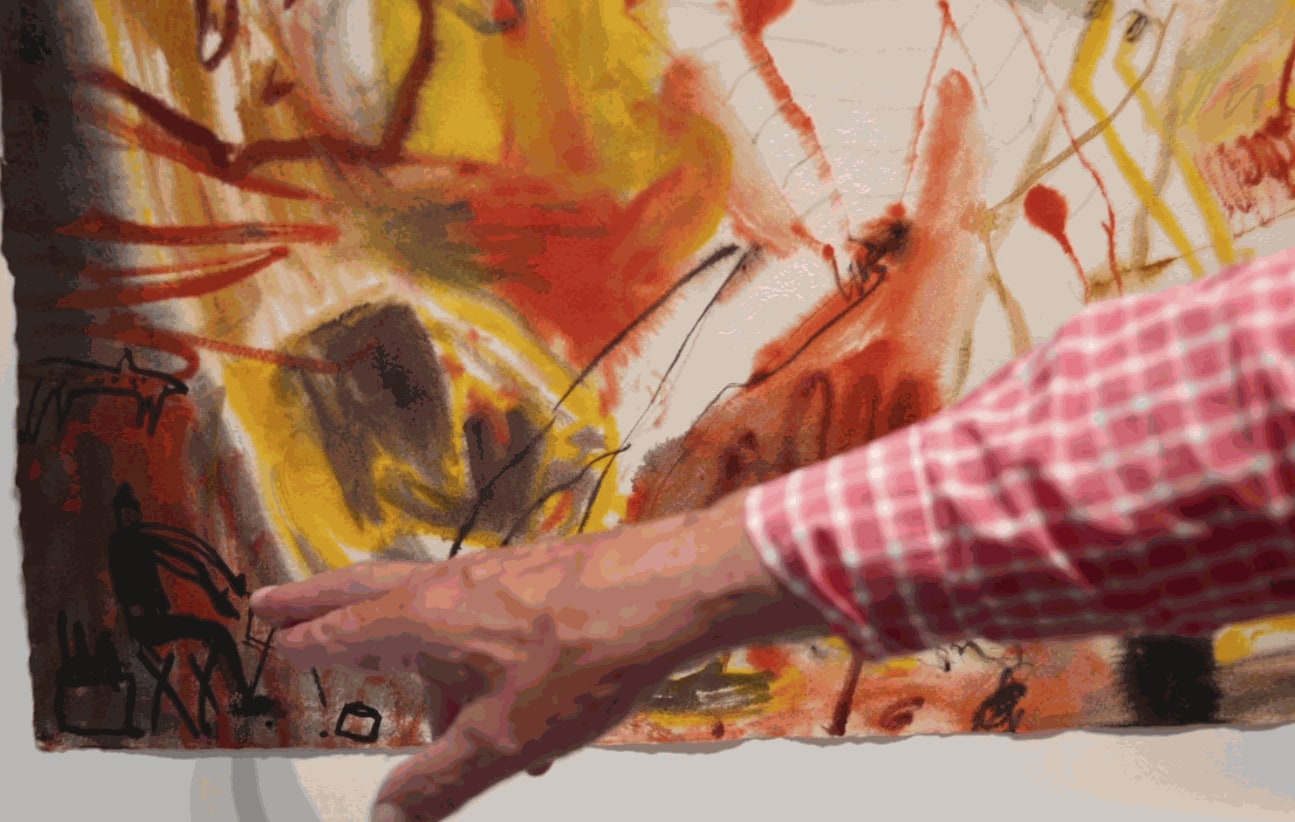 Hartman points to a depiction of himself painting
Hartman points to his depiction of Simon Tookoome drawing in the print studio
For more information on John Hartman: Flying into Cape Dorset,
click here
.