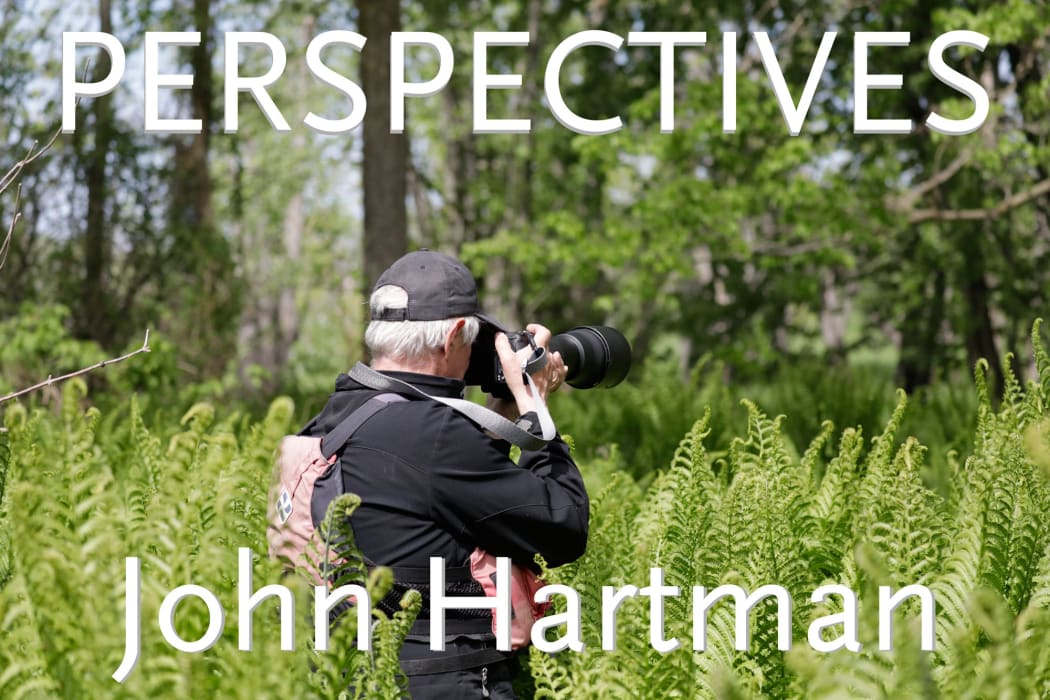 PERSPECTIVES looks closely at a specific artist's unique thought process and how they arrive at their recent works. It is said that everything comes from something - we invite you to learn about the inspirations and ideas behind the artists and their respective practices.
• • • • •
Since John Hartman's exhibition, High Water, which was on view at the gallery in November 2020, he has continued to be fascinated with the animals and birdlife around Georgian Bay.
In his latest paintings, Hartman compresses a variety of his own source material and experiences from days and weeks of careful observation, into a single composition. He visits the same site over and over to track and photograph the birds' patterns as well as their feeding and social behavior. The main narrative in each work results from a significant new encounter that Hartman has witnessed, often from the vantage point of his kayak or canoe.
John Hartman, Early Morning in Matchedash Marsh, 2021, oil on linen, 66 x 60 in.
The swan in this painting was inspired by a photograph I took early one morning with the stark whiteness of the bird constrasting against a much darker background of mud flats and deep blue water. I wanted to capture that exact moment.

- JOHN HARTMAN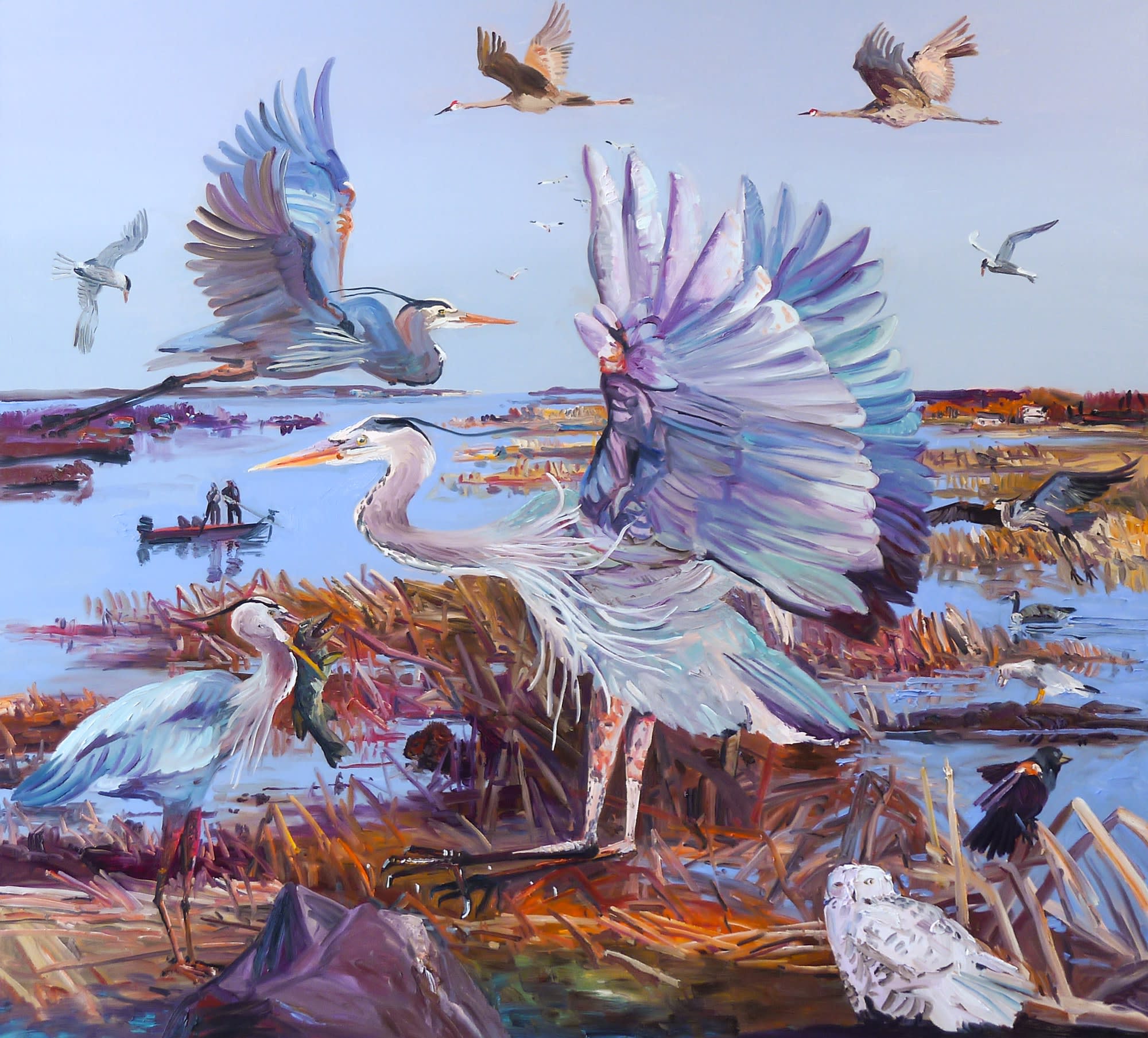 John Hartman, Herons Fishing at Sunrise, Waubaushene, 2021, oil on linen, 60 x 66 in.
There was a one week period where the herons were feeding for fish in the dead bulrushes at Waubaushene, while fishermen were carrying out a similar activity offshore.

On one particular visit, a big heron landed 15 feet away from me. This experience became the focal point of the work. Other birds, like the snowy owl, had been in this spot on previous visits.

- JOHN HARTMAN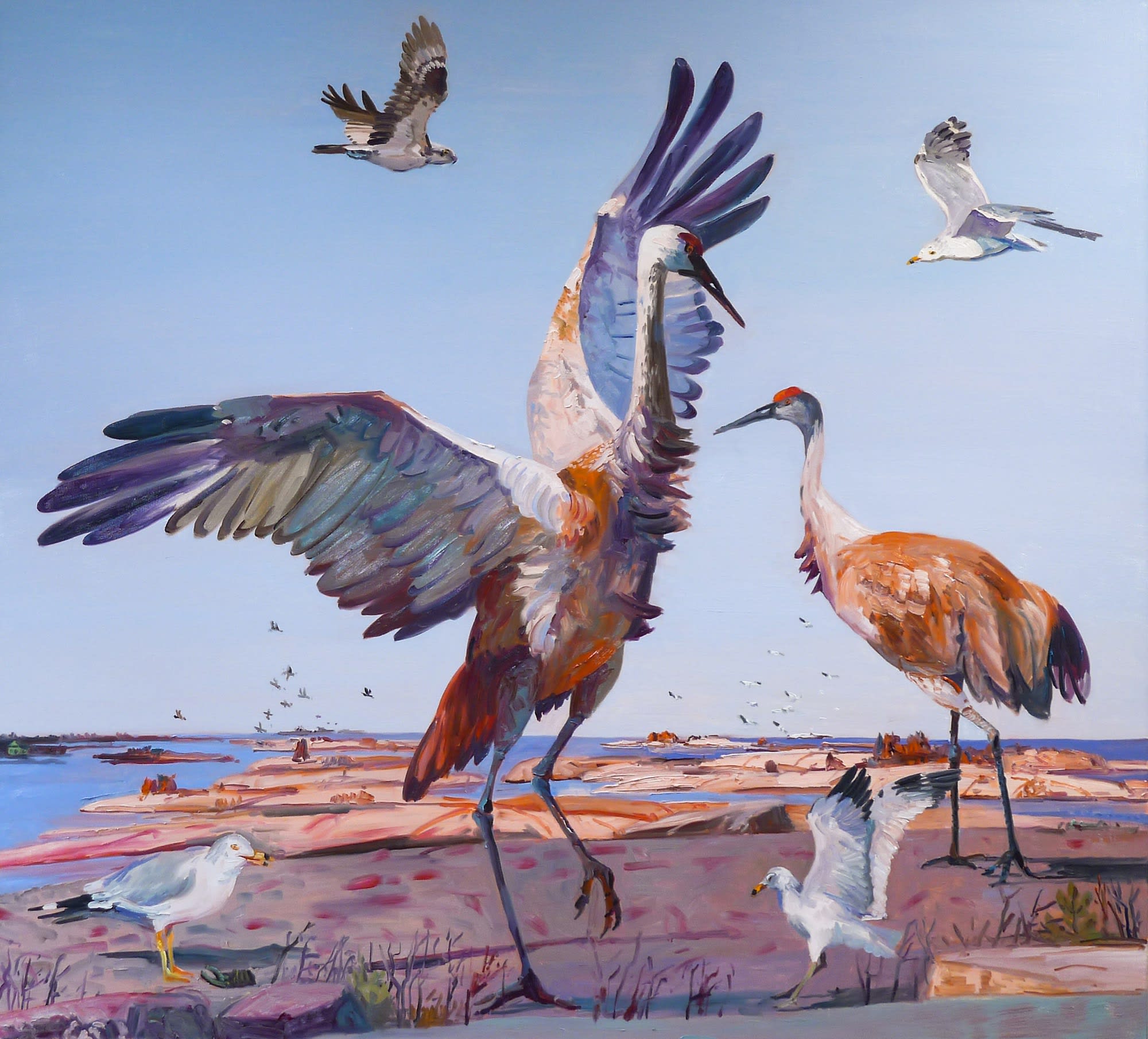 John Hartman, Sandhill Cranes on Tar Island, 2021, oil on linen, 60 x 66 in.
I created this painting after seeing two sandhill cranes on Tar Island in Norgate Inlet during mating season. The male had just landed after jumping up about 6 feet in the air beside the female, apparently to impress her. I had been watching sandhill cranes jump this way for over a year, but was never close enough to get a useable reference photo until I came across this pair.

- JOHN HARTMAN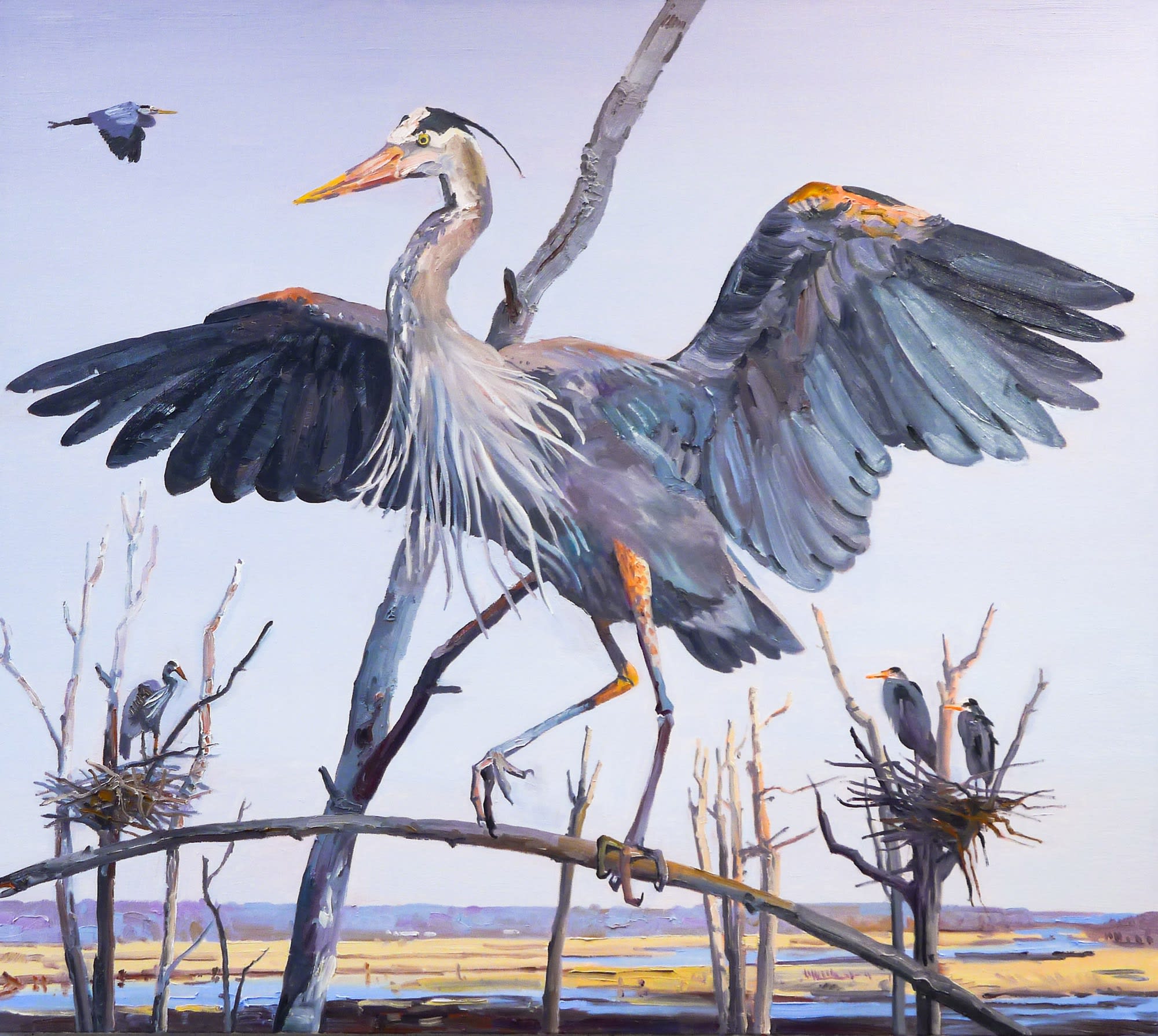 John Hartman, Heron Rookery, 2021, oil on linen, 48 x 54 in.
A rookery refers to more than one breeding nest. There's an active heron rookery near Matchedash Marsh and this year there are four active nests with a great blue heron standing guard at each.

In each mating pair, the one that is not on the nest has flown out to catch food, fly back to the nest and switch off.

I plan to re-visit this site in the coming weeks to watch the parents feed their hatchlings.

- JOHN HARTMAN
IN ACTION
John Hartman and his son, David, adventure through the Minesing Wetlands in search of wildlife.
Images courtesy of David Hartman
INSPIRATION
John James Audubon's Birds of America, printed between 1827 and 1838 is a remarkable example of wildlife illustration. His highly detailed watercolour prints were created from periods of extended observation and note-taking.

Like Audubon, Hartman finds endless inspiration in the variety of bird species and their natural habitats. When creating his latest paintings, he looked to Audubon's prints of the great blue heron, osprey and a common gallinule. All of these species can be found in Hartman's paintings above.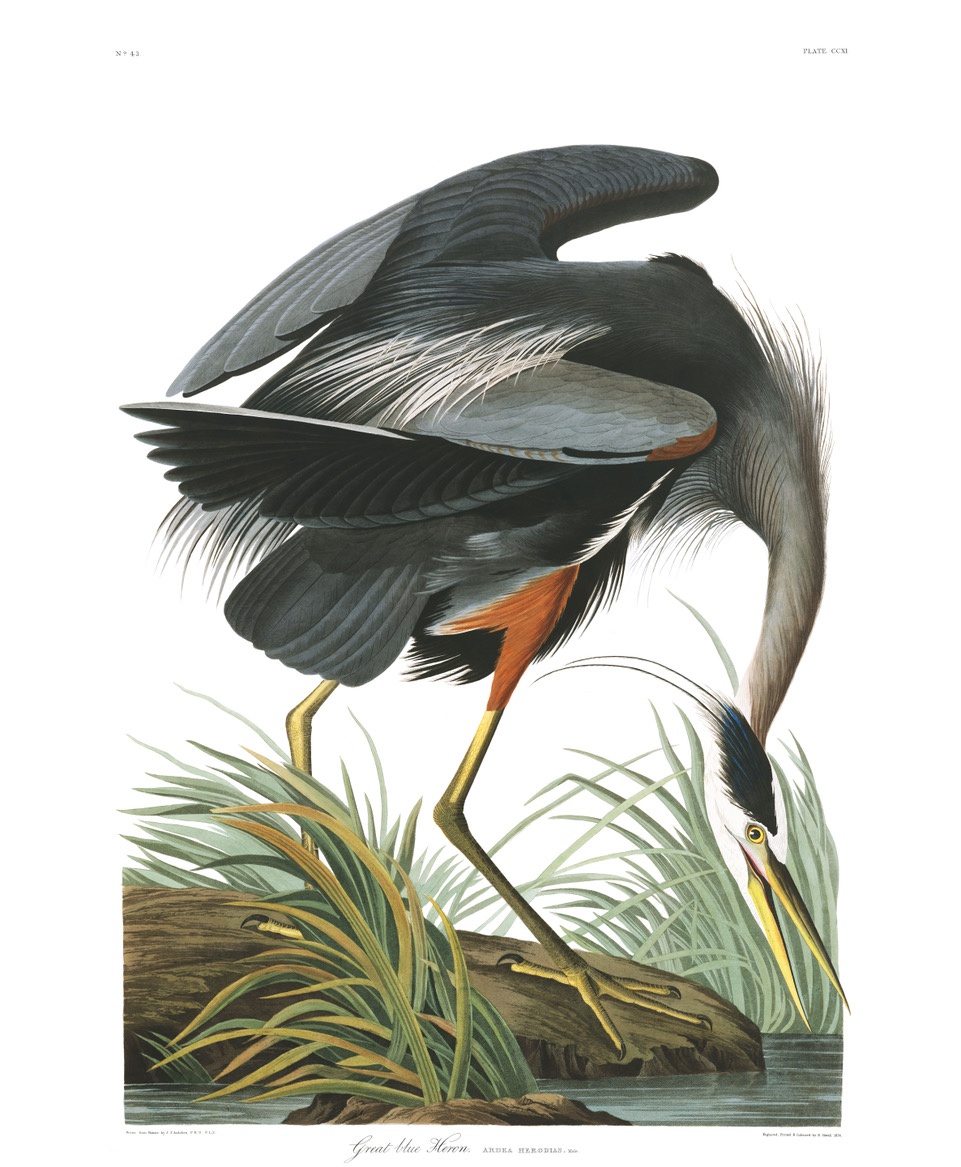 John James Audubon, Great blue Heron (plate 211) from Birds of America
Courtesy of the John James Audubon Center at Mill Grove, Montgomery County Audubon Collection, and Zebra Publishing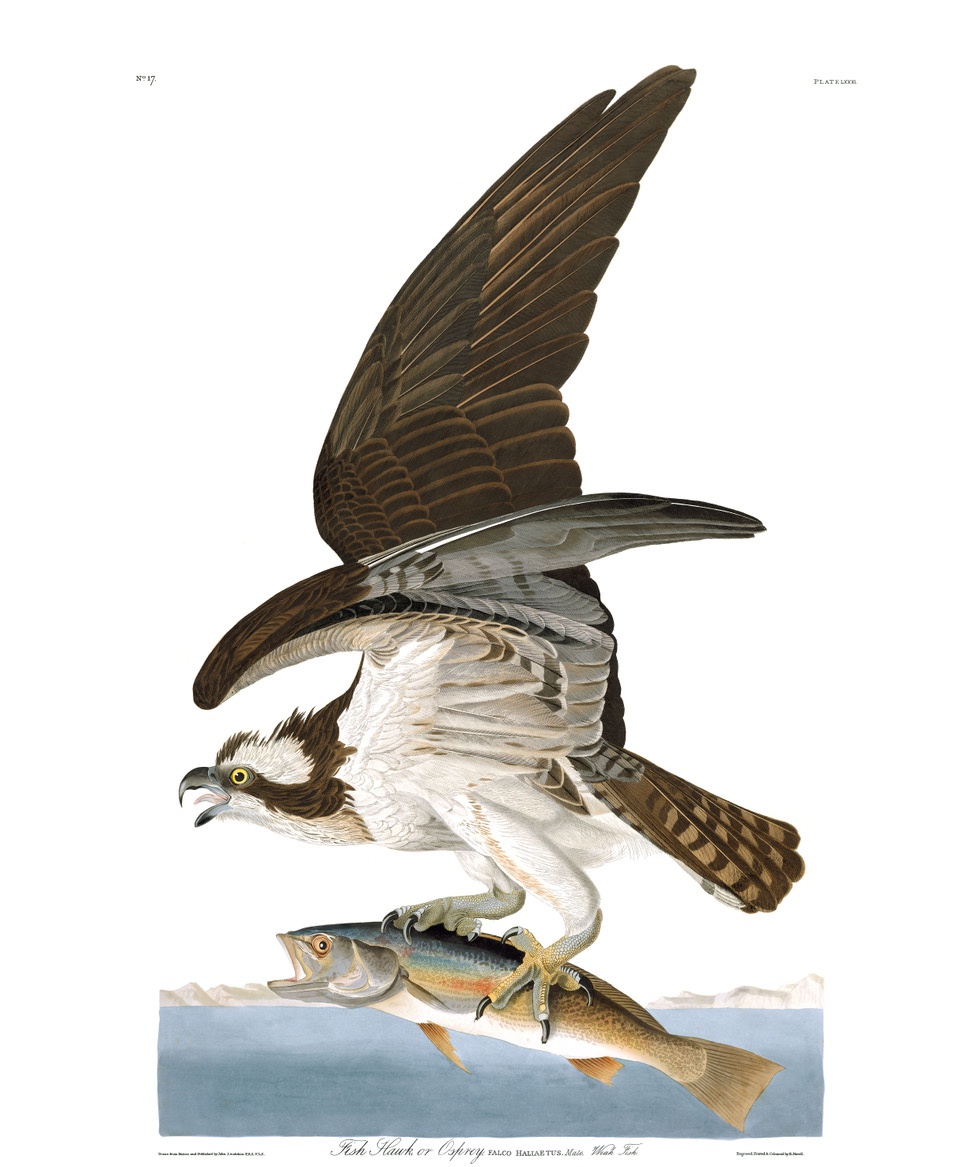 John James Audubon, Fish hawk or Osprey (plate 81) from Birds of America
Courtesy of the John James Audubon Center at Mill Grove, Montgomery County Audubon Collection, and Zebra Publishing
JOHN HARTMAN: HIGH wATER
A SHORT FILM on hartman's studio practice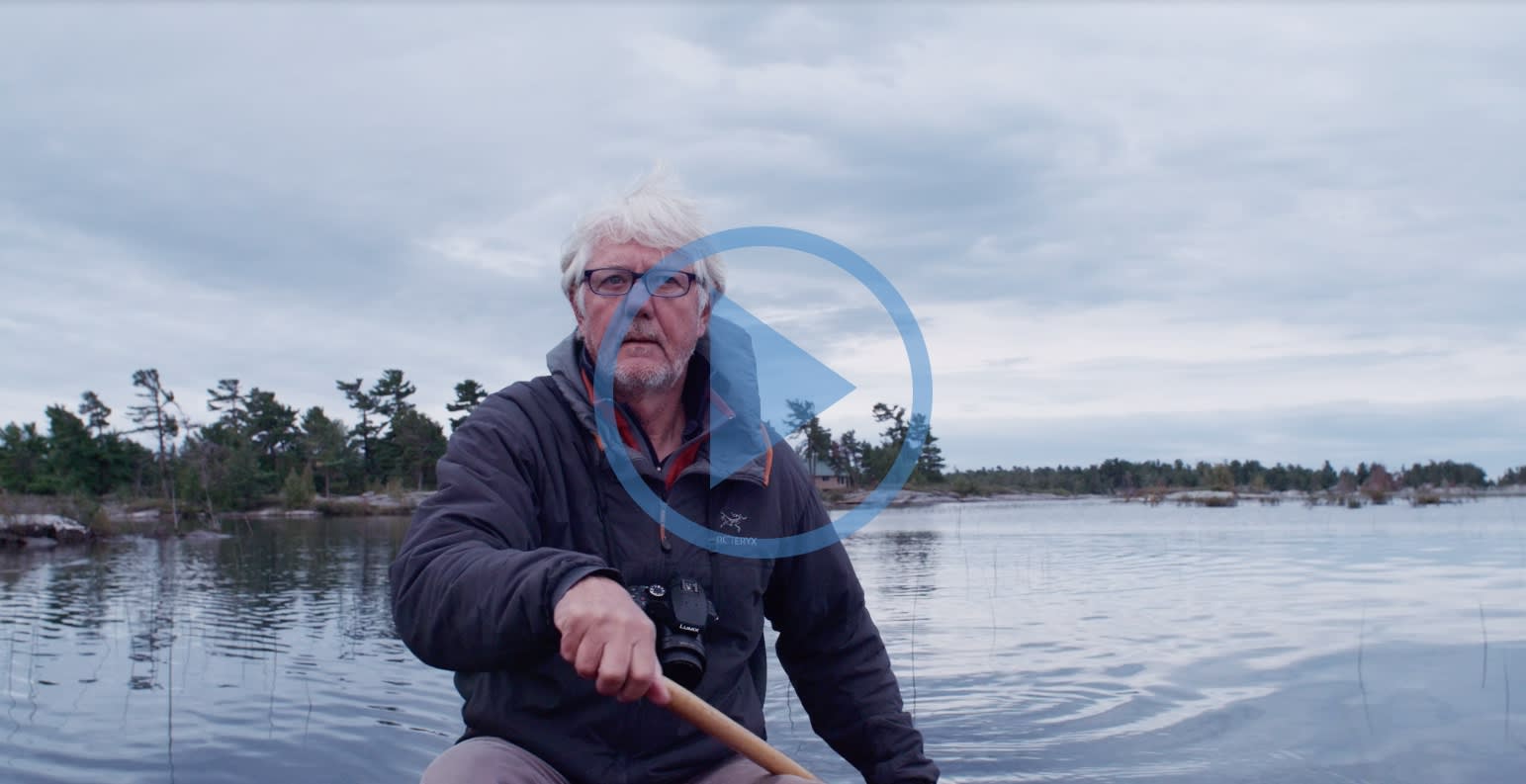 RECENT AND UPCOMING EXHIBITIONS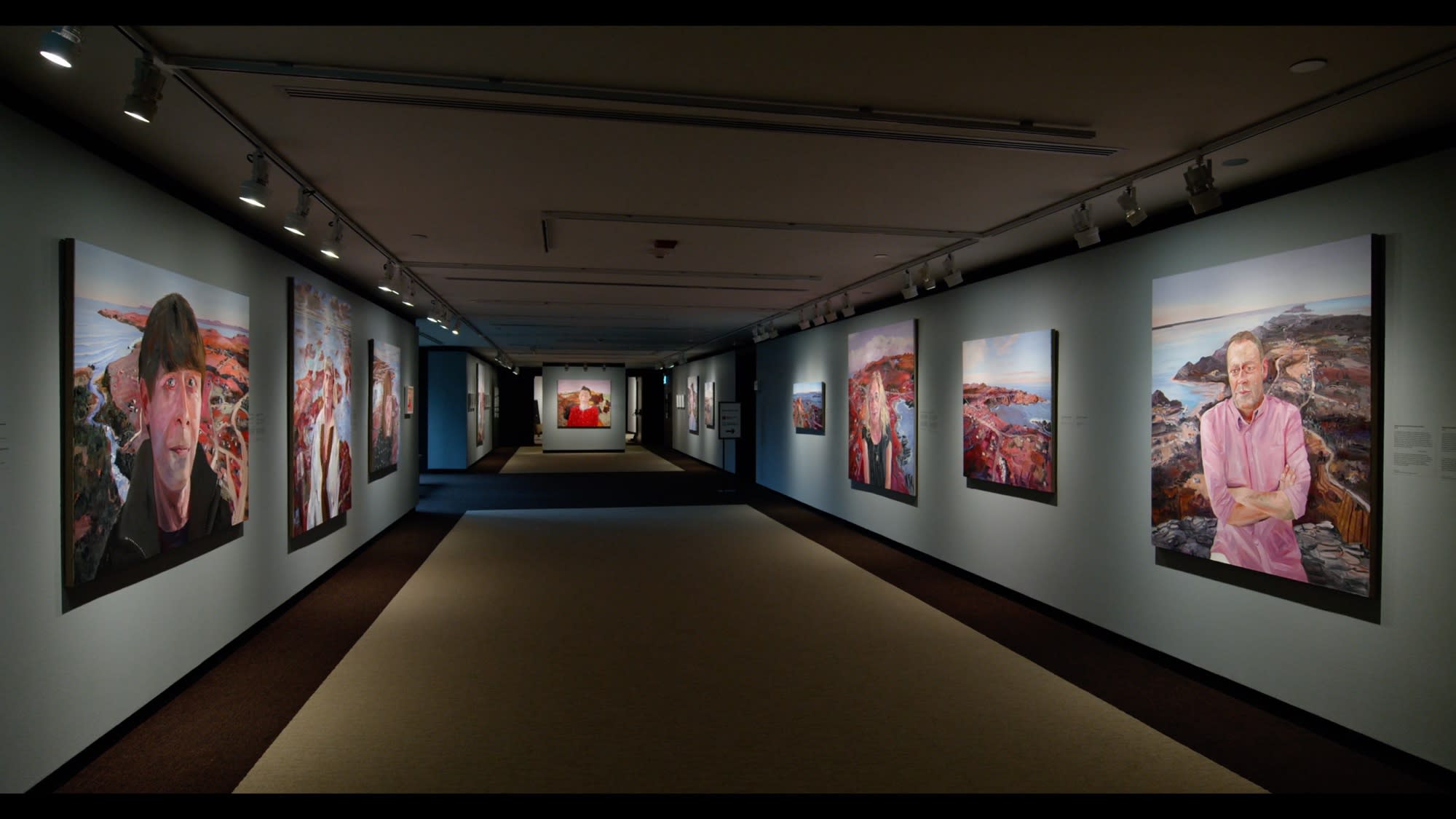 John Hartman Many Lives MarkThis Place installed at the McMichael Canadian Art Collection in Ontario
© David Hartman, Hayfire
If you were unable to visit John Hartman's incredible exhibition, Many Lives Mark This Place, at the McMichael Canadian Art Collection, you can now tour the exhibition virtually, by CLICKING HERE.

Many Lives Mark This Place focuses on Hartman's acclaimed Canadian author series, which features portraits of Cherie Dimaline, Douglas Coupland, Neil Bissoondath and many others. The McMichael debuted the touring exhibition in 2020.
The exhibition will tour Canada and the UK through March 2023.

Tour Schedule:

January 30 - May 22, 2022: Confederation Art Centre Gallery, Charlottetown, PE
January - March, 2022: Canada House, Embassy of Canada, London, UK
February 19 - June 30, 2022: Woodstock Art Gallery, Woodstock, ON
September - December 2022: Grenfell Art Gallery, Corner Brook, NL
October 7, 2022 - March 19, 2023: Judith & Norman Alix Art Gallery, Sarnia, ON

The exhibition is organized and circulated by the Woodstock Art Gallery, Ontario.
To learn more about Many Lives Mark This Place, click here.
To purchase a copy of the publication created for this exhibition, click here.