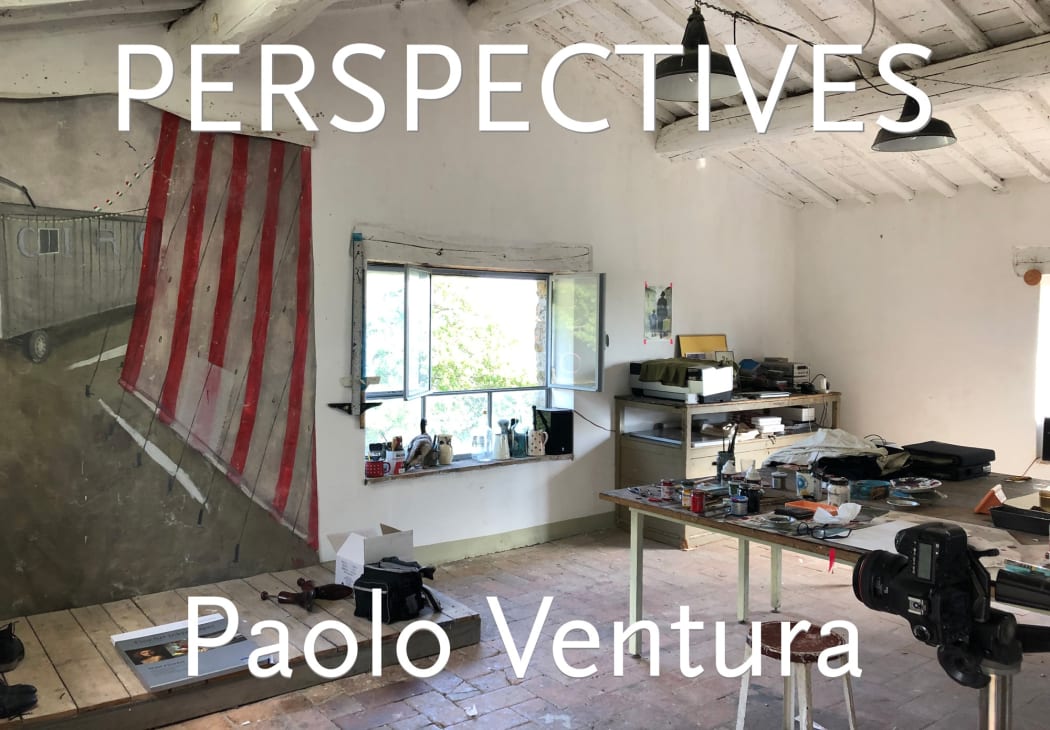 PERSPECTIVES looks closely at a specific artist's unique thought process and how they arrive at their recent works. It is said that everything comes from something - we invite you to learn about the inspirations and ideas behind the artists and their respective practices.
• • • • •
Italian photographer Paolo Ventura is known for constructing and photographing elaborate dioramas to tell cinematic visual stories. Ventura controls the entire artistic process - constructing and painting the small-scale scenes, photographing the sets, and hand painting the photographs. He will often collage portraits of himself and his family to the surface of the photographs. The works, evocative of 1940s and 50s Italian Neorealism film, are both sweet and sorrowful.
Grazia Ricevuta, Ventura's latest series, will be on view at the gallery and online from May 13 to June 5, 2021. For this body of work, Ventura created contemporary interpretations of the Italian tradition of Ex Voto paintings. Beginning in the 1300s and up until the late 1970s, Ex Voto painters were commissioned by patrons to honour a Saint after they or a relative had experienced a close encounter with death but survived. The small paintings were then gifted to churches and installed for all to see, as examples of everyday miracles.
Ventura's take on the Ex Voto tradition is more playful and broader in scope than surviving an accident. The imagined scenarios are fantastical and closely tied to the unique history of each Italian town they are set in. His visual metaphors include overcoming life's emotional struggles, such as finding a way out of a difficult situation or finding inspiration after having lost it.
What is interesting to me is the commingling between the faith, magic, paganism and the incredible stories that you will find, sometimes very naive, ironic, absurd and surrealist, but very simple and straight at the same time. What I want to do is represent miracles much more surreal and strange but with the same powerful narration of the original ex voto.

- PAOLO VENTURA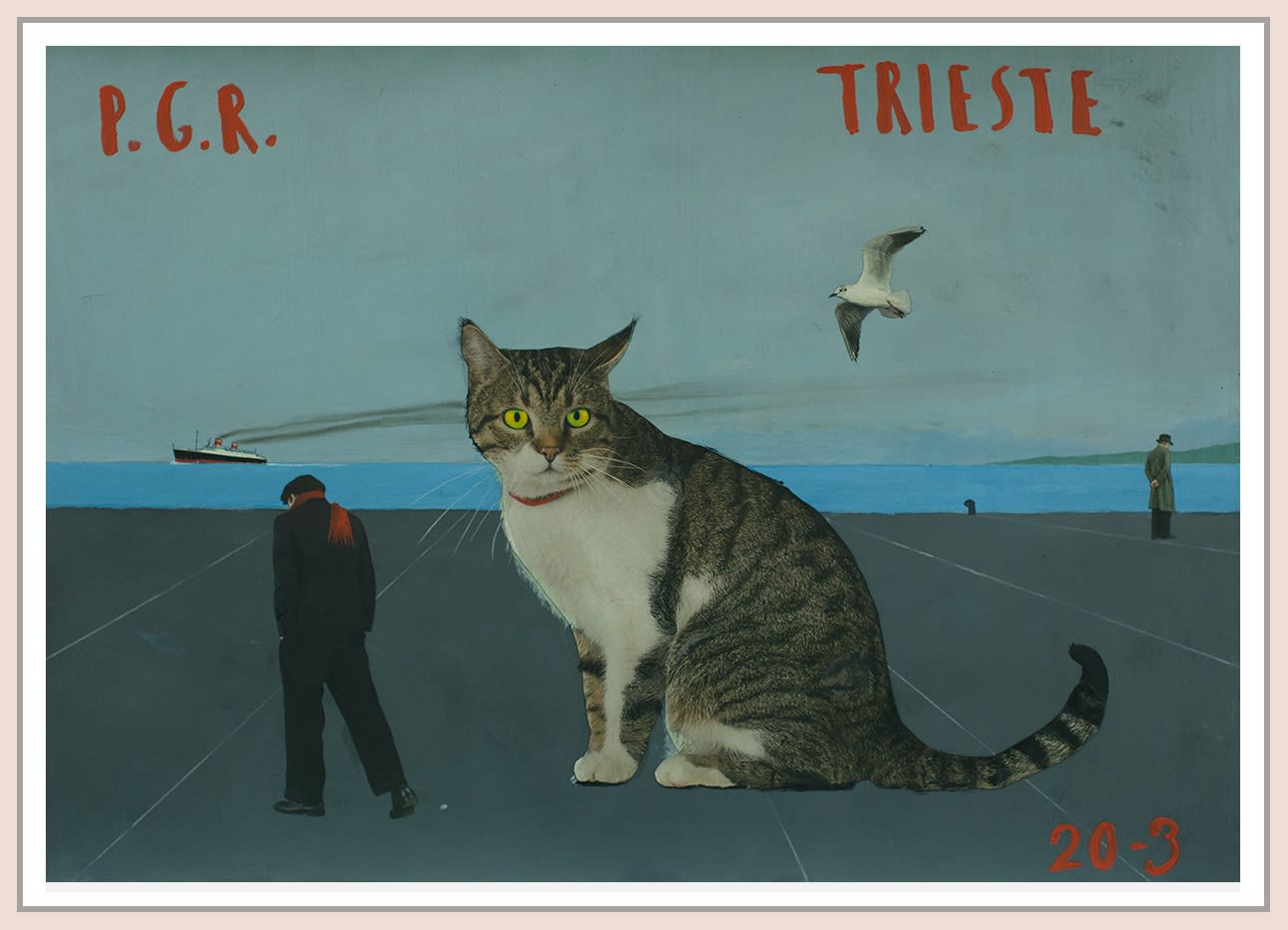 Paolo Ventura, Trieste, 2019, collage, acrylic paint and photographs on Fedrigoni quadrex paper, 28 x 40 in., variable edition of 3
Trieste is a strange and beautiful city on east coast of Italy nestled between the sea and mountains. Characterized by a haunting beauty, the city was also well-known for being the home of a community of Surrealist poets. In this work by the same name, this strange, forgotten city is under threat of an enormous cat, an homage to the surrealists who once inhabited this place.

- PAOLO VENTURA
Paolo Ventura,
Lambrate
,
2019, collage, acrylic paint and photographs on Fedrigoni quadrex paper, 28 x 40 in., variable edition of 3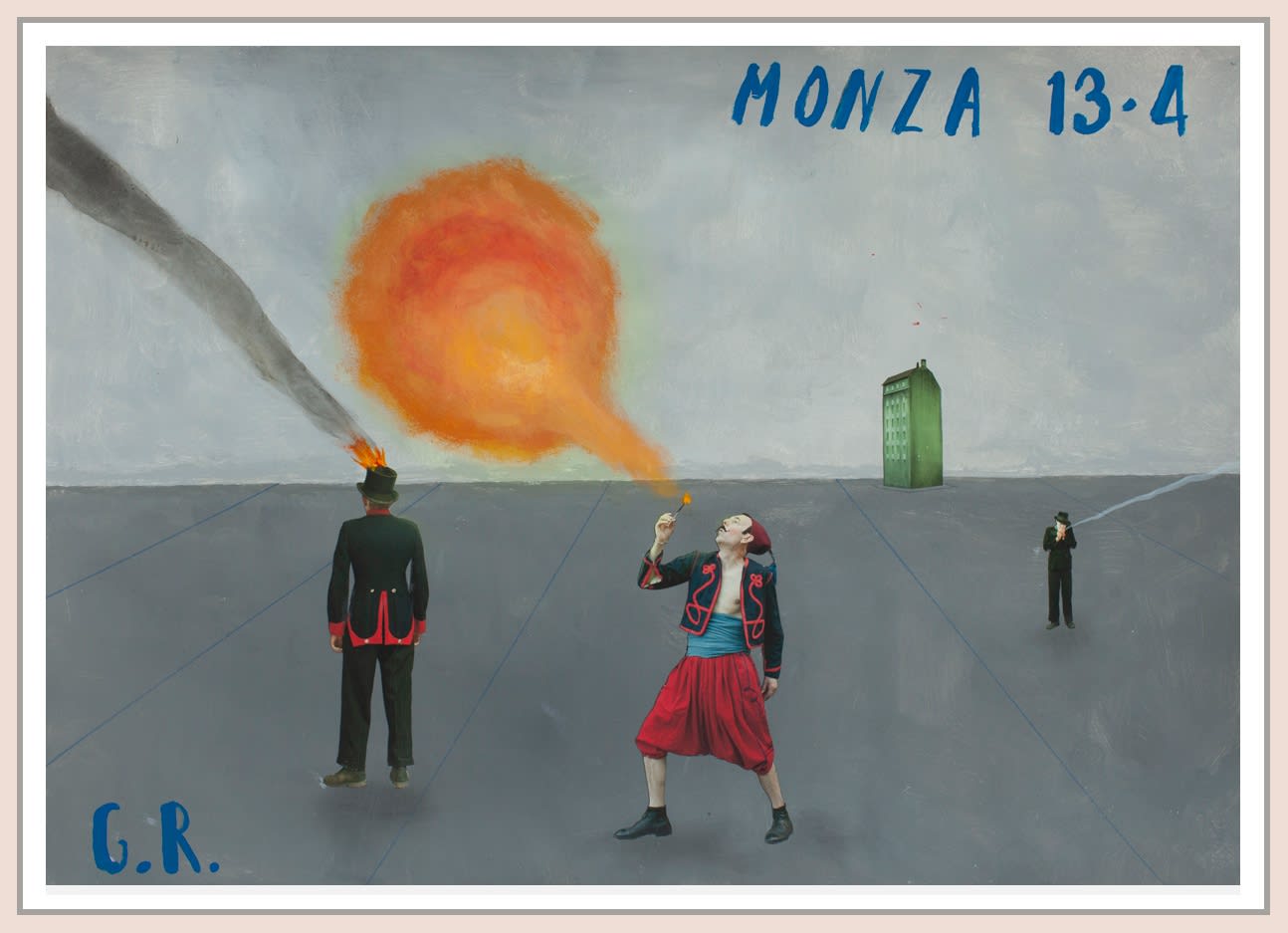 Paolo Ventura, Monza, 2020, collage, acrylic paint and photographs on Fedrigoni quadrex paper, 28 x 40 in., variable edition of 3
BACKGROUND
Over the last thirty years, Ventura has collected hundreds of Ex Voto paintings, mostly at local flea markets in Milan although today they are much more difficult to find.
The Santuario della Consolata, or the Church of the Virgin of the Consolation, in Turin, Italy is one of the most well-known sites for Ex Voto paintings. The church houses thousands of works that document centuries of miracles attributed to the Virgin Mary, war events of 1940 - 1945 and everyday events, such as illness and accidents.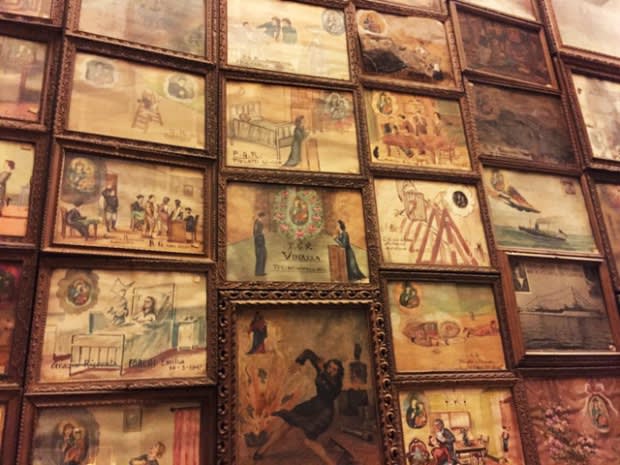 Ex Voto works on the wall at the Santuario della Consolata
A close up of an Ex Voto painting from Santuario della Consolata reveals its storytelling and unique style.
Both Italy and Mexico have strong traditions of this type of imagery. In Mexico they are called Votive paintings. Frida Kahlo also collected and was inspired by traditional Votive paintings. She often incorporated elements of the style into her own work, especially after her tragic bus accident in 1925.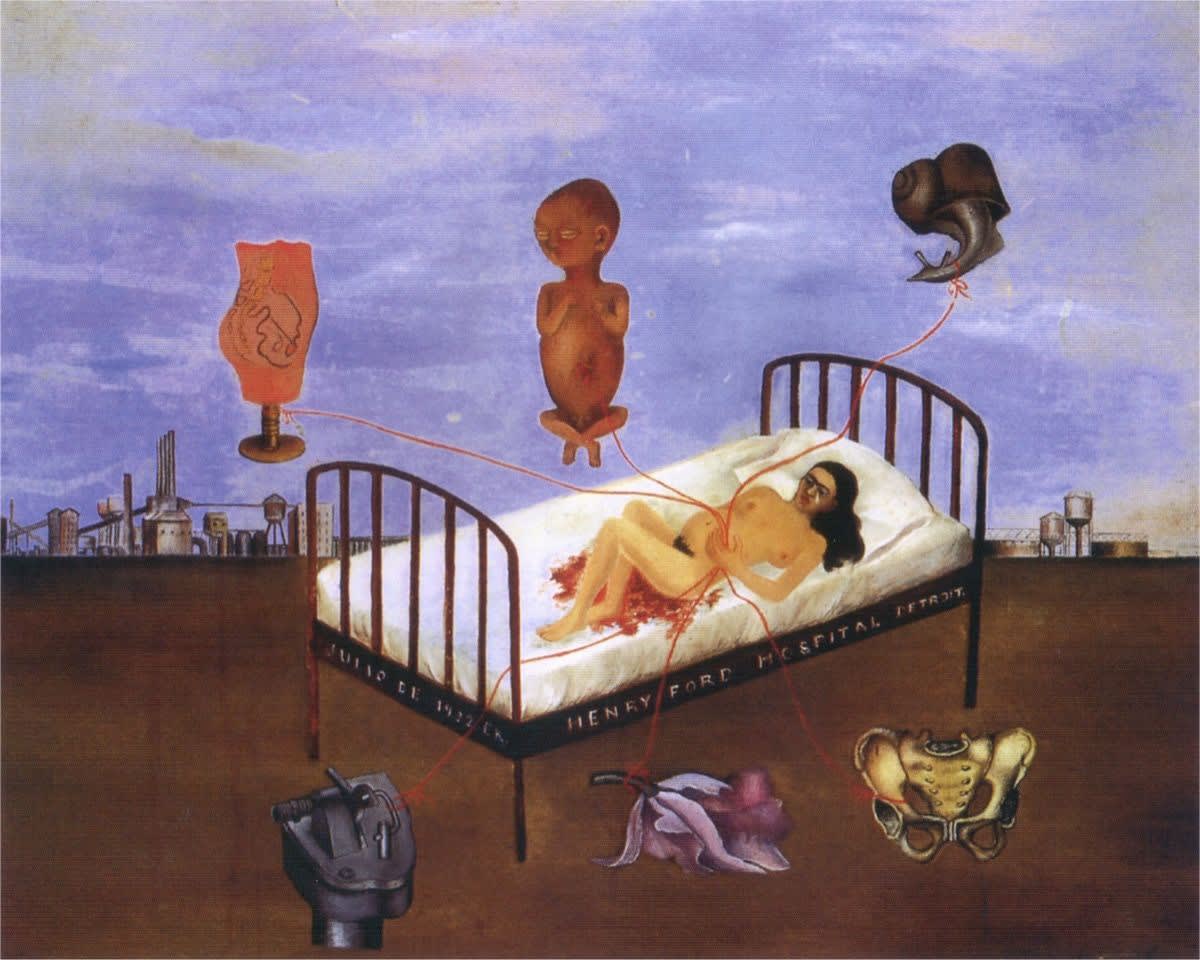 SET DESIGN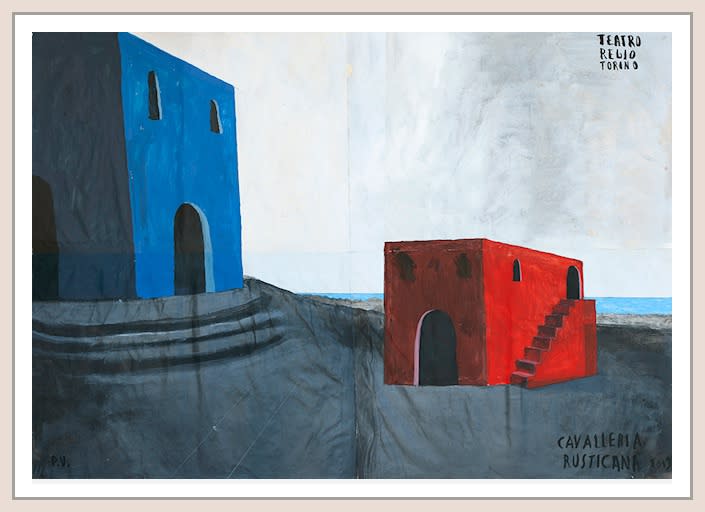 Paolo Ventura, Bozzetto scenografia Cavalleria Rusticana #01, 2019, collage, acrylic paint and photographs on Fedrigoni quadrex paper, 54 1/2 x 78 1/2 in., variable edition of 3
Ventura's unique approach including historical references and visual narrative has also led to commissions for Opera set designs.
The above work was designed for the single act opera, Cavalleria Rusticana at Teatro Regio in Turin. Ventura has also designed sets for the famous

Rodgers & Hammerstein

Opera, Carousel, which was

staged at Lyric Opera of Chicago and Houston Grand Opera in 2015.
RECENT exHIBITIONS & PUBLICATIONS
Paolo Ventura: Carousel at CAMERA - Centro Italiano per la Fotografia in Torino, Italy
Carousel, a survey of Paolo Ventura's work, presented over 200 of the most evocative pieces completed by Ventura in the last fifteen years. The work spanned various collections, as well as pieces from the artist's studio, and included drawings, models, sets, papier-mâché masks and theatrical costumes. Two unpublished projects were also on display: Grazia Ricevuta, an affectionately ironic reinterpretation of the ex voto theme, and La Gamba Ritrovata, the result of a residency carried out at the Central Institute for Catalog and Documentation in Rome, launched thanks to a collaboration between CAMERA and the ministerial body.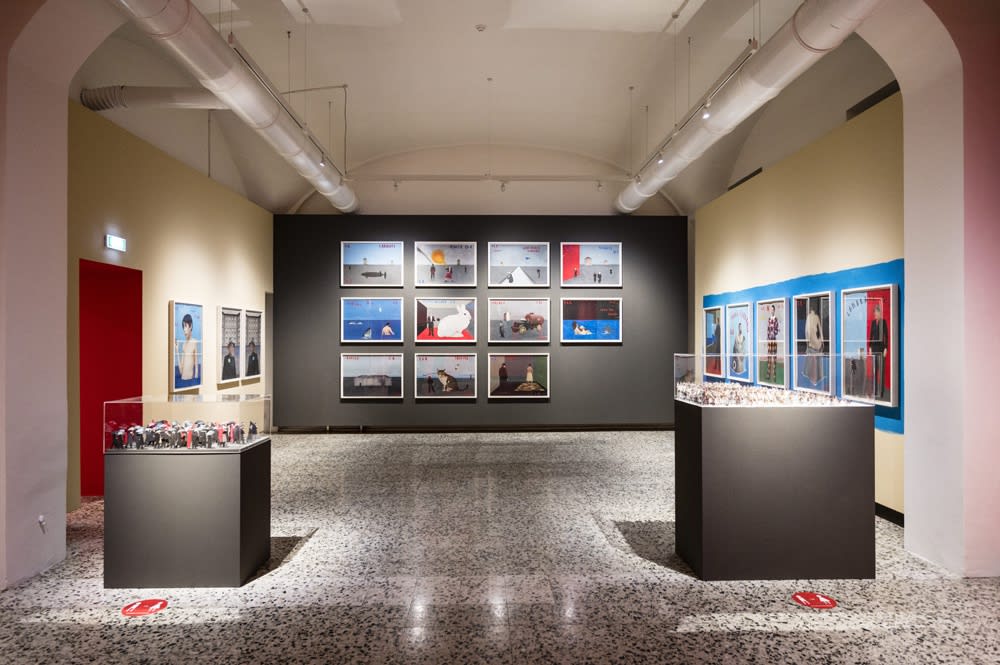 Paolo Ventura: Photographs and Drawings is the first monograph dedicated to the work of Paolo Ventura (Milan, 1968). The publication delivers an overview of the last fifteen years of Ventura's career and highlights the evolution of his artistic language which is expressed through photography, as well as painting.